Oregon Coast Railriders offer a peaceful but adventurous journey alongside a river, past verdant pastureland, and through the heart of a wildlife area on this South Coast tour.
STORY BY EMILY KOLKEMO
Remember the scene in the cult-classic 1980s movie, The Goonies, when the kids find a treasure map in the attic of Mikey's house and decide to go on a quest? For me, the message of that movie, that you should grasp adventure and opportunity when it presents itself, is something that resonates with me today.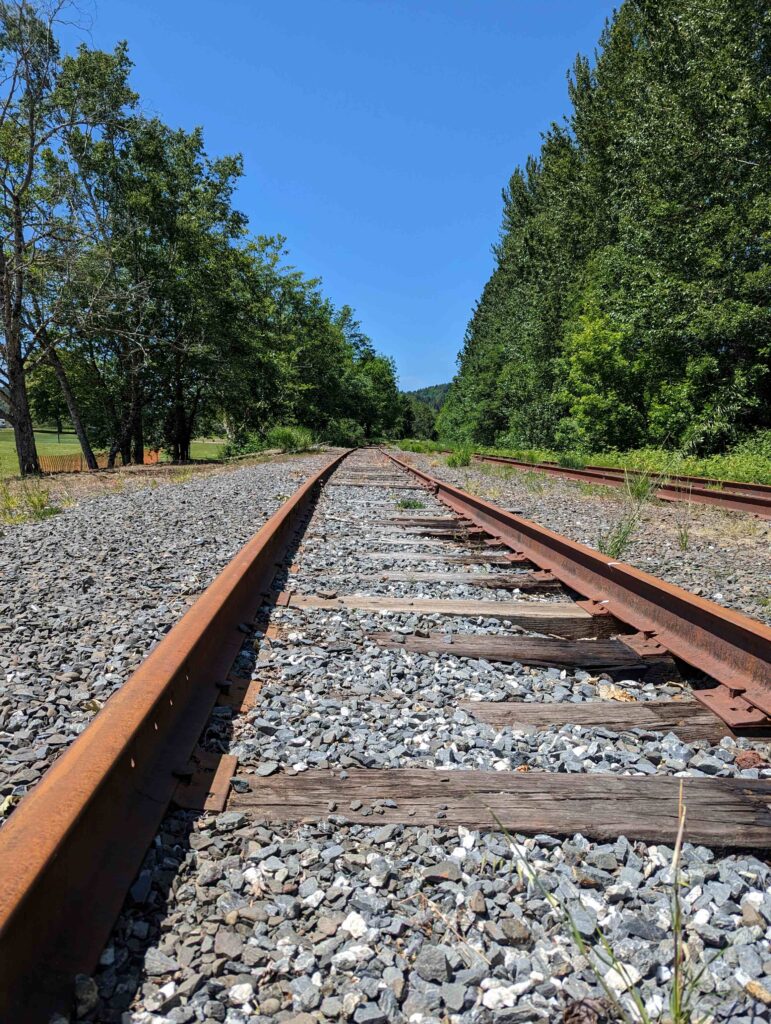 Which is why I jumped at the chance to go on a tour with Oregon Coast Railriders, the south coast's newest attraction that has set up shop in Sturdivant Park in Coquille. At my kids' soccer games, I'd often peer down the railroad tracks alongside the park, wondering and wishing I could see what lay just out of sight. Those tracks were like my own discovered treasure map, promising an unknown and mysterious journey. I knew from my previous travels that train tracks don't always go the same places highways and roads do, so if you get the chance to "ride the rails," you often see splendors unseen by most.
Now, Oregon Coast Railriders offer pedal-powered tours on those tracks—the historic Port of Coos Bay Railroad line. While the section of the line from Coos Bay to Coquille is not currently being utilized by full-size trains, it is perfect for the human-powered railrider. What is a railrider? Think of it like a bike on rails, but this one has seats for up to four people.
Anita and Kim Metlen, owners of Oregon Coast Railriders, are the early pioneers of railriding in Oregon. With a background in bike shop management and bicycle tourism promotion, they founded the Joseph Branch Railriders in the far northeast corner of Oregon in 2014. Over the years, Kim led the development and fabrication of a custom design for their railriders, which is known for its smooth and quiet ride, as well as comfortable seats.
So, on a sunny spring day, I brought my 73-year-old mother (who is always up for an adventure), to find out what lies along those tracks. After a guide adjusted our railrider so we could reach the pedals, we sat back, recumbent-style. I was in the back, which means I got to be the "brake person." Given that there is no steering and no gear changes, besides pedaling, it is all that I am required to do from time to time.
We got off to a quick and exhilarating start and I am surprised how easy it is to pedal. This is not like mountain biking. It is smooth, hands-free, and relaxing.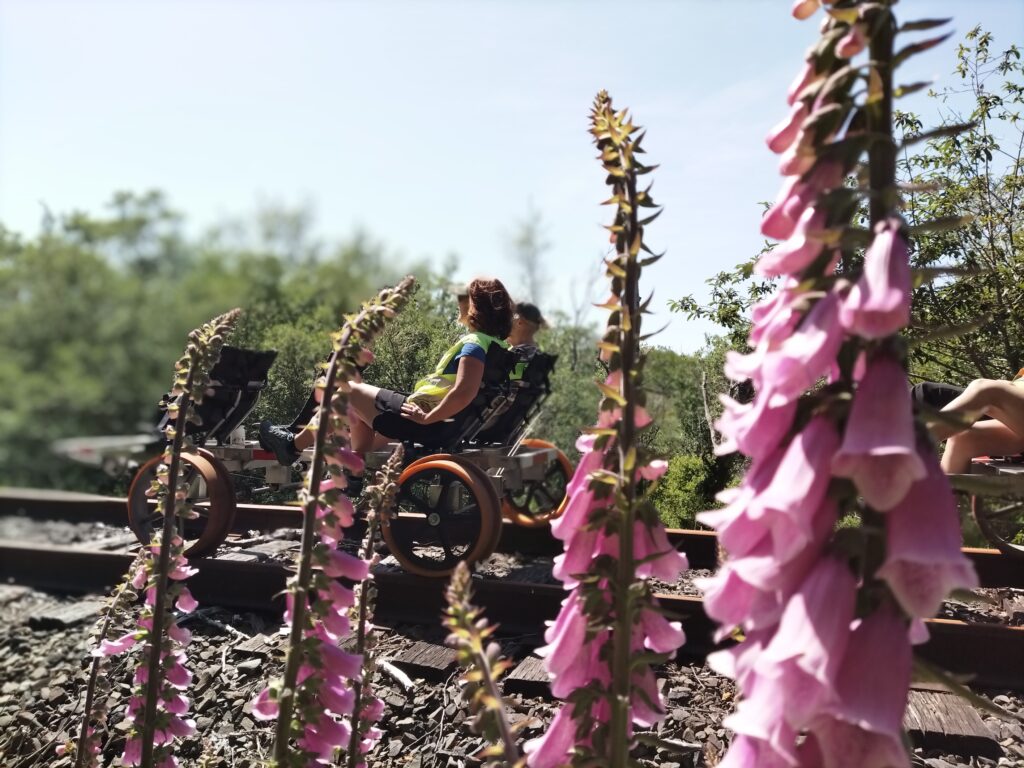 "Can we go fast?" I ask the other pedalers, and we do, but then the scenery beckons a more leisurely pace. Wildflowers—mostly daisies and foxglove—brighten the side of the rail line. Because this is spring, there is a swash of dark, grassy, and neon green splashed across the valley fields like an Impressionist painting. We traverse numerous historic mini trestles, pedal alongside the Coquille River, and pass through an old grove of willows.
But we also see industry in action. We pass along the backside of a lumber yard and log pond, the air thickly scented with fresh-cut fir. We wait at a crossing and wave at workers on forklifts. Even the cows in a field are curious about our arrival. Then we are back in a forest, the tracks lined with giant trees.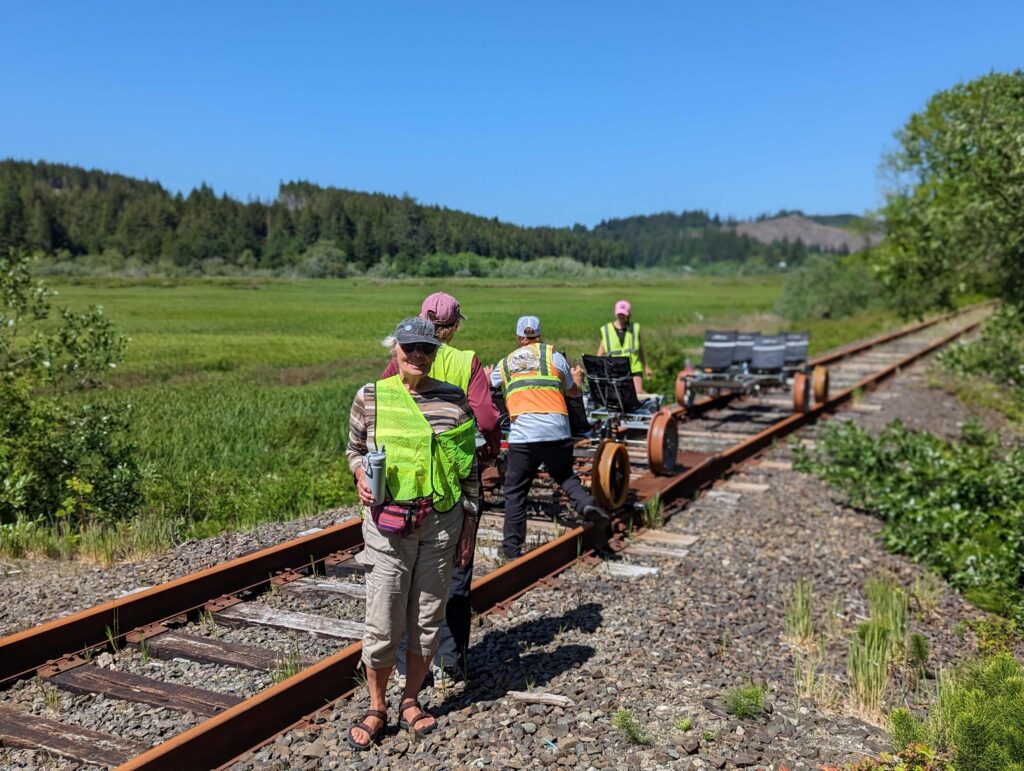 The turnaround point is located adjacent to the Coquille Valley Wildlife Area, a nearly 600-acre reserve that contains wetlands, including tidally-influenced Beaver Slough, and as the name implies, abundant wildlife. The wildlife area attracts or is home to all sorts of raptors and migratory birds, as well as beaver, river otters, and western pond turtles. One railrider tour saw a pair of owls, while our group spotted a blue heron. The area is not easy to access, so to be afforded this unique vantage point is special.
On this hour-and-a-half tour, my mom loves the fact that she doesn't need her hands to hang on, like a normal bike. She is free to look around, enjoy the scenery, watch the birds, and take photos. For me, I have the satisfaction that a Goonies-style quest has been satisfied. We both left energized and invigorated.
Like The Goonies movie, the tour was full of adventure, laughter with friends and family, memorable experiences, and even contraptions—some very impressive contraptions that would have made the movie character, Data, very proud.
In the words of the Goonies: "It all starts here!" In this case, "here" is with the Oregon Coast Railriders.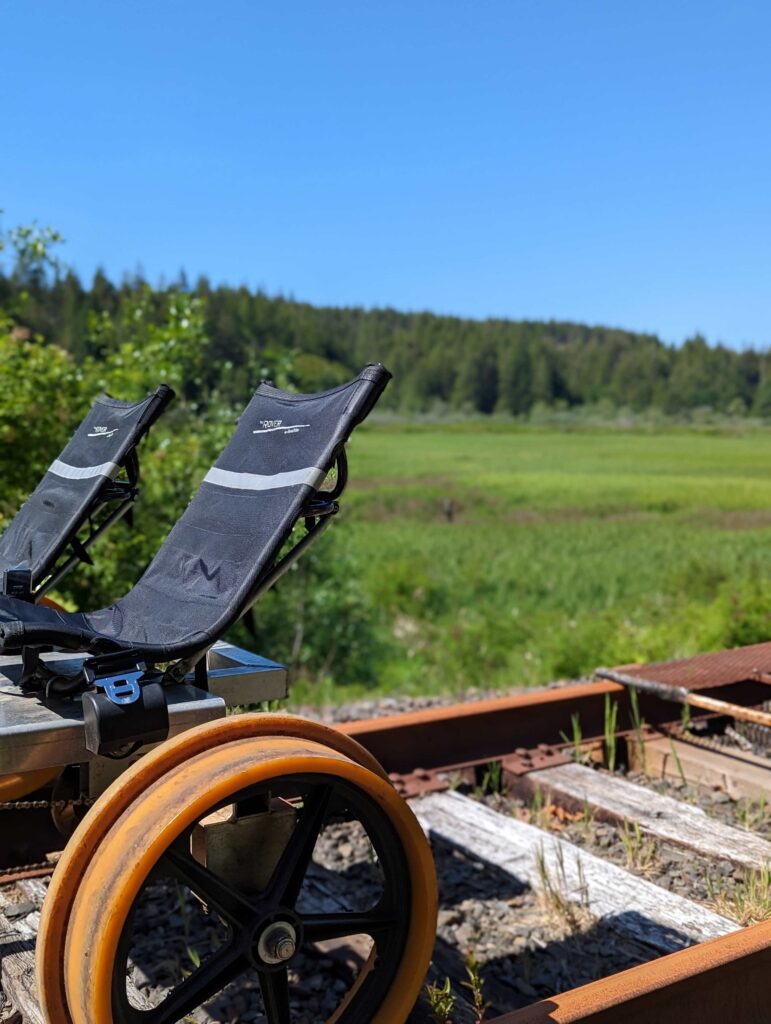 WHEN YOU GO
Oregon Coast Railriders is open Thursday through Monday in Coquille's Sturdivant Park until October 1. Reservations can be booked online at the Oregon Coast Railriders website, www.ocrailriders.com, or you can stop in and see if there is an opening during one of the departure times. Departures occur at 9 a.m., 12 p.m., and 3 p.m., but be sure to arrive at least 20 minutes early. Sturdivant Park is located at 96955 Hwy 42 S, about a 15-minute drive from Coos Bay and 20 minutes from Bandon. Tickets are $25-$40 per person.
Photos by Emily Kolkemo, except flower photo by Anita Metlen. Story published online exclusively for Oregon Coast magazine on June 19, 2023.