Story and Photos by Tom Baake
Of the many intriguing hiking trails on the Oregon Coast, perhaps only one involves a visit to a full-scale labyrinth and a shipwreck—all within sight of a world-class golf course. Such are the possibilities on the half-dozen miles of hiking trails at Bandon Dunes Golf Resort, 5 miles north of Bandon.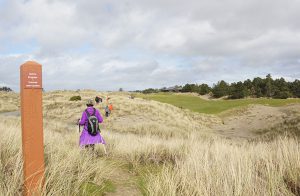 Open all year for free public use, the trails skirt the margins of three of the resort's five courses, following ridgelines and offering spectacular views as well as peaceful interludes of coastal forest and dunes. Trails pass sun-spangled lakes, cross hand-hewn footbridges, take in some of the resort's progressive architecture and visit the resort's historically accurate labyrinth, modeled on the one at Chartres cathedral in France.
Add an out-and-back walk on the Beach Trail, where the mouth of Cut Creek holds a jumble of gigantic cast-up stumps and trees. Depending on seasonal shifts in sand levels, it's possible to see some keel ribs of schooner Acme, shipwrecked in 1924.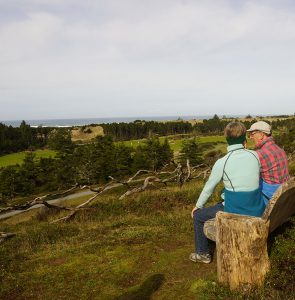 Like the resort, opened in 1999, the trail system is a work in progress, with maintenance crews in an ongoing battle against twin invasive scourges—profligate Scotch broom and relentless thorny gorse. Huge swaths of the latter were cleared for the golf links, although many dense stands were left untouched as some golfers feel its innate hazards add challenges to the raw, natural ambiance of the windswept links.
On the trails, however, keeping both invasive and native brush clipped back is "pretty much a constant deal," says maintenance superintendent Tom Jefferson, who oversaw the trail system until his recent retirement. He notes that of the resort's 2,400 acres, "Fifty percent is open dunes and fifty percent is forest untouched by us." A trail system was always part of the plan, he says, crediting the influence of course design consultant Howard McKee, an avid hiker.
Resort agronomy director Ken Nice oversees trail maintenance these days, noting the system's evolving process, with improved signage and refinements. "We'll continue to maintain them and maybe make some additions or create some new options," he says. "They're part of the Bandon Dunes ambiance and amenities that we're proud of."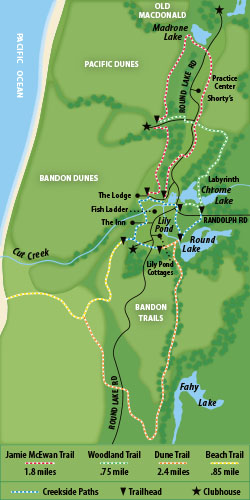 Golf & Hikes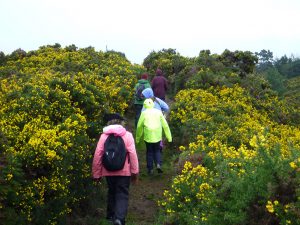 Heading north on Highway 101, turn left (west) about 2 miles north of Bandon onto Bandon Dunes Drive. This southern entrance wends through a park-like setting of wind-sculpted shore pines interspersed with cedar, fir, and madrone, with luminous green lichen spreading across the forest floor and up into the shrubbery.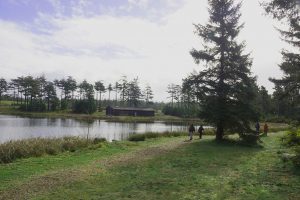 The road passes links, lodges, and other facilities—along with pretty Chrome Lake—with signs directing visitors to the main lodge, where a trail map can be obtained at the front desk; or, download one from the resort's website. (bandondunesgolf.com)
A full loop, including the out-and-back beach walk, could begin at the trailhead adjacent to the main lodge parking area. The trail heads up a set of steps to a soaring vista of the resort and nearby ocean, then eases along the edge of links to a ridgeline route. After passing Pacific Dunes clubhouse, it heads back to the ridgeline, then eases down to sun-dappled Madrone Lake.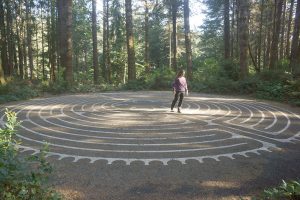 From there, the trail follows service roads and cobbled walkways past the driving range, then heads east to meet the Woodland Trail, which leads into a soothing interlude of fine tall timber. Here, in a peaceful grove, is the Labyrinth, an arrangement of quarried and specially cut travertine limestone pieces laid out in intricate circular patterns. A bench offers a spot for further contemplation, while an interpretive sign explains this is a replica of a circa-1000 A.D. labyrinth in Chartres Cathedral. Monks and others would walk the maze-like layout for contemplation or a bit of exercise. Unlike a maze, however, there are no dead ends; it's actually a series of 11 circles, with one way in and one way out.
The trail goes south, passing some of the resort's unique lodging accommodations before heading up for more fun ridgeline rambling. After threading through another forest interlude, the trail begins a loop back through dunelands to the resort. Along the way is the Beach Trail intersection, which as noted leads not only to the beach but also to the Acme shipwreck.
Once at the beach, Cut Creek is 0.2 mile north and the Acme remains, if visible, are on the north side. It was Halloween night, 1924, when the 154-foot steam screw vessel grounded here on low-tide sand. Skipper Fred Miller was hauling rail iron to Moore Mill in Bandon when he got lost in heavy fog and missed the entrance to the Coquille River. The 15-man crew was saved and much of the metal cargo was salvaged, while the sand-stuck ship was eventually burned where she stood, which is why only keel ribs remain.
Whether or not you take the Beach Trail to the beach, you'll be returning on it; follow signs eastward through the beachgrass-covered dunes to the Bandon Trails clubhouse, and from there follow cobbled sidewalks to the main lodge. You can also shortcut in front of The Inn and loop down to a footbridge that leads to a stairway up to the main lodge. And you don't even have to hire a caddy.
Story published in the September/October 2017 issue of Oregon Coast Magazine.