Looking for a new fishing venture? Here's one that's affordable, relatively easy, and doesn't require a boat.
STORY AND PHOTOS BY CHERYL D. WANNER
FOR THE FULL PRINT EDITORIAL VERSION OF THE STORY CLICK HERE
SOME OF THE most varied and exciting fishing in Oregon can be found right off our coastal jetties.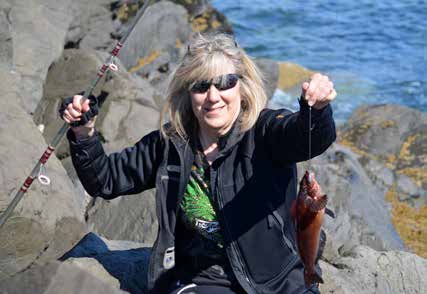 Jetties are manmade breakwaters that protect harbors, influence tides and currents, and provide reef-type habitat for native fish. As a result, they also provide great opportunities for shore-based anglers. Jetty fishing is often fast-paced and entertaining, with frequent strikes and a mixed bag of species, including greenling (sea trout), surfperch, rockfish (sea bass), lingcod, cabezon, flounder, even halibut and salmon. Half the fun is never knowing what you've hooked until it breaks the surface or you haul it in.
What do you need to get started? An Oregon angler's license, possibly coupled with a shellfish and/or salmon tag. You can fish the jetties with just the basic license, but you must have the extra tag to keep any salmon or halibut you take. A shellfish license allows you to harvest your own bait, such as crabs, mussels, or sand shrimp, as well as keep any legal-sized crabs. Current Oregon fishing regulations will list catch and size limits and tell you when (or if) various species can be taken.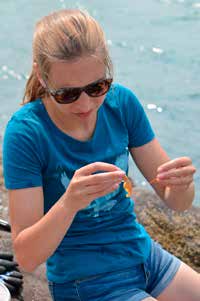 You'll want a salmon rod and reel (typically a spinning reel) suitable for 15 to 30-pound test line. Use bright line that's easy to track; these fish, unlike trout, aren't spooked by the sight of it. Various riggings can be employed, some involving multiple weights and others, multiple hooks. You'll need plenty of tackle as it's not uncommon to lose your rigging among the rocks. Baits range from live or frozen (fish, squid, shell-fish) to artificial (lures and synthetic live baits).
My husband, our daughter, and I started with just the basic tackle and a simple rigging technique that clips two lines of different lengths (one with a tri-angular weight, the other with a hook) into the swivel. Our bait of choice is sand shrimp, which can be bought from the nearest bait shop or sucked from the tidal flats with a clam gun. Harvesting your own bait takes time but can be fun and saves money.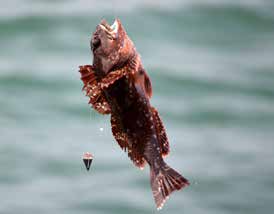 Our favorite location is the north jetty at Barview (Tillamook Bay). Considered great for catching lingcod in the spring, this is a relatively short breakwater with parking and restrooms on the shore end, and you can go from your car to a fishable spot on the rocks within minutes. The tidal flat near Coast Guard Station Tillamook Bay in Garibaldi is good for bait gathering, and you can throw your crab rings from the fishing pier opposite the station. Overnight camping is available in Barview Jetty Park with a cleaning station handy for gutting your catch.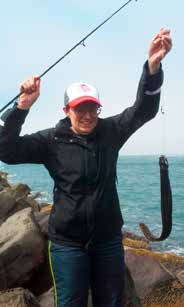 We've also fished Newport's south jetty. A long breakwater of huge boulders and tilted slabs, this site requires a bit of scrambling the further out you go. The north jetty is also fishable, but with no on-top parking, the hike out is much longer. The tidal flats of Yaquina Bay are good for sand shrimping. There's a fishing/crab pier and cleaning station on the south side of the bay, and you can camp in nearby South Beach State Park. In addition to the usual groundfish species, flatfish, such as flounder and sole, are some-times taken off the jetties in Newport.
The south jetty at Brookings is another great spot, especially for surf-perch. Other coastal jetties include Nehalem Bay (north of Rockaway Beach), Winchester Bay (Reedsport), Siuslaw River (Florence), Coos Bay (located in Charleston), Bandon, Port Orford, and Gold Beach.
Unlike freshwater fishing, where most action occurs in the mornings and evenings, jetty fishing is all about the tides. The best time to fish is an hour before high tide and an hour through the slack tide, though we've found good fishing for hours on either side of a turning tide.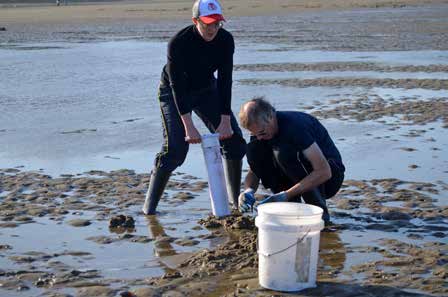 You need not cast far; you are fishing the rocks where the fish hang out. Let your hook sink and maybe sit there a bit before reeling it back in. Your line will be in constant motion, the tug and pull of swell and tide. These fish tend to be hungry and are aggressive hitters. As soon as you hook one, it will run for the rocks, and the fight is on!
In general, near-shore fishing yields surfperch and greenlings while the tips of the jetties are optimum for catching lingcod and cabezon. Black rockfish are also a common catch. In fact, anything swimming or crawling among the rocks, including crabs, starfish, wolf eels, even small sharks, is fair game for your hook. Keep a pair of pliers handy as most of these fish have teeth.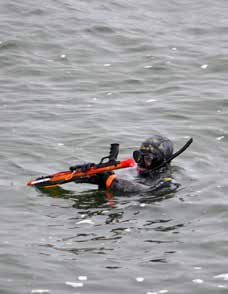 If you're a spear fisherman, jetties abound with underwater opportunities. The Fingers, on the channel side of Newport's south jetty, is a popular dive site. The Third Finger is a good spot to spear surfperch, rockfish, and lingcod. Oregon regulations prohibit the spearing of oceangoing freshwater fish, such as salmon and sturgeon, and size limits do apply. Even if you don't spear-fish, you can watch the divers from your spot on the rocks.
Ready to give jetty fishing a try? Take a hike out the nearest breakwater and talk to whomever you find holding a pole. Fishermen are, as a rule, an open community, and they love to tell their stories. They'll happily divulge what baits they're using—what's working, what's not—how they've rigged their lines, and show off their catches. Local bait shops are another good source of information as are websites and YouTube videos.
Jetty fishing is more than catching fish. It's the feel of being on the ocean while standing on land. It's watching the gulls and the cormorants, maybe spotting a sea lion or a whale spout, perhaps seeing a Coast Guard motor lifeboat or a fishing vessel cross the bar. It's the incredible view of surf and sky and the next headland breaking the coastline. It's breathing in the sea air and relaxing on the rocks as you wait for the next hit on your line. With any luck, it'll be your catch of the day! ■
Keep Safe on the Jetties
Because you will be fishing above or beyond swells and breaking surf, always keep an eye on the ocean, especially on a rising tide, and work your way up the rocks as the water rolls in. Wear nonslip shoes or boots, never waders; if you fall in, waders will fill and drag you down. Creepers (cleats that clip over boots) can be worn for traction on seaweed-covered rocks. If you use a bucket, exercise caution when scrambling down to fill it. Take care when navigating the boulders, especially further out to sea where the going is more rugged. Water is typically calmer on the channel side, and one jetty (varies with location) will be more protected than the other. Check the National Weather Service for predicted swell size—three feet is probably safe; six feet isn't. Stay off the jetties when high winds create breaking surf over the rocks. Wear a personal flotation device. And always fish with a buddy.