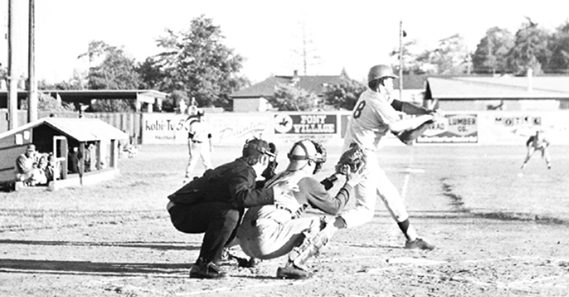 In the early 1970s, minor league baseball had an interesting run on the Oregon Coast, but even a brash owner, good players, and free loot couldn't bring the fans.
Story by ERICK MERTZ
Photos courtesy COOS HISTORY MUSEUM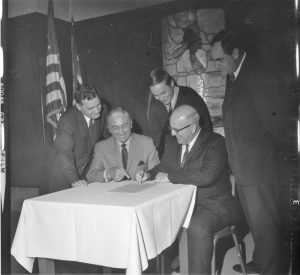 The history of baseball along the Oregon Coast is rich with notable local semi-pro squads, lanky high school hopefuls, and tall tales of barnstorming glory. The professional game, however, has proven elusive for the region; although, for three seasons between 1970 and 1972, the Oakland Athletics' minor league team called North Bend/Coos Bay home. The Northwest League's induction of the Athletics represented the first time a professional franchise opted to assign prospects to the care of an Oregon Coast-operated team. In such a team, rosters are filled out with top-notch high school and college stars whose pedigrees point, if not necessarily to stardom, then at least to a useful role on the big league roster.
Seeds of World Series champions are planted in the bush leagues. How the Athletics came to North Bend/Coos Bay may have something to do with the owner of the parent Oakland team at the time, Charlie Finley. Nicknamed "Charlie O," Finley was one of the true renegades in baseball history, one that helped bring the prosaic game into the 1970s.
THE PITCH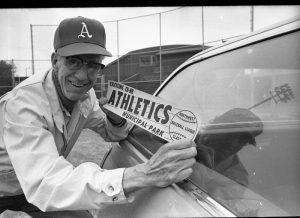 A brash self-promoter, Finley was not part of baseball's stodgy power structure. He was one to ruffle the establishment's feathers, whether through his unorthodox green and gold uniform colors, or free agency provocations. While some may have asked: why put a team all the way out there? Charlie O, a guy who brought a live mule onto the field as a mascot, likely replied: Why not?
Understanding how the Northwest League fits into the baseball hierarchy is fairly simple. It is the lowest, introductory rung to professional baseball. These are green players, newly drafted. This is a short-season league, meaning it begins in late June after the amateur draft, and ends by early September.
The story of how the Athletics franchise was awarded to North Bend/Coos Bay is curious, one taken from the pages of old-time baseball, during a simpler handshake era. In 1969, the Athletics operated a franchise in Tri-Cities, Washington, which ironically suffered from dire attendance issues, even though the team had been league champions several times over. Phil Seghi, director of the Oakland farm system, wanted to keep a franchise in the Northwest League but there was a very short list of available cities that fit the bill for relocation. Then-President of the Northwest League, John Carbray, badly wanted to get a team into North Bend/Coos Bay and over a weekend, he sold Seghi on the area. The catch was, Carbray hadn't really run the idea of minor league baseball past civic leaders yet. Once Seghi gave his approval and left town, Carbray took the deal and ran, bringing in locals like Curly Leininger, Syd Chandler, and Clyde Allen himself, all sports luminaries instrumental in the Coos Bay-North Bend Lumberjacks, a semi-pro baseball team. They formed an ownership organization known as Oregon Coast Baseball.
It's hard to fault Carbray for his ambitions, however "cart before the horse" they might seem in hindsight. He managed to sell the city on his dream with the notion that the team would be a cheap venture and the risks minimal. The Athletics would pay player salaries, a huge cost. All that the city had to do was provide a venue. Before Carbray knew it, he had gotten his wish.
PLAY BALL!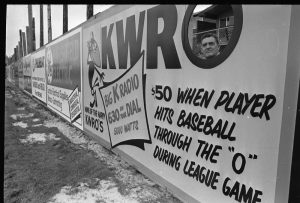 Athletic games would be broadcast locally on KBBR radio. The price for a single-season ticket was a paltry $25 for the whole slate of home games. But despite the cheap tickets and novelty, on opening night June 24, 1970, only 813 hearty souls got out to see the team's first game.
Promos didn't work. Fireworks. Bats. Hats. Free tickets. None of it made any difference at the turnstile. During the Athletics inaugural season, only 14,817 fans came out. The number represented less than half of what Oregon Coast Baseball projected they would need to break even.
Yet, in the penultimate game of the season, hurler Glenn Abbott fired a four-hit shutout, the best record in the league. No one throws a parade for such an achievement, but they do stand up and cheer. That is, if they show up. The first season ended with a whimper.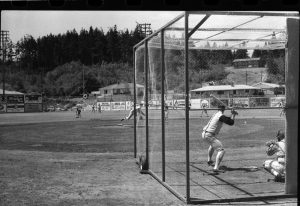 None of the attendance math was going to work in the Athletics' favor. Even if local interest ticked up from lukewarm, then Municipal Stadium seated far too few, and it was too run down. Once the franchise was approved, the structure had been cobbled into shape with volunteers and handouts for opening night.
Uniforms were a curious challenge for the franchise as well. Always tight-fisted, the Athletics sent their leftover jerseys to their minor league affiliates for use, a curious honor considering the ambitious nature of minor league ballplayers. Just because Reggie Jackson might have donned the green number nine last year though, that doesn't fix the holes, remove grass stains, or uplift a shabby feeling.
If the parent club proved at all culpable in the demise of the North Bend/Coos Bay franchise, it was not for lack of talent. All together, 94 players donned Athletics uniforms and many of them proved to be quite good.
BALLPARK BLUES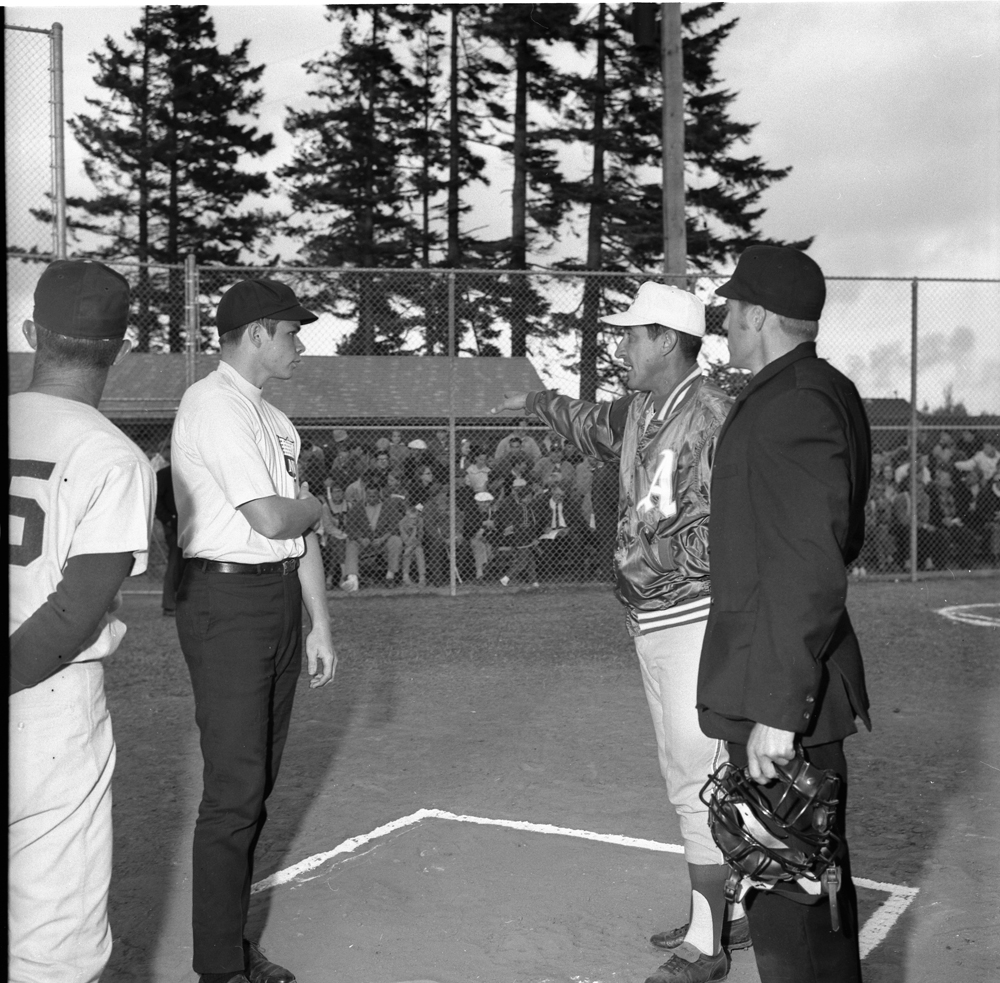 Manager Harry Bright was a baseball lifer and a vivacious personality. Pitcher Bob Wolf had one of the greatest statistical pitching seasons in Northwest League History in 1971 going 13−0 with an impossibly small ERA of 1.36. Gordon Fingers, brother to Hall of Fame hurler Rollie Fingers had a short stint on the team. Longtime major leaguers Chet Lemon and Claudell Washington got their starts patrolling the outfield. Weighed simply on talent, the Athletics were one of the better teams in the league, certainly not a band of afterthoughts.
The next two seasons went on as scheduled, but the writing on the wall was becoming easier to read. Attendance didn't just drop in those years; it fell precipitously. The next season the total attendance was 11,701. Even a handsome, light-hitting shortstop for the Bend Rainbows named Kurt Russell, who would go on to Hollywood stardom, couldn't draw a weekend crowd with his flair.
If the story of how the Athletics were delivered to North Bend/Coos Bay can be described as "curious," then its exit bordered on downright bizarre. On August 21, 1972, with only days remaining in what would turn out to be a lame duck season, the team scheduled a ceremonial 'Charlie O' Finley day. They organized a 'fishing trip for the owner and got him a suite down at the Pony Village Motor Lodge in town. It was going to be a classic send-off for the bigger-than-life personality. Except, Finley never showed up to play his own part. He never went on his fishing trip. He never checked into his room at the inn. According to the press and people of North Bend/Coos Bay, the maverick owner had gone missing.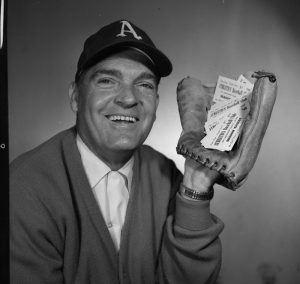 Where was Finley? He was in Chicago, and a few days after his no-show, he read about his absence in a newspaper. The organization was red-faced. The players who were gearing up to meet their owner were humiliated. On August 30, the last home game of the season, an all-expenses-paid trip to Hawaii was given away on Fan Appreciation night. Only 291 fans came out to see if they were the lucky winner, and fortunately, a stalwart season ticket holder won the prize. Just a few days later, Oregon Coast Baseball severed ties with the Oakland Athletics, citing organizational indifference.
YOU'RE OUT!
In hindsight, one look at the facilities could have predicted failure. Later renamed as Clyde Allen Field, the stadium was hardly adequate for use as a high school field. Concessions were scarce. Parking cramped. There was only room for a few hundred fans in the wooden stands at capacity, and maybe a few more peering through the knotholes on the street out in right and center field.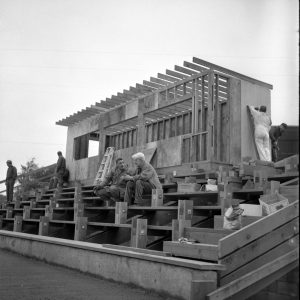 Minor league baseball has a checkered history, especially ragged in the low minor leagues. Almost by design, there is a big top atmosphere that doesn't exist in New York, Boston, or Los Angeles and few cities keep the tent up forever. In 1973, the Athletics moved their Northwest League franchise to Lewiston, Idaho, before they shuffled on to Bend, Oregon, in 1975. They were there just two seasons before moving to Medicine Hat, Alberta, only to come back to Bend for a swan song in 1978. In 1979, they settled in Medford in Southern Oregon where they remained for two decades.
And what became of Clyde Allen Field? According to Steven Greif, who wrote the book, Extracurricular: A History of Athletics and Activities at North Bend High School (2016), after years of decay in the 1980s and early 90s, the field was purchased by the North Bend School district in 1997. Over the next 15 years several improvements were made, including new fencing and dugouts, the addition of a state-of-the-art drainage and sprinkler system, and the installation of seating purchased from the major league stadium of the Atlanta Braves. Clyde Allen Field is now used by the North Bend High School, along with a busy summer schedule of youth baseball, Babe Ruth, and American Legion competition. The question becomes: why didn't another team come back to the Oregon Coast? If not to the North Bend/Coos Bay area then why not somewhere else? Perhaps another less isolated town, one connected to the metro areas up north. The courtship of professional franchises is no longer as easy as it was in 1970.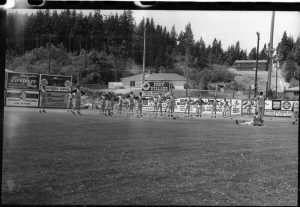 It is, perhaps, better suited to valley business people, those who aren't accustomed to kicking sand out of their sandals before a town hall meeting. An even more likely reason is one of diminishing opportunity. With rare sunny days and tourists only in town for a few tightly-scheduled days before running home, bonfires and sunsets probably win out over peanuts and Cracker Jack's. None of the towns along the coast boast local populations large enough to keep a minor league franchise afloat.
In 2016, the smallest city to host a Northwest League franchise was Hillsboro, Oregon; at nearly 100,000 people on its own, about four times larger than the entire North Bend/Coos Bay metro area.
Practicality aside, the idea of baseball by the sea remains romantic, and for three short-lived seasons it was a reality.
This story appeared in the January/February 2017 issue of Oregon Coast Magazine.