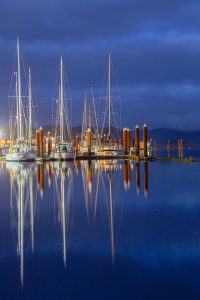 Florence—like the Italian city of the same name—is an inspirational location.
For evidence of this fact, look no further than the best-selling science-fiction book of all time, Dune, by Frank Herbert. Back in 1959, Herbert was on assignment to write an article about the Oregon dunes. He became so mesmerized by those wind-whipped mountains of sand that he imagined another planet, an entire dystopian world, in that stark landscape.
Herbert never wrote the article—but Dune (and five sequels) sealed his fate as one of the greatest sci-fi minds of our time.
I won't be following in Herbert's footsteps—there's nary a sci-fi short story in me. But I have 48 hours to "do" Florence, and while it won't be easy to capture its charm in that short amount of time, I'll try to do it justice.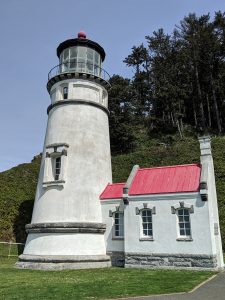 DAY 1 (half-day)
First, it must be said that two days is not enough time to fully experience this area. Because it's not just Florence that you're taking in—it's a phenomenal stretch of the Oregon Coast as well as the Siuslaw River and dozens of lakes. Oh yeah, and there are those dunes too.
So my husband and I start out early. Coming from Portland, we decide to do the geographically logical thing and hit the attractions north of Florence first.
And they are not-to-be-missed magnificent. The beaches just north of Florence are stunning—and solid proof of why the coast attracts millions of visitors annually.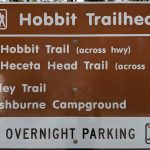 The Hobbit Trail was first on our list. Hard to resist with that name, right? The turnoff, about 12 miles north of Florence, is easy to miss, which in fact we do (parking is on the east side of Highway 101). We double back, park, and carefully cross Hwy 101 to the trail head.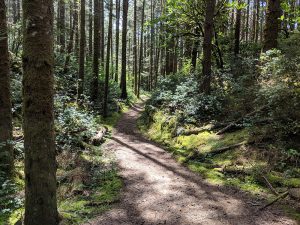 It's a short but idyllic walk to Hobbit Beach. And it is indeed hobbit-like, with moss-covered trees and mini-trails crisscrossing the woods. Toward the end of the hike the bushes arc over the pathway, creating a tunnel fit for, well, hobbits. After our traipse through Hobbit World, we're ready for Heceta Head Lighthouse, just south of the trail and reputed to be the most photographed lighthouse in Oregon.
We park at Cape Cove and take the half-mile trek up to the lighthouse. The hike itself is a treat, on par with the Hobbit Trail for whimsy and charm. (Note: You can actually stay at the lighthouse keeper's residence. It's a bed and breakfast!)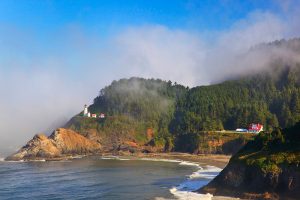 While the views at the lighthouse are glorious, it's South of Heceta Head, further down 101, that numerous pullout viewpoints allow stunning vistas of the ocean, beaches, Heceta Head, and its lighthouse. This is where most amateur and professional photographers get their shots.
Our next must-visit is Sea Lion Caves. I'm a native Oregonian and I remember coming here as a kid and being pretty awed by it. As an adult, I appreciate it for different reasons: 1) I have a better camera; and 2) I'm actually absorbing the information on what I'm observing. Claimed to be "the world's largest sea cave," it is indeed massive, measuring the height of a 12-story building, and is home to at least dozens, likely hundreds, of Steller sea lions—as well as cormorants and pigeon guillemots. Take time to absorb what you're seeing. It's a rare, "up close and personal" view of marine life.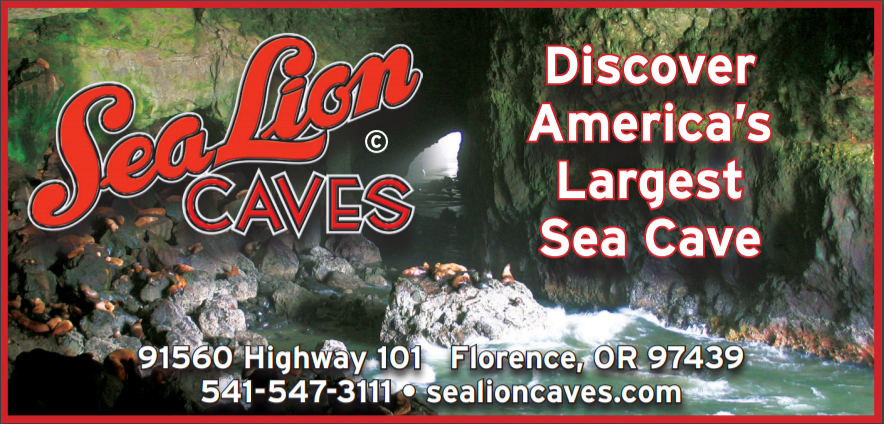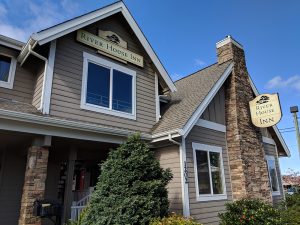 We check in at the River House Inn, right on the Siuslaw River. (We're hoping to stay at The Lighthouse Inn—another walking-distance-to Old-Town-Florence motel, now serving freshly prepared free breakfasts for guests—next time we visit.) From our little haven—a riverfront room with balcony—we have a view of the splendid Siuslaw Bridge and the dunes across the river. Canada geese, herons, and gulls add to the ambiance. I sit on the balcony for a long time. Don't tell my good friend The Ocean this but I'm really liking this spot on the calm river with my bird friends and the dunes across the way. . .
The Inn is just steps from Old Town so we walk down Bay Street to BJ's Ice Cream Parlor for a sugary nightcap. Time to turn in.
DAY 2 (full day)
for our morning cup of joe, we opt for River Roasters, a locally owned gem that roasts its own beans and has a spacious bay front deck right next to the bridge. It is precisely the kind of place I would gravitate to—daily—if I lived in Florence.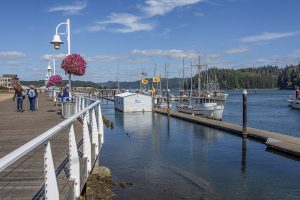 We sip our morning brew, riverside, and plan our day. Our itinerary for Saturday starts with a look at some of the attractions south of Florence, most notably the Oregon Dunes National Recreation Area. The dunes are a big deal here—for good reason. This 40-mile expanse of sand—reaching 500 feet above sea level—extends from Florence to Coos Bay, making it the largest stretch of coastal dunes in North America.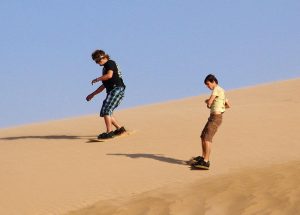 It occurs to me that there are myriad ways to enjoy and appreciate the dunes. I'm on the low-adventure side of the spectrum so my first choice is Honeyman State Park (Oregon's second largest state park)—another childhood memory for me. I recall trudging up the dunes and then running down them into Cleawox Lake. (Kids still do that!)
After reminiscing at Honeyman, we drive down South Jetty Road, where you can access the beach by hiking over the foredunes. Looking back from the beach, I think perhaps Frank Herbert was gazing at this exact sight when he conjured up the desert-like planet Arrakis.
Other dune experiences abound. There is, of course, the iconic dune buggy. The folks at Sandland Adventures offer two basic tours. The "big buggy" (holding up to 40 people) is slower, more scenic. "It's a good way to learn about the dunes," according to owner Darla Hague, with narration on dune formation, plants, and wildlife during the tour. The Sandrail option, in a much smaller buggy, is for thrill-seekers with a strong stomach and a zest for adventure.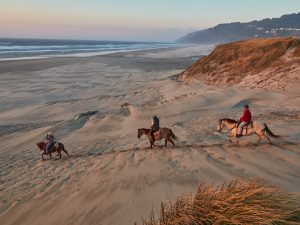 At C&M Stables, north of Florence, you can saddle up for a ride through the dunes or along the beach. If you've never tried sand boarding, check out Sand Master Park, with a variety of slopes, lessons, and boards for rent. It's like snowboarding, but on sand. And for ATV-enthusiasts, you can rent them from a number of businesses.
We're finally ready to experience Florence proper. Our first stop, before exploring the town, is the Siuslaw Pioneer Museum. It always makes sense to have some background on the area you're visiting, right?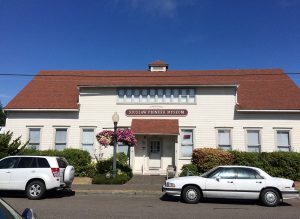 Like many Oregon coastal towns, fishing and timber figure prominently in Florence's early (1800s) history. The road that would end up as Highway 101 came through in the 1930s. In 1936 the Siuslaw River Bridge, designed by Conde McCullough and sporting four Art Deco-style obelisks, made the ferry crossing obsolete. The bridge is one of a series that McCullough called "jeweled clasps in a wonderful string of pearls."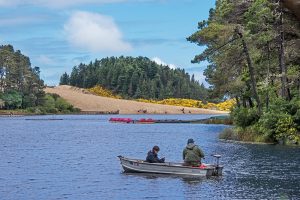 We also check out the Oregon Coast Military Museum, an impressive display of Oregon-related war memorabilia from the Civil War on, most donated by local/Oregon veterans. And any Oregonian who has served can submit their information for the museum's "Wall of Heroes."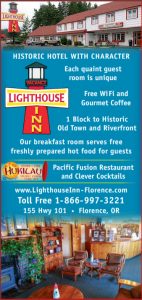 With some history lessons under our belts, we're ready to explore Florence. Historic Old Town is off Hwy 101, adjacent to the harbor. There are more than 20 well-preserved, turn-of- the century buildings marked with plaques that tell their stories. We've also purchased a guide at the Pioneer Museum that includes "then and now" photos of 21 buildings in the Old Town area. I glance from sepia-toned photos to the "now" versions and gain a solid sense of place in this charming neighborhood of streets hugging the waterfront. This is my favorite part of vacationing—just exploring, wandering, discovering—and Florence is ideal for it.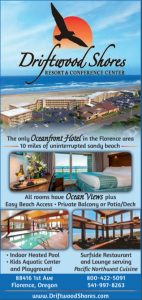 Any time you visit the stunning Oregon Coast you're well-advised to check out the arts scene, and Florence is no exception. All of that natural beauty—dramatic coves, rivers, lakes, dunes, surf, wildlife— still inspires creative pursuits.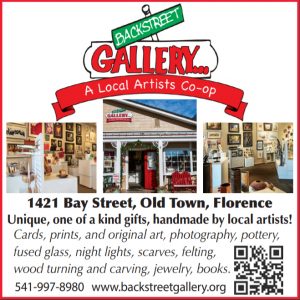 Backstreet Gallery is a co-op of artists with an array of talents, from watercolor and pottery to fused glass and jewelry. The Florence Regional Arts Alliance also has a gallery with works of diverse local artists—as well as hosting classes and events, including Second Saturday, an afternoon of gallery receptions, entertainment, and refreshments.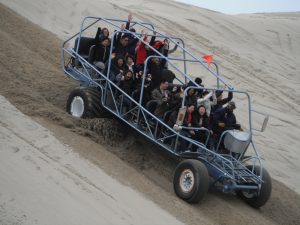 We continue to meander, checking out unique local shops featuring everything from socks, t-shirts and kitchen items to kites and souvenirs. Stitch and Sole, a clothing and footwear emporium, showcases dozens of carefully selected pieces among its vast array of offerings. Periwinkle Station offers toys, games, puzzles, books—and candy. Bonjour! is another clothing boutique that begs to be browsed.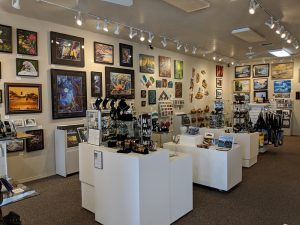 For me, vacations are nearly synonymous with book-reading. So I thoroughly enjoyed Books 'n' Bears. (True confession: When I glanced at the storefront sign I first thought it said "Books 'n' BEERS" and was intrigued for less erudite reasons!) Owner Sue Foster has operated the shop for 28 years. Mostly used (and a few new) tomes line the walls, along with the occasional bear. Foster says she likes to think of her diminutive shop as a "distilled Powell's." I think it fits the bill.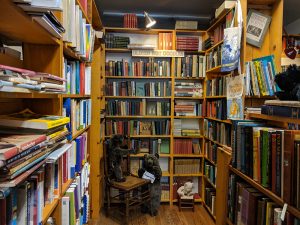 Dinner is a treat at the venerable Waterfront Depot. We enjoy a ringside seat on the river with a view of the Siuslaw Bridge. On our walk home we can't resist a visit to Old Town Park and its gazebo for another river vista.
DAY 3 (half-day)
We decide to take a scenic walk, beginning at Veterans Memorial Park, continuing along Bay Street and then the marina and boardwalk—as far as we can go. I could get used to this as my morning constitutional! After checkout, a drive up N. Jetty Road, off Rhododendron Drive, reveals a stunning stretch of beach north of the Siuslaw.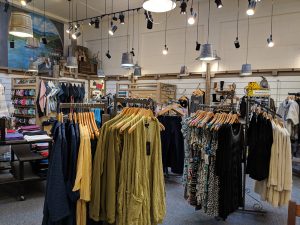 Finally, we stop at The Hukilau for lunch. With its focus on Pacific-fusion-everything, it's a fitting ending to our beachy visit to Florence.
I won't be writing science fiction any time soon. I'll leave that to experts like Herbert.
But the city of Florence and its surroundings have indeed inspired me—to return soon. ■
This story appeared in the issue of Oregon Coast magazine.