The Coos Bay Boatbuilding Center offers woodworking workshops that can culminate in anything from a spoon to a red cedar canoe.
STORY AND PHOTOS BY TOM BAAKE
FOR THE FULL PRINT EDITORIAL VERSION OF THE STORY CLICK HERE
THE BRINY SCENT of the bay mingles with the smell of fresh-sawn cedar as another classic wooden watercraft nears completion at the Coos Bay Boatbuilding Center.
Perched atop a sturdy concrete dock along the waterfront in Coos Bay's Empire district, the Boatbuilding Center is heading into its 10th year of handcrafting and restoring everything from one-of-a-kind boats to carousel rosettes to myrtlewood furniture to wooden spoons. In recent years the center has organized the annual Tall Ships visit, when historic and replica sailing vessels such as the Gray's Harbor-based Lady Washington come to call.
In addition to providing ample space, a well-out-fitted workshop, and moral and technical support for a variety of smaller projects, the Center offers workshops and classes throughout the year.
It also keeps alive a boatbuilding tradition that goes back to 1858 in the North Bend/Coos Bay area, when skilled woodworkers built vessels that sailed all over the world with the bounty of Oregon's forests. Indian traditions of carving elaborate dugout canoes go back even further.
In recent years, though, local boat building operations were focused mainly on fishing vessels of sturdy steel and aluminum, while wooden boats increasingly became a hobby project or novelty. Yet interest was keen in maintaining tradition, and a boatbuilding center was among suggested projects as the city looked to rehabilitate its historic Empire district. This water-front area was originally dubbed the "Hollering Place," for it bordered a narrow part of the bay where in pioneer times one had to call out for someone from the other side to come ferry them across.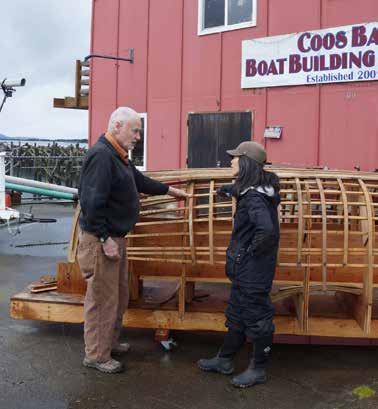 The area languished in later years, but recent improvements included a boat ramp with floating docks, a public fishing pier, a fish-cleaning station, and other amenities. Still, business owners, city officials and residents sought further development. Local landowner Doug Devine made property and a building available, dilapidated buildings and piers were removed, and the city used Urban Renewal funds to bring the facilities up to code.
Guiding the efforts through the years has been retired educator Tom Leahy, who explains that the center added a second-floor shop to the main building, and later another weather-protected work area. He credited the ongoing guidance of local realtor and maritime history buff Jim Berg, a founding member of the Center.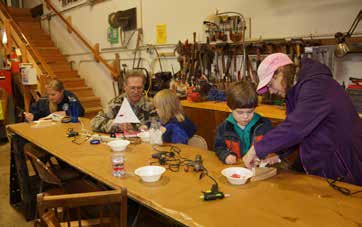 One of the Center's first projects was a "six-hour canoe," which as the name implies involved building a canoe in just six hours. Less-intense cedar-strip canoe workshops have been held every other year since, led by veteran woodworker Nat Jaeggli, who said the six-week project moves fairly quickly. "If you stretch it out too long we all lose enthusiasm," he says.
At a recent session, volunteers worked on a 16-ft Wabnaki-style canoe, which featured a distinctive bow and stern "recurve" shape. "Essentially, we're trying to create an East Coast American Indian birchbark canoe," says Jaeggli, noting that West Coast tribes favored dugouts.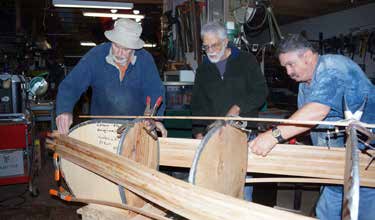 After the vessel's basic shape was established with a temporary wooden frame, it was flipped over so workers could lay down an exterior of three-quarter-inch strips of Western red cedar. Each strip was about 10 feet long, staggered so no gaps adjoined.
The strips were carefully glued, laid into place, and screwed to the frame, then stapled at intervals to the adjacent strip. An array of clamps helped secure everything.
Once the glue set, the staples and screws were removed and the canoe was flipped over again for work on the inside. Subsequent layers of resin, epoxy, and fiberglass cloth were laid down, with more sanding and minor shaping along the way. Further sanding and preparation were then completed on the outside.
It was the fourth workshop for volunteer Mike Leigh, but "my knowledge increases with every project," he says. Echoing the sentiment was Akane Nakanishi, who on a recent day helped volunteer Pete Perrin put the finishing touches on a screen-vented door for a kitchen cabinet.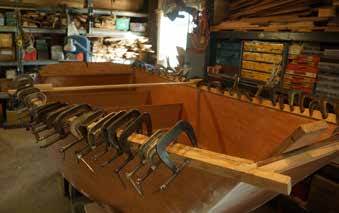 She first heard about the Center's wooden spoon-making class and was immediately impressed by the knowledgeable volunteers. "They have amazing patience, and they're willing to share what they know," Nakanishi says. "It's a real community of people helping each other."
A popular event is the Christmas-season Santa's Workshop, during which youngsters decorate small wooden toy boat "blanks" with all manner of ornaments and embellishments.
Other workshops include wooden paddle-making, wooden boxes with dove-tail joints, and "free libraries"—wooden boxes people set up next to their mailboxes to offer free books. Woodworkers have crafted an Irish curragh (or currach), a Montana pram, a Mason bee house, hanging planters, wooden mirror frames, and rosettes—bas-relief design ornaments—for the Coquille Carousel.  Other projects include a "wherry boat," a sleek rowing/sailing skiff also called the Oregon Dory. The 33-foot Empire City is another long-term project expected to hit the water this year.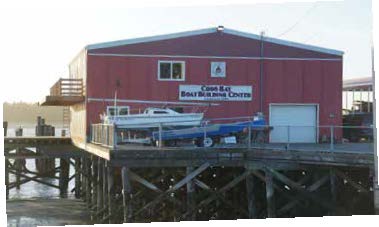 "We do more than just building boats," Leahy says. "We want it to be more of a folk-art school and offer things like scrimshaw." Leahy has also had discussions with the Northwest School of Wooden Boatbuilding about providing a certified instructor for upcoming workshops.
He notes that the group works with the Oregon Youth Authority to provide training and has gotten scholarships for more than 1,000 students to ride on the tall ships during their annual visits.
"THEY HAVE AMAZING PATIENCE, AND THEY'RE WILLING TO SHARE WHAT THEY KNOW. IT'S A REAL COMMUNITY OF PEOPLE HELPING EACH OTHER."
Leahy encourages anyone interested in teaching a class—or anyone who knows someone who will—to come on board. "This is a great resource, a real community workshop." ■
WHEN YOU GO
For more information and a calendar of activities, check the Coos Bay Boatbuilding website or call Tom Leahy.  (541-217-4365; coosbayboats.org)