Enjoy the bustling Bayfront, a marine discovery adventure, beautiful beaches, and of course the Aquarium. You'll also find more great shopping and dining than you can fit in a weekend!
STORY BY GAIL OBERST
When my mother was born in Newport in 1937, the Yaquina Bay Bridge had just been built, Nye Beach was a favorite destination for vacationers, and the Bayfront was a bustling center for fishing and shipping. Much of that is still the same, as I discovered during a recent getaway.
So, with three generations of visits in my bailiwick, choosing which activities to do in 48 hours proved to be a challenge. I was up to it! I followed my nose to the places I'd never visited, then sprinkled in my old favorites. What I discovered, or rediscovered, is that this charming coastal town of 10,000 never ceases to amaze me.
Before You Go
Where should you stay? The town is divided into several districts, each with its own sights, sounds, and activities—and plenty of options for lodging.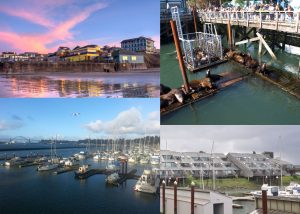 Nye Beach has several beachfront hotels where you can be lulled to sleep by the sound of the surf, then wake to stroll the sands outside your door. I've been to conferences at the Hallmark Resort and the Shilo Inn; I've toured the unique Sylvia Beach Hotel with its literary-themed rooms, and I've stayed at the elegant Nye Beach Inn and their affiliated Nye Beach Condos at Pacific Crest. This time, I visited the Elizabeth Oceanfront Suites. All of these are within steps of the historic Nye Beach district.
The Bayfront is another option. This is a mile-long stretch of shops, condos, bars, eateries, and family attractions mixed in with a working waterfront, harbor, and seafood processing plants. I love the hotel and condo rooms at The Embarcadero for their views of the bridge and the bay. This trip, I stayed at Anchor Pier Lodge, five beautiful marine-theme rooms located right on the waterfront. I stayed in the Surfer Dude room, complete with authentic noises and aromas of a breathing bay. Sitting on my deck, I was part of harbor life, boats passing by, and sea lions barking below.
The south side of the bridge—South Beach—is home to some of this area's biggest attractions, such as the Oregon Coast Aquarium. Several hotels, condos, and an RV park provide easy access to the marina, and (in my opinion) the best places for crabbing. Our family has also camped out at South Beach State Park, less than a mile south of the bridge.
Now, you've made your reservation. Let's go!
Day 1 (half-day)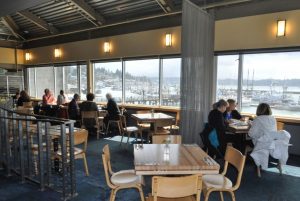 I arrived in Newport in time to eat lunch at one of my favorite places, Local Ocean, on the Bayfront. Owner Laura Anderson, who comes from a fishing family, maintains the original fresh-catch seafood market, but the restaurant, which added another floor due to popular demand, is the highlight. Popularity means you should expect a wait during peak hours if you haven't made a reservation. I sat at the grill bar and ordered my favorite fish tacos, but watched a lot of other beautiful dishes being prepared, including the Fishwives' Stew, which I will have to try later.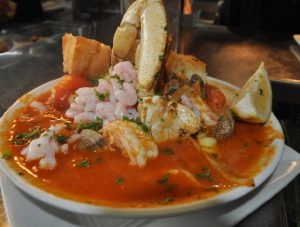 If my husband had been with me for lunch he might have begged to go to the original Mo's Restaurant, the one with the garage door that opens on nice days. Although there are now many other Mo's outlets, the Bayfront restaurant is the company's first. This is where the late Mohava Marie Niemi began it all in 1946. I love the cabbage dinner salad with shrimp.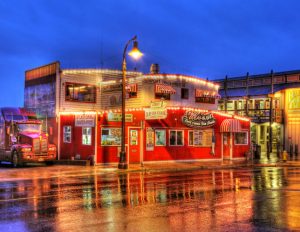 After lunch, take a short hike from the Bayfront on a trail that begins just above the U.S. Coast Guard station, goes under the bridge, and ends at the Yaquina Bay State Recreation Area. You could walk farther—dunes and beaches on the north side of the jetty are worth exploring, all the way to Nye Beach. But today, I headed back to explore a few more Bayfront sights.
If I had my druthers, I'd hole up for hours in the archives of the Pacific Maritime & Heritage Center, pausing only for the occasional meal and an evening beer at Bier One in the Deco District. But if you want to get out on the water, join a family-friendly Marine Discovery Tour, a two-hour, hands-on cruise with marine naturalists. The tours take you into the river, bay, or ocean, depending on the weather, and while learning about the ecology of the area, you may see everything from a huge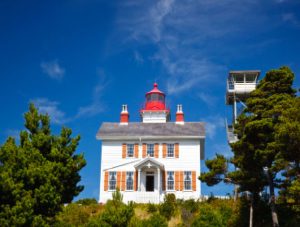 gray whale to tiny microplankton (thanks to the handy microscope on board). These tours are a big hit with kids.
Youngsters may also like the Bayfront haunts of my own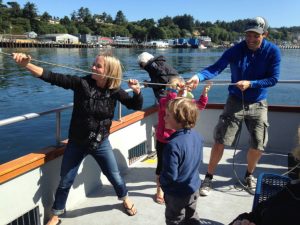 childhood, some of which are now a bit frayed around the edges—the Wax Works, Ripley's Believe it or Not, or the Undersea Gardens, with an arcade added recently to the mix.
In the colorful shops lining Bay Boulevard, you'll find crab hats, sweatshirts, Christmas ornaments made of shells, T-shirts, mermaid dolls, and more. I've bought them all over the years and hadn't intended to make a purchase until a downpour forced me to take cover. I came out with a bag full of trinkets—all necessary, of course.
Then I checked into my Anchor Pier room and asked Fran Mathews, co-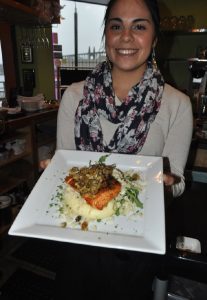 owner with her husband Don of the lodge and Marine Discovery Tours, for some fresh suggestions for dinner. She had a long list, including M&P Thai and Saffron Salmon. I left the decision up to my husband, whose single question was, who has the best wine?
At Saffron Salmon, owner Stacy Schellinger put an amuse-bouche before us, sending me directly to Wikipedia (it's a gratis bite-sized appetizer). Across the room, Stacy and her husband, chef Michael Waliser, were feeding Newport's glitterati as part of a fundraiser for Lincoln County's Children's Advocacy Center. My saffron salmon was incredibly good, only made better by the view from the Bay Street Pier and the festive company.
Day Two (full day)
we had breakfast at the Coffee House on Bay Boulevard, where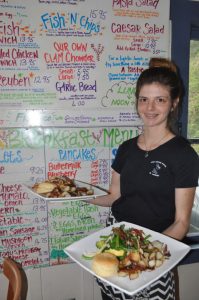 the portions are large enough to split, if you can agree on what to eat. If I win, it is corn beef hash; if he wins, it's an omelet. When someone ordered a fresh fruit crepe, it was so pretty, I snapped a pic. This is a small cottage overlooking the harbor, so weekend waits are not uncommon. It's also great for lunch—the Rueben sandwich is my favorite, a close tie with Nana's Irish Pub's Rueben, over in Nye Beach. Both places prepare their own meats, and you can tell.
After breakfast, I drove to Nye Beach and parked at the end of NW Beach Drive, aka the Nye Beach turnaround. From that base,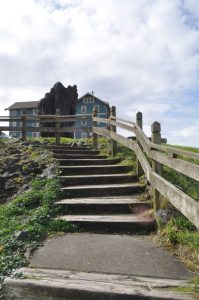 you can walk to the beach, visit the Visual Arts Center and the Yaquina Arts Association galleries, and browse dozens of artisan craft shops, eateries, bookshops, and other odd and wonderful places. After lingering in the YAA gallery, which is built right on the beach, I skipped over to visit Rebecah Lutz of Nye Beach Sweets,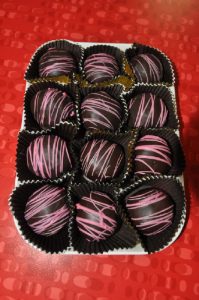 home of delicious fudge, scones, cookies, ice cream, candy and espresso. Head cheerleader for Nye Beach, Lutz had a list of places I should visit, and if I had a week, I'd see them all. Stop by her shop to get a handy guide. I discovered Nye Beach is the home of Newport's most unique gifts: Charisma Gifts, Bridie's Irish Faire, and the For Artsake Gallery, for example, kept me in a constant state of wonder. If you step into Jovi, you'll swear you've wandered into Aladdin's Cave. (I didn't get to TuTuTu, a kitchenware shop, but I will next time.)
Recovered from breakfast, I stopped in at the Chowder Bowl, just steps from the beach, to meet Mike Franklin. Over a bowl of delicious thick and meaty chowder, Mike told me he grew up in the 1920s building where his family has operated the Chowder Bowl since 1980. Many of the historic details remain in this bright restaurant. How did I miss it all these years?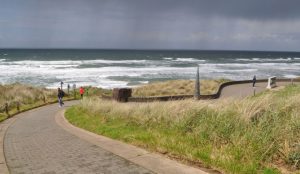 After lunch, I walked up the steps alongside the Visual Arts Center, then four blocks south on Cliff Street to get to Don Davis Park and another trail accessing the beach, past a beautiful veteran's memorial. Hike south and you'll come to the Yaquina Bay State Recreation area. I took off my shoes and walked the sand north, back to my car. I was ready for a beer. Rogue Ales' original Newport brewery started at the Bayfront in 1989, and later moved across the bay where it had room to expand. I was headed to the South Beach brewery, which has a taproom and a restaurant, Rogue Brewers on the Bay. If you visit, be sure to take a tour of the brewery, offered almost every day.
And soon it was dinnertime. I had planned to have dinner! I'd even had terrific recommendations to try Sorella, a little Italian place in Nye Beach. I've eaten with friends at the Taphouse at Nye Creek, and was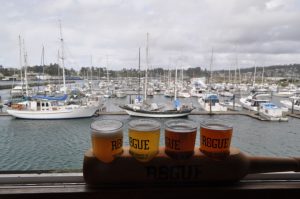 impressed with their beer selection. I was also tempted to return to an old favorite, Café Mundo, for their open mic night, but decided to stop there for pastries and coffee in the morning. Instead, I retrieved my car and drove it to a lovely little outcropping at the end of 68th Street north of town, where I watched the sun go down in all its glorious finery. Back at my Surfer Dude room, I opened the window and listened to the sea lions bark until it was time to sleep.
Day 3 (half day)
9 a.m.—texting thanks to my hostess, I loaded up bags, grabbed my previously mentioned coffee and pastries, and headed to the Oregon Coast Aquarium, often the highlight of a trip to Newport.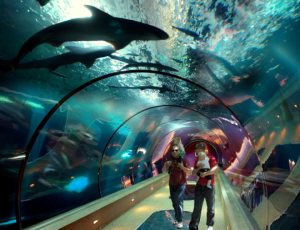 Our family's favorite is the Passages of the Deep, the former home of Keiko the whale that has been converted into a huge walk-through aquarium. Sharks, mackerel, rays, halibut, and cod swim over and under you. Outside exhibits showcase otters, seals, sea lions, and seabirds at play. This time, I got a behind-the-scenes pass, which I highly recommend for those who have visited in the past and want to learn more.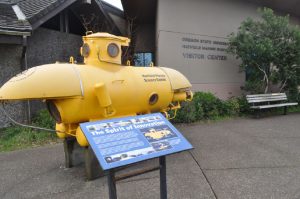 Afterward, I drove by the Hatfield Marine Science Visitors Center, another family favorite, but it was closed the day I visited. Nearly 300 scientists and students work here, and it is well worth a stop. Among other exhibits, you'll find tidepool touch tanks, a tsunami tank where you first build a house with Legos and then see if it can withstand the "tsunami," and a family favorite, the live octopus greeter. Several marine research ships are moored adjacent to the center.

My last stop was the Yaquina Head Outstanding Natural Area. This is a great place to end (or begin) a trip to Newport. The area includes an historic lighthouse with tours, hiking trails with informational plaques, accessible tidepools, amazing panoramic views, and an interpretive center that will keep your party entertained for hours. I've visited this beautiful place more than a dozen times, each time discovering something new. This time? The amazing Cobble Beach, where round black rocks roll with the waves, sounding like applause.■