The late Rob Spooner began writing yearly real estate articles in 1988. Rob's wife Alicia carries on the tradition with a look at the coastal real estate market 30 years later. 
STORY BY ALICIA SPOONER
FOR THE FULL PRINT EDITORIAL VERSION OF THE STORY CLICK HERE
The year was 1988, and Rob and I had just taken over Oregon Coast magazine and were working on our first real estate story. We were renting a house in Florence because our former home in Belfair, Washington, had yet to sell and we had just invested our savings in the magazine. Around the corner from the place we were renting was an early Florence home. It was just the type of home we had always dreamed of, with two stories, dark wood built-ins, a front porch, and so much charm. It was currently being used as a bed-and-breakfast and they only wanted $125,000 for it. For the reasons mentioned above, we had to turn it down.
While working on this story I asked a local realtor what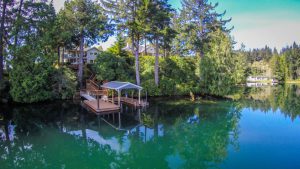 that house would be worth today and he told me it would probably be in the $400-500K range. The house we were renting (it is now the Edwin K Bed & Breakfast) is currently on the market for $1.3 million.
In 1988 the coast had just started to be discovered. Rob wrote that "a pleasant two-bedroom in Seaside could be purchased for $44,900." Today, you would be lucky to get a lot for that amount. The lowest price on a lot in Seaside I could find recently was $44.9K and it was 4,791 square feet. Most lots go for $80–$90K.
In the September/October 2005 issue, Rob wrote a real estate overview article titled "The Hottest Ever." He said that many agents reported that 2002 was their best year in history, "and halfway through 2003," he wrote, "they are on track to set yet another record."
Then came 2008. The crisis of the housing bubble reached rock bottom in 2012, and many people—who had paid top dollar for their homes—began to panic and had to sell or turn their house over to the bank. They were underwater.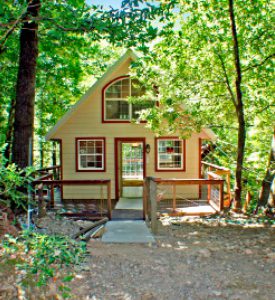 I asked Pam Zielinski of Berkshire Hathaway in Netarts if prices had risen back to where they were when the bubble burst. "The housing market has completely bounced back on medium- to lower-end houses," she says, "but there are still some great values on the higher end properties. This area didn't really start the recovery until fairly recently."
Zielinski has several properties that would be wonderful investments. The most expensive is on the ocean in Oceanside and lists for nearly $1.6 million. The interesting thing about this home is the mother-in-law suite, a completely separate suite that can be used as a vacation rental or can be lived in while the top two floors of the main house are used as a vacation rental. The current owner would like to retain this suite and would reduce the price to $950,000 for the rest of the house and property.
Zielinski has several homes along the Three Capes Loop ranging from $674K to $799K. She also has more modestly priced homes in Rockaway Beach and Oceanside. One Rockaway Beach home, built in 2007, has three bedrooms, two bathrooms and a one-car garage. It is listed at $239,900.
The house I fell in love with was a 1903 Victorian right in the middle of Tillamook. This home is two-sto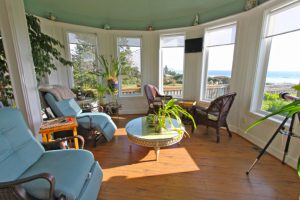 ry, with four bedrooms and three bathrooms. The Crenshaw House was built in 1903 and is beautifully remodeled with respect for the period. It has nooks and crannies, a veranda, an entry-level master suite, and a large nostalgic kitchen. Off the garage is an approved auxiliary dwelling unit in a partially converted garage. This can be rented out for extra income or kept on hand for a private getaway. You can own this little piece of history for only $288K.
When we moved to Florence in 1988, real estate was in a slump. The logging industry had taken a hit and a lot of the younger people were moving away. Many people were starting to look at tourism, however, and brokers were warning that the end of the oversupply was in sight in most communities. If prices were rising here, they were going through the roof in California. People were drawn to the coast's mild climate and reasonable housing prices, and they were dreaming of retiring.
I recently asked Andy Johnson of Coast Real Estate, in Florence, how the market is doing. "Today there is more new construction than in recent years," he says. "People are buying lots for future builds, and builders are also buying lots. There are more custom homes being built than in the past."
However, he notes that existing home sales continue to fuel the Florence market. "Ninety percent of what is sold in our area are existing homes," he says, "ranging from a Coast Village trailer to over $1M on the lake." Lots outside of town, he adds, are still relatively plentiful. Prices range from $45K to $99K, with waterfront property running around $200K-plus. The average price on a home in the Florence area is in the $270K's. (The peak was $324K back in 2005.)
You can currently purchase an oceanfront cabin in Florence, a rare opportunity for generations of family memories, for only $429K. This cabin was built in 1977 and offers two bedrooms, two baths, and 1,412 square feet of living space on .17 acre of land. You could rent it out as a vacation rental, reserving times for your family.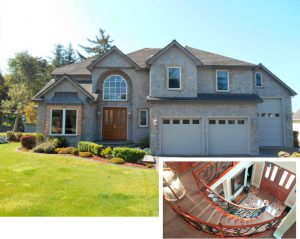 Also available in Florence is an extremely rare log-style, circa 1938, lakefront cabin on Siltcoos Lake. Watch the sunrise over the lake while enjoying your morning coffee, then launch your kayak from your very own boathouse for a turn around the lake. This charming cabin has an exceptional wraparound deck with beautiful views of the lake, mature vegetation, and is wind-protected. It is very unusual to find lakefront at this low price of $349K.
I asked Ron Reel, owner and principle broker of Pacific Ocean Properties in Brookings, if he was getting many people who wanted to relocate because of the heat and the fires that are burning inland every summer. "Oh yes," he says, "especially those who are looking to retire soon. It is hard to beat the climate and beauty of the coast. I am getting people escaping from the heat in Santa Barbara, LA, Redding, Medford, Utah, and Washington." Reel had one woman call him up and buy a home sight unseen. "This lady was 80 years old and had always dreamed of living in Brookings. With electronic signatures and overnight document delivery, you don't need to be present to close your home."
Andy Johnson has had similar experiences in Florence. "We've had a couple clients recently escaping the fires and extreme California heat. One client lost his home on the Big Island (in Hawaii) to a volcano. He is under contract for property here in Florence."
Reel tells me that in the Brookings area, the market hit bottom in 2012, and there has been a steady increase of 6.5 percent a year. The median price of homes is now $300K. The rental market is expensive. There is nothing available that is less than $1,000/month for a two-bedroom, or $1,200 for a three-bedroom. For an ocean view, expect to pay $2,000-$3,000 a month.
Looking back through old issues of Oregon Coast, I discovered that in 1991 Larry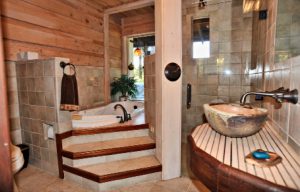 Kammer of Agate Realty in Gold Beach told us that "oceanview property has kind of reached a threshold, but parcels will sell when the right people come along." In the article we wrote in 1988, I found a three-bedroom ranchette in Brookings, sitting on 14 acres with a view of the Chetco River, for $285K. Today, you can get a beautiful three-bedroom, two-bath home on 17.66 acres for a mere $649,785.
Also in Gold Beach, Susan Golay of Century 21, Agate Realty, notes that "with only 4 percent of the land in Curry County open to development, and with the mass exodus of people fleeing fires and crime in urban areas, people are grabbing up properties left and right." Prices have gone up 10- to 15 percent a year in the last couple of years, she says. "The low prices, clean water, and temperate climate make Gold Beach very attractive. People are buying land for future building when they retire in five to 10 years."
Golay has some very interesting properties listed, including a 4.88-acre, mountaintop property with a magnificent ocean view. It currently has a manufactured home that has been gutted. It also has a shop and several commercial greenhouses—not assembled. The asking price is $165K, with a possible owner carry.
On the other end of the spectrum is one that took my breath away. For only $2.4 million, you can own a zen-like home on a private, protected, unspoiled 26-acre oceanfront property featuring old-growth trees, sandy beach access, waves crashing on monolithic rock formations, and tide pools. A whale-watching platform, nature trails, and two babbling creeks add to the allure of this Kensho (a well known architect/contractor in Japan)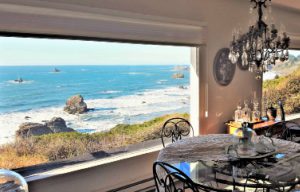 home built to be in harmony with nature. There is also a turn-of-the-century farm home on the property and a gatekeeper's home at your private gated entry. Part of the land is on an easement with the Nature Conservancy so it can preserve the park-like coastal old-growth forest from future logging or development. If only I were a millionaire.
The Oregon Coast is dotted with dozens of communities, each with a unique personality and economic base. Whether you chose to live in Astoria, with its hillside Victorian mansions and fascinating history, Seaside with its bustling activities, Florence with its dunes, lakes, and Old Town, Gold Beach with its vast stretches of rural land going right down to the ocean, or Brookings with its mild climate and excellent fishing, every community on the Oregon Coast has something to offer. ■