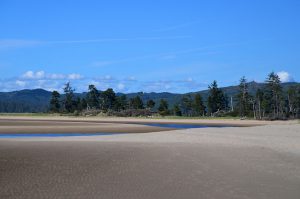 Looking for tranquility and unspoiled natural beauty? Try Whalen Island, a diverse ecosystem lying between Cape Kiwanda and Cape Lookout on the North Coast.
Technically a peninsula extending into the Sand Lake estuary, this wedge of land is an island only when the highest tides flood the salt marshes on its northern end. With an amazing array of flora and fauna, and opportunities for fishing, camping, and hiking, Whalen is well worth a day visit or a weekend camping trip.
Originally owned by sisters Kathleen Craft Shaw and Karen Derungs, Whalen Island remained in the same family for three generations and included a small homestead and a county park on its southern end. It was bought by the state in 2000 for $2.8 million, funded in part by the Oregon Lottery. Though the homestead has since been removed, the county park remains. The wetlands are named for Lillian Parker Craft, Kathleen and Karen's mother. The Clay Myers State Natural Area, which covers most of the island, is named for Clay Myers, who served as both secretary of state and state treasurer.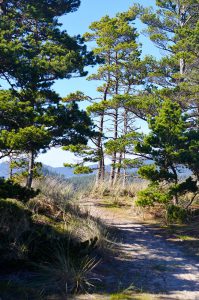 The property is an oasis of woodlands, grasslands, fresh and saltwater wetlands, and dune sedgelands, and is home to a variety of species including salmon and steelhead, shorebirds, deer, otter, even bear and cougar. Due to minimal fresh water runoff, Sand Lake is a marine-dominated estuary with no jetties or other manmade structures at its mouth. It is a spawning ground for salmon and steelhead and is also used by smolts heading out to sea.
An easy 1.5-mile hike follows the perimeter of the island, passing through all the natural zones of the area and offering stunning views of sand spits and the estuary as well as ocean glimpses. Maps are posted in the picnic area, and the trail begins and ends in the parking lot. Much of the trail is sandy and wanders through forest along the edge of the estuary. Side paths take hikers to Whalen's pristine beaches or to an overlook of the marshlands. Watch for egrets, kingfishers, and other shorebirds as well as bald eagles, otter, and deer.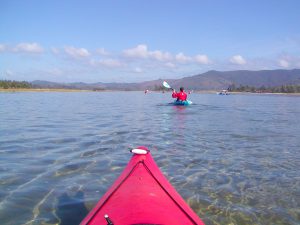 The 8-acre campground, managed by Tillamook County, offers 34 open area sites. Fire pits, water spigots, rest rooms, and a dump station are available, but there are no water or trailer hookups, so prepare to camp dry and unplugged. You can fish or crab off the access bridge.
With an average depth of 2 feet at high tide, Sand Lake is too shallow for motorized boats. But kayaks glide smoothly over the surface, providing ample opportunity for quiet contemplation and the observation of wildlife. To see the island from the water, book a tour through Kayak Tillamook, owned by Marc Hinz.
The guides at Kayak Tillamook are experts in navigating the tidal channels of Sand Lake. "The tidal water disappears rather quickly once the tide turns," Hinz says, "so knowing where the deeper channels are and planning your return accordingly is crucial. Even at the highest tides of the season, you only have a couple hours to paddle around." Only in winter, when there is enough water to submerge the land bridge, can you circumnavigate the entire island. Tours are tailored for beginners and include half an hour of instruction and thermoses of hot apple cider with a fresh cinnamon stick inside.
Adjacent to Whalen Island (about 1 mile south) is the new Sitka Sedge State Natural Area—357 acres of forest, estuary, and dunes purchased by the state in 2014. Other than the addition of a 4.5-mile trail (including signage), restrooms, and a parking lot slated for completion sometime in 2017 or 2018, Sitka Sedge is to remain in its natural state.
Story by Cheryl D. Wanner