Story by Dwight Caswell
Take a detour off Highway 101 to enjoy a 62-mile loop that winds along the Nehalem River and through the foothills of the Coast Range.
The forests and meadows of the Coast Range tumble down to the high cliffs, haystack rocks, and broad beaches that draw people to the spectacular Oregon coast. In the foothills of those mountains there are other discoveries to be made, places of subtle beauty that offer glimpses of how people have made their living in these mountains.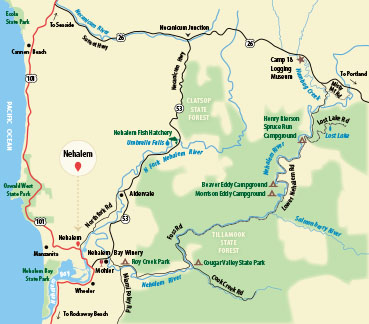 One of the most pleasant backcountry drives on the North Coast departs from Nehalem, a charming town set a few miles back from the mouth of the river of the same name. You may want to have breakfast or lunch at one of Nehalem's excellent cafes, or wait to picnic at a lovely park an hour's drive into the hills.
Take Highway 101 south from Nehalem to Highway 53, where you turn left. You'll see farms, fields, and cattle, and in a mile you'll come to the village of Mohler. There you'll find the Nehalem Bay Winery, in a building that was once home to the Mohler Cooperative Creamery.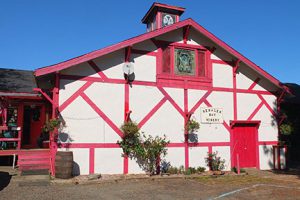 The winery is open every day from 9 a.m. to 6 p.m., and you may meet Zak Clarke, who will be glad to pour you tastes of their excellent wines. If you like whites, try their Gewürztraminer or Chardonnay. Reds? There's Cabernet, Merlot, and Pinot Noir. Fruit wines are on the list too, and everything is grown in the Willamette Valley. Tables on the outside patio invite you to picnic with your wine, and in summer the winery sponsors music festivals (reggae, blues, bluegrass, and folk).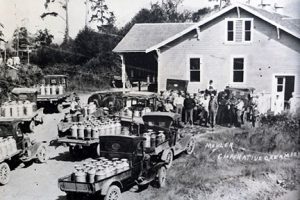 Heading out of Mohler, turn right in 1.5 miles onto Miami Foley Road. In another 2.4 miles turn left onto Foss Road. Here you leave a pleasant valley to follow the Nehalem River canyon. You'll pass a boat launch and small county park on the right, and you'll start to see the parked cars and trailers of fishermen along the side of the road. In another 9 miles you'll cross the Nehalem River where Cook Creek Road, which leads to a campground, comes in from the right. Pull over at a wide spot in the main road and stretch your legs—it's a nice view of a pretty river.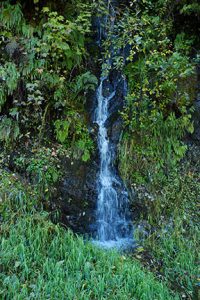 Beyond the bridge, the road is sometimes gravel, sometimes not, and hugs the occasionally vertiginous wall of the ravine. Rivulets and small waterfalls flow out of the forest on the right and alders and big leaf maples abound. In the forest understory you'll find vine leaf maple, a Northwest native that is a close relative to the Japanese maple.
A little more than 7 miles from the bridge you cross the Salmonberry River (a popular fishing spot) and then you will begin to see campgrounds: Morrison Eddy, Beaver Creek, and finally your potential picnic spot, the beautifully situated Henry Rierson Spruce Run Campground. If you've brought your rod, this is a good place to try your luck.
Speaking of fishing, just past Spruce Run there is a turn that takes you 3.5 miles up to Lost Lake, an attractive small lake deep in the forest. There's a boat ramp and the Forest Service keeps the lake well stocked with trout.
When you return from the lake, continue on Foss Road, which by now has become Lower Nehalem Road. You'll cross the river one more time, passing Humbug Creek and Misty Mountain, and shortly find yourself at Highway 26, called the Sunset Highway. Turn left and travel 10 miles to Necanicum Junction, where you will turn left onto Highway 53.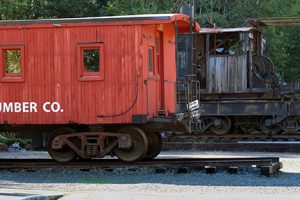 But before you get to Highway 53, you'll pass Camp 18 on the Sunset Highway. This is a must–stop, especially if you have kids. It's on the left, and you can't miss it. There's a large sign and a much larger spar tree like those used for moving logs in bygone logging days. The spar tree is part of a large outdoor museum of logging equipment and a small indoor loggers' memorial and museum. There's also the Camp 18 Restaurant, the best eatery for miles in any direction. Okay, it's the only one, but it's first-rate, for both food and atmosphere. Doors hand-carved from old-growth fir, each weighing 500 pounds, open onto an immense space supported by an 85-foot ridge pole weighing 25 tons; 50 tons of rock went into the two fireplaces. But the restaurant is not pretentious. It's a congenial family place on a logging camp scale that serves big breakfasts, country fried steaks, rainbow trout, sandwiches, and even some vegetarian offerings.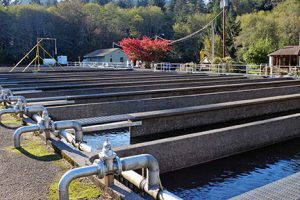 Once you turn onto Highway 53, drive through almost 8 miles of moss-draped trees until you come to the Nehalem Fish Hatchery on the North Fork of the Nehalem River. Here you can see, if you're there between late September and January, how they raise coho and fall chinook salmon, steelhead, and rainbow trout, and for 25 cents you can feed the fish. Umbrella Falls is a short hike down a wooded trail, and in season you can fish for winter steelhead, coho, fall chinook, and cutthroat trout. There's also a barrier-free fishing platform for wheelchair-users.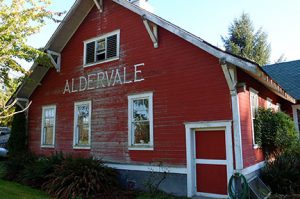 For almost 4 miles the highway follows a gentle downward slope, eventually leaving the forest for wide fields where today you are more likely to see horses than dairy cows. Turn right onto Northfork Road and you are in what was once Aldervale. A red private residence on the left used to be the Alder Vale Creamery, an operation so small that for a time there was a staff of one. Like most of the small creameries in the area, it became part of the Tillamook County Creamery Association.
Continue on Northfork Road for 5 miles and you'll be back in Nehalem, perhaps ready to taste some cheese or get an ice cream cone at the Tillamook Cheese factory, 40 minutes south. Another adventure awaits.
WHEN YOU GO:
Driving Distance: 62 miles
Driving Time (exclusive of stops): almost 2 hours
Nehalem Bay Winery
(503-368-9463; www.nehalembaywinery.com)
Camp 18 Restaurant
(503-755-1818; www.camp18restaurant.com)
Clatsop State Forest
(www.oregon.gov/ODF/Documents/Recreation/ClatsopStateForestRecreationGuide.pdf)
Tillamook State Forest
(www.tillamookforestcenter.org/resources/TillamookWelcomeGuide.pdf)
Story published in July/August 2017 print edition of Oregon Coast Magazine.