In spring 2022, the Oregon Coast Aquarium (OCAq) will have new features and areas that will be open to the public.
The Oregon Coast Aquarium recently began construction of a new Children's Nature Play Area, Outdoor Amphitheater, Great Hall, and Headwaters Feature that are the first phase of the Aquarium's multi-phase Capital Campaign for improvement.
The Children's Nature Play Area will highlight the connection between Oregon's nature and timber industry. The play area will feature massive logs, a climbing tower, and a mock river chute, allowing children to engage kinetically with nature. The surrounding grounds will include seating for caregivers and an estuary viewing deck.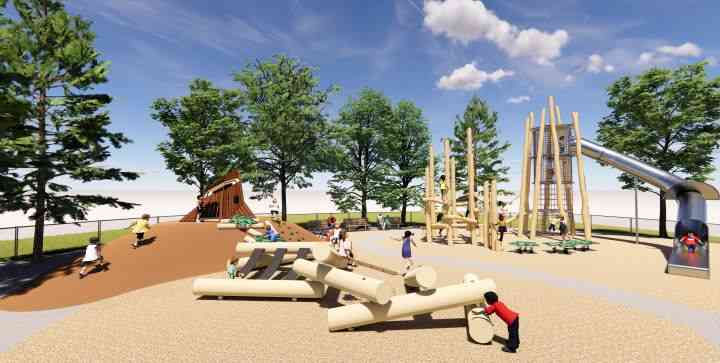 The Outdoor Amphitheater will act as a dedicated space for educational programs and ambassador animal presentations. The amphitheater will feature expansive seating to accommodate large groups.
The Great Hall construction will include the renovation of the existing Aquarium lobby and coffee bar and the addition of a moon jelly exhibit. The Great Hall will have a new doorway to streamline foot traffic and provide visitors with a view of the estuary.
The Headwaters Feature will include a recirculating stream, representing the relationship between watersheds and the ocean. This feature will emphasize the importance of headwaters and the role they play in sustaining Oregon's coastal communities.
"We are thrilled to begin the first phase of our projects that will enhance the visitor experience and update our facility," says Carrie Lewis, President and CEO of OCAq. "This has been a long road—from five years of campaign fundraising to our 8-month facility closure in 2020—but we've come through this with endless gratitude to our supporters and our community for believing in us and supporting our efforts to improve the Aquarium."
The Aquarium contracted with Dangermond Keane Architecture, Andersen Construction, and Walker Macy to carry out the design, construction, and landscaping. Major donors to Phase 1 projects include the Roundhouse Foundation, Starker Forests, Inc., Sunderland Foundation, Marcia H. Randall Foundation, Miller Family Holdings, Jeanette Bertea Hennings Foundation, M.J. Murdock Charitable Trust, and Maybelle Clark Macdonald Fund.
Other future phased improvements include renovations and additions to indoor galleries and construction of a new Marine Rehabilitation Center. To learn more about the Oregon Coast Aquarium's Capital Campaign and current progress, visit givetoaquarium.org.
Press release and photos provided by the Oregon Coast Aquarium