Longing for that coastal look but unsure where to begin? Here's some advice to get you started.
STORY BY GAIL OBERST
One of my dearest friends, Nadine, is in love with the Oregon Coast. If you were to visit her house, you'd know this, the minute you walk in the door. Seashells, sea stars, fishing boats, seahorses, ocean art, furniture, and other coastal memorabilia fill her walls and rooms.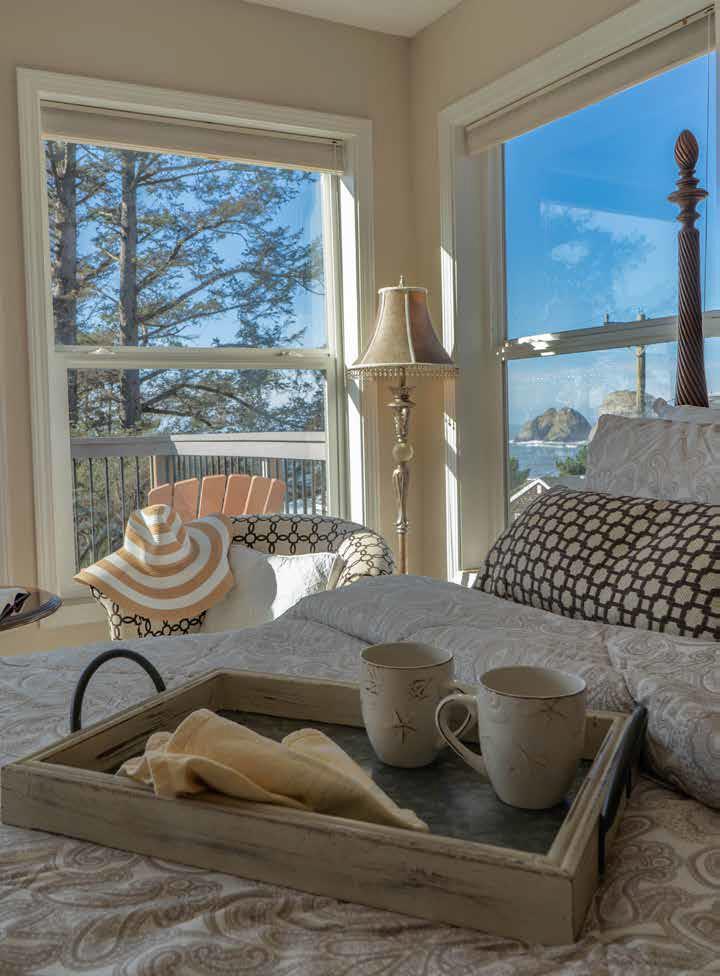 Nadine was born with a decorator gene—I met her while she was art director at a publication where we both worked. As a result, her collections are creatively arranged, evoking interest and beauty. Although that gene is missing from my DNA, hers has inspired in me an appreciation for interior decoration that brings the Pacific Ocean into coastal condos, apartments, cottages, and houses.
On a recent visit to Cannon Beach, I met another woman who was born with the decorator gene—Diane Speakman, owner of Sesame + Lilies, an interior design store. Before meeting with her, I strolled through two floors filled with room after room of displays, most of which featured coastal objects, art, furniture, materials, and even wallpaper. Filled with jumbled ideas gleaned from my visit, I drove to her house a few miles up the coast. There, in a restored 1890 beach house built by cannery mogul Marshall Kinney, I realized the creative possibilities for bringing the beach indoors.
I must emphasize the word creative.
My friend Nadine often emits a polite sigh of exasperation when she sees my piles of unsorted shells and fish pictures and even driftwood furniture, tossed about like so much beach debris. I love these gifts from the sea, but love is where my ability to arrange seems to end.
I'm not a hopeless case though, and if you can relate, keep reading.
When I entered Diane's house, and her shop, I began to see that collections could be displayed in a way that brings life and interest to each piece. I had to know the secret. She was happy to divulge!
After talking to Diane, I began to see lovely beach décor everywhere in my travels. In cottages and hotels and condos and retreats I visited, I snapped pictures and talked to owners of displays that reflected this unique and incredible place called the Oregon Coast. Over the past year, from people and places north to south, I collected tidbits of decorator genius.
For those of us who want to live beautifully among coastal treasures, here is what I learned: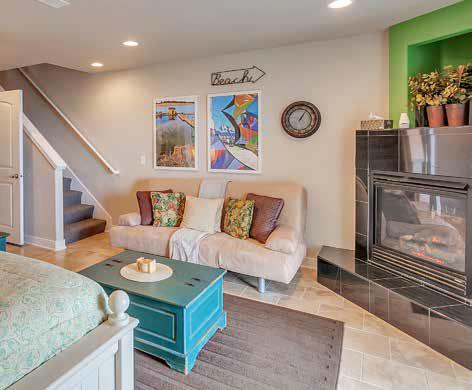 1 ➤START WITH THE COLOR PALETTE
LIKE A STAGE setting or the canvas of a masterpiece painting, the backdrop to all of your rooms is the walls, so start your decorating plans there. As you consider paint, refer to your plan (see tip #2) and choose a range of coordinating colors, or palette, from the sea. Keep the main wall colors bright to offset those dark rainy days, says Diane. Light grays and blues from the sky, sandy tans, golden sunshine or sunset hues, cloud white—these can bring light into your life and help to display the beloved objects you've chosen for each room.
"Take your time. Don't hurry this decision," says Diane. "A good backdrop will help a lot. When you place items, it will look cleaner." Get small paint samples and actually paint them on the wall. Flat color works best on the main walls, with satin or semigloss for the trim, Diane advises.
2 ➤SHOP WITH A PLAN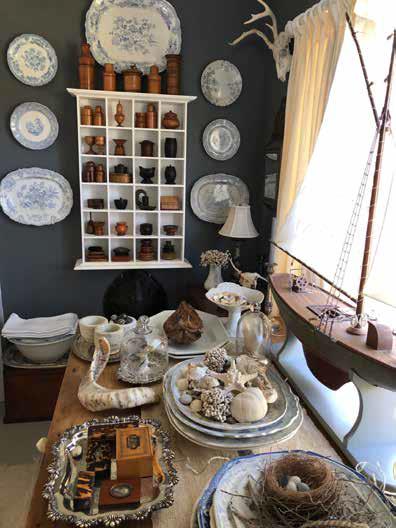 DIANE SURPRISED ME with this advice: In addition to her shop, there are decorating treasures to be found in coastal secondhand stores and garage or estate sales. What matters is not where you get your treasures or how much you spend on them, but how well they fit your taste and your overall plan. That charming bauble you bought on impulse may look great in a store window, but once you place it with your other décor, you suddenly see the truth: it doesn't belong. Take time to recognize what you love and how you might arrange those things before you buy. This will save money in the long run. Even if some of your materials or pieces cost a bit more—because they are perfect— you'll avoid selling all those misfits at your next garage sale to other impulsive decorators.
Michelle Duarte, co-owner of WildSpring Guest Habitat near Port Orford, built her five cabins, set in the forest with an ocean view, with a plan to provide comfortable luxury to visitors. Each has different ambient light, furniture, artwork, and color palettes to reflect, as Michelle says, "…this part of the planet." As a result, each cabin has its unique combination of Craftsman and shabby chic, with a touch of Zen.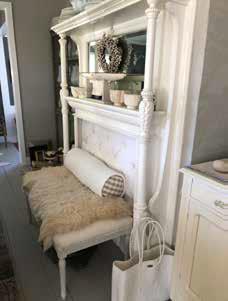 3 ➤CONSIDER THE HISTORY OF THE HOUSE
IF YOU ARE restoring and renovating an historic beach house, even if it's a more recent mid-century building, read up on the history of the area, its artifacts, appropriate home colors and designs, period appropriate furniture, and draw inspiration from your research as you look through local antique, furniture, secondhand and gift shops. But, Diane says, décor doesn't only have to reflect the house and community history. It should also reflect your tastes. Eclectic mixtures of the old and new can create new interest. I liked her collections of seashells on new silver platters and her found birds' nests and feathers on antique blue and white china.
4 ➤DON'T FORGET THE FLOOR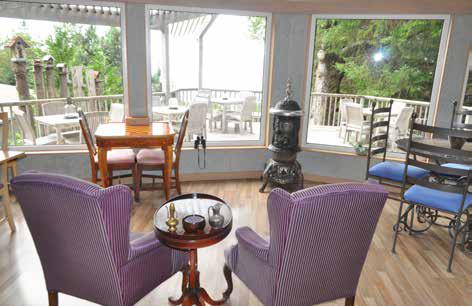 THIS IS ADVICE from someone (me) who loves her hardwood floors but hates cold feet. I could live my life in slippers, but I prefer Diane's combination of rugs that range from fluffy faux fur to elegant Orientals. In a coastal abode, keep these things in mind when considering floor décor: use, temperature, rain and sand, as in—it's chilly and wet here sometimes, and gritty sand is a given. Choose warm materials for floor covering. Michelle addresses this with modern radiant-heated floors. Again, your house may dictate some elements of flooring, depending on its age and use—for example, kitchen and bathroom floors might be covered with tile or linoleum with an eye to easy cleanup. And if restoration is the goal, you may want to uncover original flooring or mimic it with modern materials. I was reassured when I saw that Diane and I chose the same floor styles for our bathrooms inspired by the Craftsman era.
Durability is key when it comes to sandy wet feet tracking through your home. Low-nap Berber carpeting or hardwood floors with rugs on top (that can be shook out) will help keep the grit in check and your floors unscathed.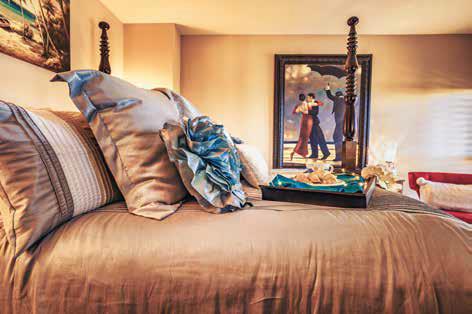 5 ➤COORDINATE THE PLAN
NOW THAT YOU'VE collected your treasures and prepared the background, it's time to add the magic created by furniture, curtains, upholstery, pillows, pictures, and the aforementioned art or treasure collections. This is where a person (as in, me) can really foul up, especially if there's no basic plan, but Diane suggested these guidelines: Take into account the size and theme of the rooms before stuffing them with items.
"Don't be afraid of large pieces, but they should be proportionate to the room size." Start with "anchor" pieces, she suggests, and build additions around them. Love your overstuffed sofa but not its threadbare tapestry? Plan for upholstery that suggests a theme. Then, look for pillows, lamps, and textures that accentuate your main pieces. If you need inspiration, coastal store owners are glad to help you, but their taste may differ from yours. As you shop, take pictures of displays, collect material swatches, visit open houses and art studios and start a Pinterest board (or feel free to check out mine). Keep files of what you like and then narrow your final purchases to those things that belong to the room's theme.
"Beach," by the way, has as many variations as the colors of sand. Beach décor could be inspired by wildlife, people, stormy skies, sunshine, rain, sand, water, seafood, fishing, bathing, and ports or harbors, in addition to shells, driftwood, and sand.
6 ➤LIVE IN YOUR ROOMS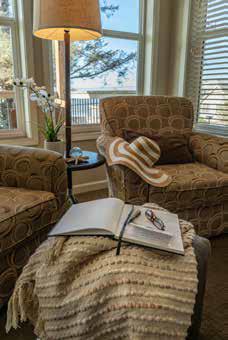 HOW WILL YOU live, from day to day, with your décor? My husband, for example, brought with him to our love nest a rather large coastal redwood burl table that seemed to delight in banging my shins every time I passed it in our living room. It was too beautiful for firewood, so I found a place for it in front of the picture window on our covered porch, where traffic is light.
Today, I look through the window at big bouquets of flowers sitting on that lovely table and smile, pain-free.
I loved the half-curtains at WildSpring, light-colored cloth with delicate embroidery, because they didn't block the filtered light of the forest. Coastal dark days, as I've mentioned, also could be offset with sheers or no curtains at all. Your lifestyle should dictate your plan and your purchases.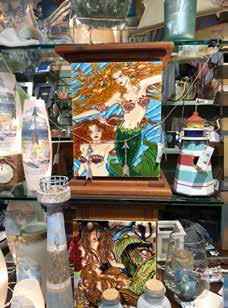 7 ➤EXPAND THE CONCEPT
DIANE SUGGESTS you think outside the traditional "beachy" stripes and lighthouses, even considering items from beyond Pacific Northwest shores including baskets, brass, and glass from other countries. Locally, there's plenty of inspiration in art galleries. Spend some money on the Oregon Coast's incredible art in any media. A group of ocean wave paintings on the wall, a collection of local whirligigs on your porch, a hand-built bowl with a mollusk design to hold your glass balls, even tiny seahorse soaps for the bathroom—all of these can enhance a room's décor and create interest and enjoyment.
Finally, take the coast home with you, wherever you live. At the outset of this story, I told you about Nadine, my friend who arranges her coastal collections so artfully. Full disclosure: she doesn't live on the coast. Which brings up this important point: if you can't actually live on the coast, create the coast at home with you. And then, make plans to get here, soon!
This story appeared in the Summer 2020 issue of Oregon Coast magazine.