The Newport Fishermen's Wives Association supports the local fishing community, offering help with both physical and emotional needs when times are tough.
STORY BY CHERYL D. WANNER
When the Mary B II capsized while crossing the Yaquina bar on January 8, 2019, the community of Newport rallied around the widows and families of Joshua Porter (Toledo, Oregon), Stephen Biernacki (New Jersey), and James Lacey (New Jersey). Flowers and photos covered the memorial pedestal in the Fishermen's Memorial Sanctuary on the bluff at Yaquina Bay State Park. At the heart of this overflow of support was the Newport Fishermen's Wives Association, an alliance of dedicated women who sail into action for the needs of their local fishing community.
Founded in 1970 as a social organization for wives of commercial fishermen based out of Newport, the nonprofit Fishermen's Wives Association is staffed entirely by volunteers, who sponsor events to raise public awareness, provide for the needs of fishing families, and, in times of tragedy, offer support to the grieving and honor the memory of loved ones lost at sea.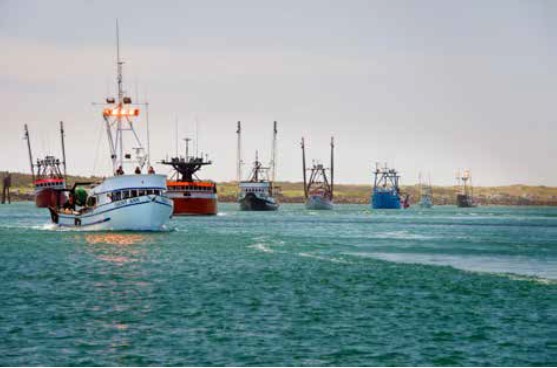 REACHING OUT TO MEET NEEDS
In the wake of Covid-19, the fishing community was hard hit by the loss of overseas markets and restaurant shutdowns. Commercial fishing is classified as contract work—fishermen are paid a percentage of what the boat makes—so fishing families didn't initially qualify for federal aid. In addition, the temporary closure of five Pacific Seafood processing plants in Newport due to a coronavirus outbreak laid off hundreds of workers.
In response, the Fishermen's Wives Association initiated a program to help local fishing families and Pacific Seafood employees with household essentials, food, school supplies, and—in exceptional cases—funds for past due utility bills.
The holiday season brings its own challenges. Commercial fishing fluctuates according to seasonal runs, and fishermen hold permits for specific fisheries. Some of these, such as the winter crab harvest, often run later than expected. Extended gaps between fisheries mean fishermen don't get paid and finances grow tight. The Fishermen's Wives provide holiday food packages, warm clothes, and toys (courtesy of the Les Schwab Toy Drive) to fishing families who apply for assistance.
"One of my favorite parts of the Holiday Outreach Program is that we'll have families in need of assistance one year, and the next year, they find themselves in a better place and, instead of accepting help, they donate to the program to help other families," says copresident Taunette Dixon. "We've had it happen every year, and usually the donations far surpass the value of what was received."
Dixon, a fourth-generation Newport-based fishing family member, created a scholarship fund in 2014 in memory of her grandparents, Clifford and Dorothy Hall. Cliff Hall fished out of Newport and Unalaska (Dutch Harbor), Alaska, from 1936 until the late 1990s, retiring at age 81. The Halls were deeply involved in both communities and extremely supportive of the schools. The scholarship is awarded yearly to qualified, graduating students from Lincoln County and Unalaska fishing families.
AT THE HEART OF THE COMMUNITY
The Fishermen's Wives raise funds and accept direct donations with all proceeds going to the services they provide. They publish a yearly calendar and sell merchandise online and in local businesses, especially on the waterfront. Their largest fundraiser is the Portland Seafood and Wine Festival, where they team up with Seafood Oregon to serve tasty dishes and promote the health benefits of seafood.
In addition, they partner with the state-run Oregon Sea Grant to supply first aid kits and other safety resources aboard fishing vessels. They also offer support to fishermen who must take time off the job for crisis situations.
The NFW sponsors the annual Blessing of the Fleet—a Sicilian tradition of prayers and well wishes for fishing vessels putting out to sea—held on the Sunday of Newport's Loyalty Days and Sea Fair Festival in early May. The fleet sails out to Yaquina Bay Bridge and turns back, passing before a Coast Guard motor lifeboat where ministers offer blessings for safety at sea, bountiful catches, and peace of mind for family at home. Other events include the Highliner Competition (a race involving various fishing skills such as crab pot stacking, net mending, and knot tying), a survival suit swim, a barbecue, and an evening service at the Fishermen's Memorial Sanctuary. On display at the Sanctuary is the Ribbon Trail, honoring the 116 Lincoln County fishermen lost at sea since 1900. Of these, only 38 were recovered and laid to rest ashore.
The Fishermen's Wives worked tirelessly to bring a U.S. Coast Guard rescue helicopter to Newport. USCG Air Stations Astoria and North Bend are far enough from Yaquina Bay that prompt rescue of Lincoln County boaters and fishermen in peril is not always possible. When budget cuts threatened to pull the helo from Newport, the NFW fought to retain it—and succeeded.
Today, they work closely with Coast Guard Station Yaquina Bay in preparation for potential disasters. Most critically, they come alongside families devastated by the loss of a vessel or a loved one at sea, assisting with funeral or celebration of life arrangements, counseling, meals, and financial support. In the case of the Mary B II, members of the NFW sat through Coast Guard hearings and testimony alongside the widows. Denise Porter, widow of Joshua Porter, has since joined the NFW and become an active member.
This is not unusual. The group has taken in a number of members as a result of support rendered. While the NFW is not alone in what they do, they are the most influential on the Oregon Coast. "We would love to see every community have a support group like this," says Dixon.
With commercial fishing the most dangerous occupation in the U.S., the compassionate mission of the Newport Fishermen's Wives and other such groups is vital to those taking risks to bring us the bounty of the sea.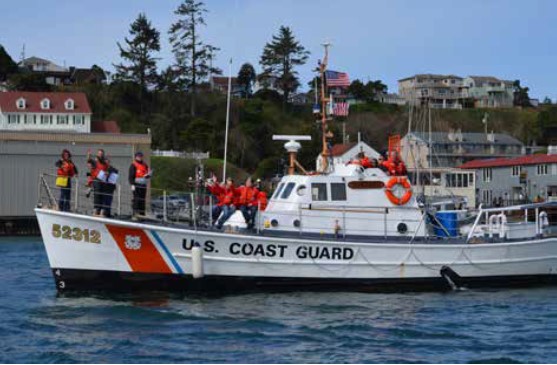 FYI
The Fishermen's Wives accept donations online at www.newportfishermenswives.com or mailed to P.O. Box 971, Newport, Oregon, 97365. They also put out donation jars in local businesses, particularly on the bayfront, in times of need and during their outreach programs.