These five professional and amateur chefs create delicious foods originating from sea, land, and air.
STORY BY DWIGHT CASWELL
This story was published in the Fall/Winter 2020 issue of Oregon Coast magazine.
You'll never starve on the Oregon coast. The waters, shores, and forests abound in all manner of edibles, be it fiddlehead ferns, Dungeness crab, or venison. Here are five local cooks who have perfected ways to prepare these undomesticated comestibles, and their recipes.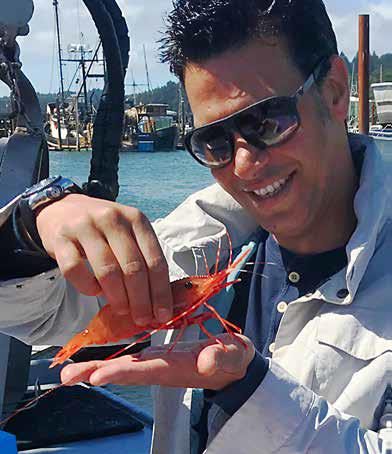 EOGHAIN O'NEILL, COOS BAY
Eoghain O'Neill still cooks with the joy of a 4-year old, which is when he began cooking. He first learned from his mother ("a great cook"), and may have been the one child in the world to request cooking utensils for Christmas and birthday gifts. As a young man he was cooking in a remote Michelin one-star restaurant in France, where he learned the value of fresh, local ingredients. He continued working under great chefs until he opened his own restaurant in Sardinia, and received his own Michelin rating. It was love that brought him to Coos Bay. His wife, pediatrician Kariktan Cruz, practices in Coos Bay, so O'Neill opened what may be the best restaurant on the Oregon coast, Restaurant O, in downtown Coos Bay.
His food is classic cuisine influenced by his Irish/Trinidadian heritage, as well as the many countries in which he has cooked. He is proud to say that "seventy-two percent of our food is sourced locally," including fish (from Hallmark Fisheries) and foraged items like mushrooms and wild onion flowers. He makes a risotto with spotted prawns, a delicacy with a taste like buttered lobster. This rare crustacean hides out in deep caverns and ledges, and only five boats have permits to fish for them. One of them is Shenanegan, out of Charleston.
Find out more about chef O'Neill and his restaurant at www.restauranto.us.
Charleston Spotted Prawn and Alghese Risotto with Burrata Cream
8 ounces Arborio risotto rice
1 onion, finely diced
1 fennel bulb, finely diced
3 cloves garlic, finely diced
2 ounces sun-dried tomato, finely diced
1 teaspoon chili flakes
10 basil leaves, finely shredded
1 15-ounce can diced tomato sauce (passata sauce)
1 bay leaf
1 sprig thyme
4 ounces white wine
16 ounces fish stock
Extra virgin cold-pressed olive oil
12 spotted prawns—peel and dice tails, retain 4 heads
garnish (3 prawns per person)
6 ounces burrata cheese (and the whey water)
Micro-basil for garnish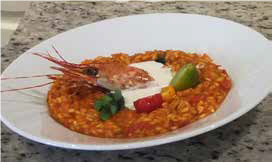 In a saucepan, gently sauté fennel, onion, and garlic on low heat with olive oil until soft; add risotto rice and cook until grains of risotto get slightly transparent. Add wine and totally evaporate all wine. Add sun-dried tomatoes and chili flakes. Add fish stock slowly and evaporate. Once all stock has evaporated, add the tomato sauce and prawns and cook until rice is al dente. Note—if you prefer softer rice add extra fish stock and continue to cook to your preference.
Place the burrata cheese into a blender and blend with 3 ounces of whey water until you get a creamy consistency. Deep fry spotted prawn heads until crispy, season with salt, chili, and Sichuan pepper. Garnish plates. Serves 4.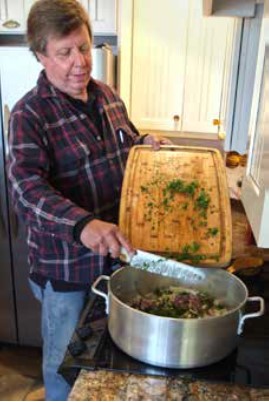 CAM PARRY, CHARLESTON
Cam Parry is a river whisperer. His knowledge comes from a lifetime of fishing and from the work he does for a living: restoring fish habitat on the rivers of Oregon. He's also the host of the Hooked on Oregon radio show, in which fish and game—how to catch them and cook them—are among the primary subjects. A longtime resident of Charleston, he and wife Kendra have just moved up the Coquille river, where they will soon open their Lodge at Whiskey Run where they plan to teach fly fishing and build a distillery.
Parry perfected his fishing and cooking skills as a young outdoors writer. "It was a great thing, as a kid," he says, "to fish my way through the Northwest and get paid for it. It was a magical time." He would stay at lodges along any river he fished, making a point to spend some time in the kitchens. "I picked up a lot of tricks from those great chefs," he says.
The inspiration for his bouillabaisse, though, came from Phil Collins, chef at Sausalito's famous Spinnaker Restaurant. The recipe makes use of a great deal of fresh Oregon seafood, which he either catches or buys at Chuck's Seafood, a famous source for fresh fish and shellfish in Charleston.
Bouillabaisse
1/2 garlic bulb, chopped
1 large onion, chopped
1 small fennel bulb, chopped
1/4-teaspoon saffron
2 cans fire-roasted tomatoes
16 ounces clam juice
1 teaspoon to tablespoon hot sauce
1 ½ pounds lingcod, cut into one-inch chunks
1 large crab
1 pound clams (pre-soaked)
1 large can of chopped clams
1/2 can tomato paste
1 pound prawns
1½ liters of Riesling
1/2 head of chopped parsley
Handful of chopped chives

Cook onion, garlic, and fennel until soft and shiny, about 15 minutes. "Liberal splashes of olive oil in a cast iron pot on medium heat," instructs Parry. "Lots, no little teaspoons full."
Then add clam juice, tomatoes, saffron and half of the Riesling, Season to taste with salt and pepper. I usually add a healthy dash of garlic and onion powder. Drink some of the Riesling. Lower heat and simmer about 45 minutes. Add lingcod, clams, then crab. Finally add the prawns, cooking until it slowly bubbles.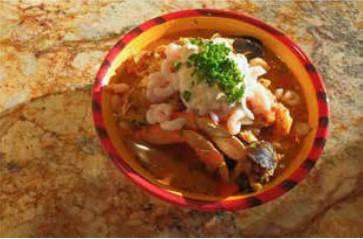 Drink more Riesling, and add any remainder to pot. Add a splash to of medium hot sauce, to taste. If too tomatoey for your taste, you can temper with a bit of sugar. Serve with rémoulade sauce topped with handful of fresh bay shrimp. Serves 2 to 4.
Kendra Parry's Remoulade Sauce
3/4 cup mayonnaise (homemade is best)
2 teaspoons Dijon mustard
1½ teaspoons whole grain mustard
1 teaspoon tarragon vinegar
1/4 teaspoon Tabasco sauce
2 teaspoons drained tiny capers, chopped
1 tablespoon chopped parsley
1 scallion, thinly chopped
Salt and pepper to taste
Combine and refrigerate. Can be made a day ahead. Makes 1 cup.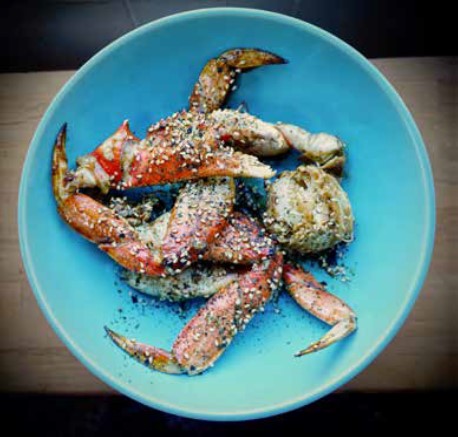 JENNIFER BURNS BRIGHT, ASTORIA
As an instructor at the University of Oregon, Jennifer Burns Bright taught courses in literature and the emerging field of food studies. She then put her skills to use as a freelance food educator and travel writer.
Inevitably she moved to Port Orford, where she discovered the sustainable fishery that is developing on the coast. She also found an extraordinary range of wild food.
"The Oregon coast has so many food sources," she
says. "You can pick huckleberries or make a meal of
shellfish or crab. There are many good restaurants on the coast, but you can go the wild food route, capturing,
foraging, and harvesting your own dinner."
Now living in Astoria, she can often be found hunting mushrooms, harvesting shellfish or seaweed, and creating fine cuisine from items she gleans or forages. Perhaps the greatest delicacy on the Oregon coast is Dungeness crab, and it is featured in her Chinese-inspired crab stir-fry. "After fresh cracked Dungeness with butter," she says, "this is my favorite way of eating crab." The dish is delicious, beautiful, and a wonderful thing to make in the unlikely event that you have leftovers from a crab boil.
Bright is a frequent speaker on the Oregon coast. You can find out more at her website: jenniferburnsbright.com.

Sweet and Sticky Glazed Sesame Stir-Fried Crab Legs
"The potato starch is a bit gluey when it's cooked, unlike corn starch, so the glaze coats your fingers and seasons the crab," explains Bright. "It's literally fingerpicking good!"
10 Dungeness crab legs, either raw or already
steamed (one crab worth).
2 tablespoons potato starch
1/8 teaspoon ground white pepper
Salt to taste
3-4 green onions, white part only, coarsely chopped
3-4 slices of fresh ginger
1 garlic clove, smashed
1 tablespoon soy sauce
2 tablespoons Shaoxing rice wine
1-2 teaspoons sugar
2 tablespoons neutral oil, like canola or peanut
Sesame seeds, freshly ground black pepper and/or
furikake (a Japanese dried seaweed condiment) for
garnish

Dry off the crab legs as best as you can. Mix potato starch, white pepper, and a little salt in small bowl, then toss with the crab legs. Prep the aromatic vegetables and set aside. Mix soy, rice wine, and sugar in another small bowl. Heat up the wok until very hot. When a drop of water dances on the surface of the wok, heat up oil for about 20 seconds, then add ginger, garlic, and green onions. Give them a good stir to flavor the oil until you can smell the wonderful aroma. Then remove from the oil and reuse in another dish.
Add crab legs and stir-fry until the shells have brown marks and are crispy. Add the sauce and stir-fry some more. If already cooked, the legs should only heat up for another 30 seconds or so until the crab looks glazed. If raw, stir-fry for 3 to 5 minutes or until the crab is done and the sauce has caramelized on the shells.
Just before serving, garnish with roasted sesame seeds, furikake, and/or black pepper. Serve with fried rice or chow mein. Serves 2.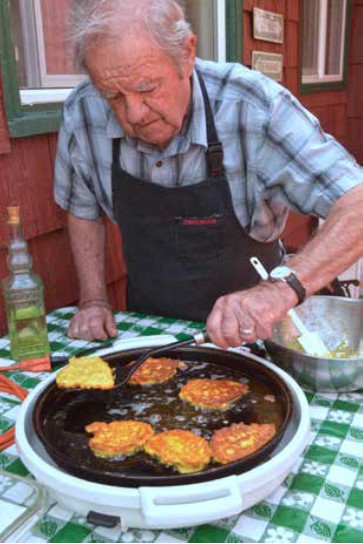 DENNY HOLMES, WARRENTON
Warrenton-based Denny Holmes may have led the perfect Oregon life. Son of Oregon's 28th governor (Robert D. Holmes, 1957-59), he took walks with Harry Truman and showed Senator John F. Kennedy around the University of Oregon, where Holmes was a student. Holmes spent most of his life as a logger, and when his college roommate, Ken Kesey, decided to write a novel about logging, Holmes became an informal consultant for Sometimes a Great Notion.
Holmes' friends know him as an accomplished storyteller and a fine cook. His daughter, chef Tori Beck, was a favored pupil of James Beard, who had a summer home in Gearhart. She once served her father's blueberry lime jam to Gourmet Magazine executive food editor Kemp Minifie, who raved about the jam. "You should try his clam fritters," Beck replied.
Minifie wrote Holmes, saying, "You have masterfully found the right amount of juice and zest to bring out the flavor of the blueberries . . .You know how to make the Oregon produce SING!"
Holmes' recipe for razor clam fritters started out as James Beard's, but Holmes says, "I've tweaked it a lot over the years." The blueberry lime jam is also the result of years of tweaking to get the balance just right. "The key is the zest," says Holmes, "you have to get it just right."
Razor Clam Fritters
3 egg yolks
1 cup minced razor
clams
1 cup cracker crumbs
1 tsp salt
1/2 teaspoon freshly
ground black pepper
Small pinch cayenne pepper
Buttermilk as needed (substitute milk or clam
juice)
Vegetable oil

Beat egg yolks until light and lemon-colored. Gradually add the clams, crumbs, and seasonings. Add enough buttermilk to make a rather heavy batter. Drop the batter into hot oil and sauté 3 to 4 minutes, turning once.
Denny's wife, Arlene, makes her fritter sauce with mayonnaise, ketchup, hot sauce, horseradish, and dill relish, mixed to taste.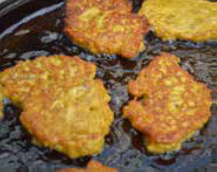 Blueberry Lime Jam
4½ cups blueberries
1 package powdered pectin
5 cups sugar
1 heaping tablespoon lime zest
1/3-cup lime juice
Crush berries one cup at a time. Combine berries and pectin in a large saucepan and bring to a boil, stirring frequently. Add sugar, stirring until dissolved. Stir in lime zest and juice. Return to a rolling boil. Boil hard one full minute, stirring constantly. Remove from heat and skim foam if necessary. Ladle hot jam into hot jars, leaving 1/4-inch headspace; adjust two-piece caps. Process 15 minutes in a boiling water canner.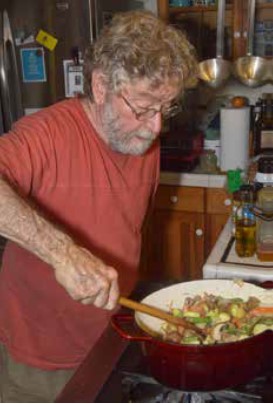 DAVID CAMPICHE, SEAVIEW, WA
David Campiche is an extraordinary potter, as well as a cook. With his wife, Laurie Anderson, he owns China Beach Retreat, a beautiful bed-and-breakfast in Seaview, Washington. The couple also knew James Beard and cooked for him on occasion. David recalls him as, "a most gracious guest."
Despite his claim to have arrived on earth in a titanium sphere (he's also a teller of tall tales), he grew up on the Long Beach Peninsula, and became interested in cooking at around the age of nine. He remembers "a real boy's life, camping, hiking, and fishing on Willapa Bay and along the Columbia River." By his teens he had a rowboat from which to fish for salmon, steelhead, and trout, and a shotgun for hunting wildfowl. "We'd clean the birds and take them home to mom. She was a wonderful cook and I loved to watch and help."
When Campiche returned from college he discovered wild mushrooms. "Back then," he says, "the hills were golden with chanterelles." He is locally famous for mushroom dishes like his winter stew. The recipe for this hearty meal calls for wild goose and foraged mushrooms, but you can find most of the ingredients at a well-stocked grocery store.
Winter Stew with Wild Goose and Foraged Mushrooms
2 wild goose breasts, cut into chunks
2 organic chicken breasts, cut into chunks
6 Andouille sausages (or Italian), pre-poached and
diagonally cut into half-inch pieces
1 cup diced ham, half-inch
One red and one yellow pepper, diced half-inch
1 onion, diced small
3 cups cooked white beans
1 cup diced celery
2 cups chanterelle mushrooms, half-inch pieces
1 large lobster mushroom, diced half inch
2 cups pre-cooked yellow potatoes, quarter cut
1 cup diced zucchini, half-inch cubes
4 tablespoons finely diced garlic
1/4-cup olive oil
2 tablespoons mushroom dust (powder)
3 cups homemade beef stock
1 cup red wine
1 teaspoon hatch chili
Salt and pepper to taste
Chopped chives

Sauté diced garlic, onion, and celery in olive oil until translucent. Add chunked chicken and goose breasts. Add mushrooms and sauté with other ingredients for just a few minutes. Add zucchini and peppers. Stir for another minute. Pour in the stock, wine, and add mushroom dust. Season with chili powder, salt, and pepper. Slow cook the pot for an hour. Do not boil. Add beans, potatoes, and spices. Slow cook for another 20 minutes, no high heat. Garnish with crème fraiche and chopped chives. Crème fraiche is easily made by stirring heavy cream into sour cream and squeezing in a tablespoon of lemon juice. I like a bit of Tabasco sauce, but your preference.