STORY AND PHOTOS BY JOE ROGERS
A drive along Highway 101 delivers welcoming surf breaks for first-timers during an Oregon road trip.
I shift my weight to turn toward the beach, stopping only when the oncoming wave is behind me. My breath slows. I lock my eyes forward and begin paddling in lengthy strong strokes, digging deep into the frothy, cold water underneath me.
"Slow is smooth and smooth is fast," I repeat as I press off the deck, move my feet forward—right foot first, left front foot second—and pop up. Seconds later, I'm sucking in saltwater.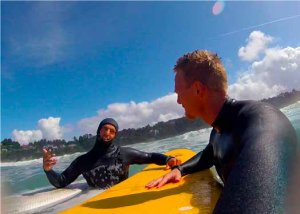 Ollie Richardson has a big smile on his face when I paddle back to him. The morning sun glares off the water at Agate Beach in Newport, a coastal playground tucked between the mountains, ocean, and Yaquina Bay. It's a perfect day for surfing. "Guess that was the bad one for the day," I say, smiling back. "Looks like it," Richardson laughs. "I thought you had it, though."
Richardson is giving me a few much-needed surf tips. He's a fifth-generation Oregonian, first-generation surfer, and a guy whose made the Pacific his own personal backyard since childhood. When he's not teaching at the local high school, he's giving lessons out of Ossies Surf Shop, located along Highway 101 just a short walk from the beach.
As for me, I grew up in the Midwest. Surfing was something I saw in magazines—images of well-tanned bodies carving poetic lines along the faces of charging behemoths in faraway places like Hawaii and Tahiti, California even. I didn't pick up my first surfboard until I was in my early 30s. Since then, I've found something primordial and spiritual within it, and surfing is now something I crave. I'm not what I'd consider a true surfer just yet, but the "stoke" I've heard so much about is definitely real.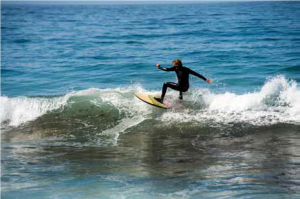 "Okay, Joe!" Richardson yells. "Here comes another set. I'll let you know when to go." I quickly reposition myself, look over my shoulder and wait. The first wave rolls past. Then I see the second. "This one is all yours, Joe!" Paddle! Paddle! Paddle!"
I dig deep and just as I feel the wave's momentum, pop up and catch a beautiful ride halfway to the beach. To me it doesn't get much better than this.
ASTORIA TO OTTER ROCK
My drive south to Newport along Hwy 101 began in Astoria a few days earlier. Over poutine and a tasty Belgium-style wheat beer outside of the trendy Fort George Brewery, I scoured online sites targeting surf breaks down the next 364 miles of Oregon's wind-sculpted cliffs and dense forest-lined coastline. I needed novice-friendly waves where I could enjoy a lesson or even test out my abilities on my own. The longer I sat there, the longer my list of must-hit beaches became.
The funny thing is that surfing in Oregon has never really crossed my mind. I like boardshorts weather, warm water, and tropical beaches, not the 55-degree water and five-millimeter-thick wetsuits the area is known for. Traveling for me, though, is about challenging expectations and enjoying unexpected experiences as they come. And so far, the journey has been one highlight after another.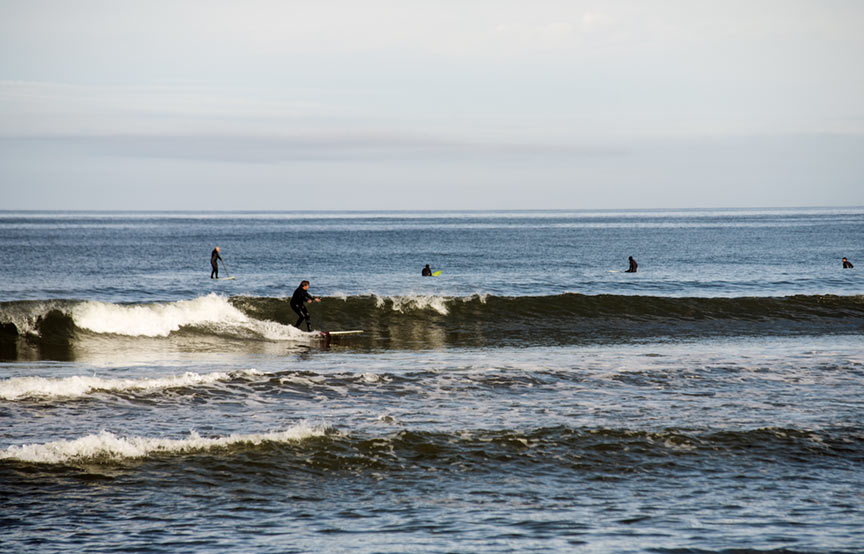 Easy-going Seaside came first. I walked the historic 1920s Promenade for a while and then made my way to Seaside Cove, where a local-dominated lineup made easy work of short right-handers near the rocks. It was an inviting scene, yet I hesitated to paddle out into waves that I didn't feel ready for.
But I didn't hesitate to paddle out at Short Sand Beach. Short Sand is in Oswald West State Park, a mere 15 minutes south of Cannon Beach and the town's 235-foot icon, Haystack Rock. It was a quick half-mile walk from the parking lot through old-growth forest before the trail opened up into a sheltered cove—a coastal dreamscape with looming rock walls, a large sandy beach, and a forgiving beach break inviting all levels of ability.
Right away, I found some easier knee-high waves to warm up on, figuring that eventually I'd move over to the bigger peaks breaking closer to the north wall. An hour later I was in the same place soaking in the scenery, meeting fellow wannabe surfers and simply enjoying the warm afternoon sun.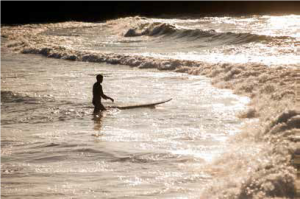 It wasn't until I pulled into Otter Rock that I really started to find my rhythm. Devils Punchbowl State Natural Area has a nice recreational beach popular with beginners and longboarders. I spent a wonderful morning chatting it up with fellow newbies and taking advantage of some soft-rolling sets. The fact that I was surfing well, each move feeling fluid and more natural again, made it that much better.
NEWPORT TO BROOKINGS
I have one day left on the road and roughly 200 miles to Brookings, my last planned stop of the trip, but it's hard to pull myself out of the water. Richardson left a couple hours ago after catching some larger waves farther to the outside and now it's just me. His message about being patient and staying balanced is paying off. I'm surfing better than I ever have.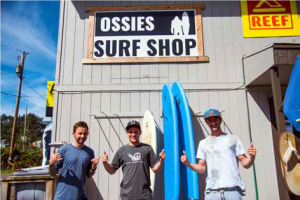 "Have fun out there?" Adrien Fraser asks as I finally return the board to Ossies. Fraser is another Ossie employee and surfing junkie who I met earlier.
"Yea, but sorry for returning this so late," I tell him. "I could have been out there all afternoon."
"Ahh, don't worry about it, man," Fraser says. "As long as you're out there surfing and having fun, that's what it's all about."
I leave Newport and from there, Hwy 101 twists and hugs tightly to the coast. I hang out in charming Yachats, gaze out over the azure ocean above Heceta Head Lighthouse, and dine on the famously delicious clam chowder at Mo's in Florence. Time ticks away quickly, however, so as the sun begins its long afternoon decent toward the horizon, I must pass on beginner breaks like Bastendorff Beach near Charleston and Nesika Beach north of the town of Gold Beach. Tomorrow I'll surf the jetty in Brookings.
Brookings is only five miles from the California state line. Here it's all about surfing breaking lefts and rights south of the Chetco River. And like other destinations on this road trip, it isn't a well-kept secret, so it's a popular beach for all skill levels. Today is no different. It's busy.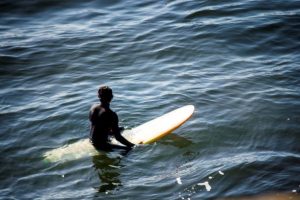 After four or five decent waves, I straddle my board and patiently wait for another good set while enjoying the scene one last time. A light fog is rolling up over the hills in the distance and pockets of wetsuit-clad figures bob in the water while taking turns on left-handers near the rocks. It's a scene I've watched play out along the coast all week.
As my wave approaches, I take a small breath, turn, dig my hands deep into the chilly water and one more time, just like Richardson showed me, pop up. Out here I feel stoked to be alive. Out here in the ocean, I feel like I'm home.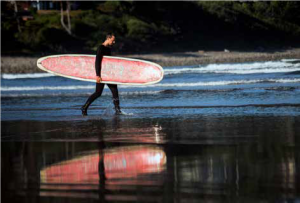 SURFING THE COAST
There are many shops with rentals and lessons to help you find "surf stoke" at locations all along the coast. *Please note: surf lesson offerings, especially those involving groups, may be altered for the 2020 summer season. Please contact surf shops for updates.

Seaside
OREGON SURF ADVENTURES: Lessons offer beginners an introduction to surfing, ocean awareness, techniques, safety, and etiquette. Co-ed group setting or one-on-one private lessons are tailored to abilities and needs. (503-436-1481; oregonsurfadventures.com)
NORTHWEST WOMEN'S SURF CAMPS: Day camps, surf weekends and week retreats, coed lessons, kid's group surf lessons (age 6 to 10), and customized and group surf camps available from July to October. Surf camps include yoga sessions. (503-440-5782; nwwomenssurfcamps.com)
Cannon Beach
CANNON BEACH SURF LESSONS & RENTALS: Lessons are backed by over 15 years of teaching and experience at local beaches and are for all ages. Private, semi-private, large group lessons, and surf camps are available. If beach yoga is your thing, add that to your lesson as well. (503-791-3515; cannonbeachsurflessonsandrentals.com)
Pacific City
MOMENT SURF COMPANY: Daily surf lessons offered for ages 5 years and up, weather and surf permitting, seven days a week. Classes are designed to give beginner surfers core fundamental skills and wave knowledge to help accelerate the learning process. (503-483-1025; momentsurfco.com)
Newport
OSSIES SURF SHOP: Lessons run daily (weather and surf permitting) and are designed for all levels from beginners to advanced surfers. Private lessons from nationally accredited instructors or one-day surf schools available from March to August. (541-574-4634; ossiessurfshop.com)
Lincoln City
LINCOLN CITY SURF SHOP: Individual and group lessons available. Cost includes all equipment rentals. (541-996-7433; lincolncitysurfshop.com)
SAFARI TOWN: Beginners, first timers, as well as intermediate surfers welcome for group and private lessons. All-day surf camps (4-6 hours) offered on select days. (541-996-6335; safaritownsurf.com)
Otter Rock
PURA VIDA: Surf and bodyboard rentals and lessons available, as well as a full-service surf shop for repairs and surfboard shaping. (541-264-8793; pvsurfshop.com)
Coos Bay
WAXER'S SURF AND SKATE SHOP: Individual or group 2-hour surf lessons (usually at Bastendorff Beach) include all necessary equipment. They also offer daily or 24-hour equipment rental packages. (541-266-9020; shopwaxers.com)
This story appeared in the Spring 2020 issue of Oregon Coast magazine.