Story and photos by Dwight Caswell
Oyster farming is on the rise as new growers and seasoned veterans respond to demand for the salty delicacies.
It's a gray day on Netarts Bay. Travis Oja is wearing a wetsuit as he pilots his skiff south from the boat launch toward his oyster beds. To the west, thickets of spruce and shore pine cling to Netarts Spit, a thin finger of land pointing north from Cape Lookout. Soon Oja steps into several feet of water and begins tossing bags of oysters into the boat.
As demand increases for oysters, entrepreneurs large and small are opening oyster farms on the Oregon coast. Oja, who started his Nevør Shellfish Farm four years ago, is one of them.
One hundred sixty-eight miles to the south, in Charleston, Larry Qualman runs the oyster farm his father, Al, started in 1934. Al was an Oregon oyster pioneer who settled on South Slough, which is, Larry says, "just a place that grows good oysters." Larry began picking oysters at the age of 10, and he's been doing it for over 70 years. Today Qualman Oyster Farms produces oysters of all sizes, selling them locally and shipping to the San Francisco and Portland markets. A taciturn man, Qualman remarks, "We're getting pretty well known."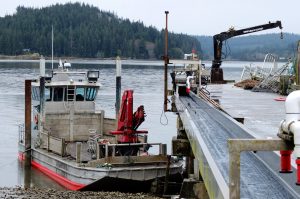 How to Grow Oysters Oregon growers purchase oyster "seed" from hatcheries in Netarts Bay, Hawaii, or Washington's Willapa Bay. At two days of age, these free-swimming microscopic larvae already have shells, and after a few more weeks or months of maturation, they are shipped to oyster farms. There these juvenile "spats" will be placed in tanks where they will attach to "cultch," a substrate almost always consisting of oyster shells. In the old days, cultch was scattered on the bottom for later hand picking. Today the cultch is usually placed in bags or cages and suspended by floats that keep the oysters above the bottom mud.
Wherever you find an oyster in Oregon it's going to be good, but they won't all be the same. Oysters grow in estuaries, and as wine is affected by the "terroir" of its vineyard, oysters are affected by their "merroir." Oysters from one bay taste different than oysters from another, and they may even taste different from one area of an estuary to another. And as wine flavor is affected by how the grapes are trellised, so oysters are affected by how they are grown. Oysters at the mouth of a river, with muddier conditions, will have an iodine flavor. Oysters grown in areas of low nutrients (like Netarts Bay, where creeks but no rivers bring nutrients downstream) take longer to grow and have a milder flavor.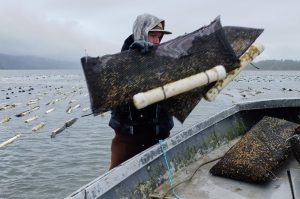 With all the different areas and methods there's real variety, so take a drive and taste as you go. You'll find Kumamoto oysters, and some native Olympia oysters, but the vast majority of oysters produced on our coast are one species: Crassostrea gigas, the Pacific oyster.
An "Oysterific" Journey
If you're driving south to north, start your oyster adventure in Charleston with a visit to Qualman Oyster Farms (541-888-3145). A few miles up the road, in North Bend, you'll find Clausen Oysters. Here the Coos Bay tides exchange fresh and salt water, giving Clausen oysters their distinctive flavor. Ten thousand bags of spat are spread out on 635 acres of leased land, the largest holding of oyster land in Oregon. In about a year the first small oysters will be harvested for the bar trade, and the largest oysters will be harvested a couple of years later.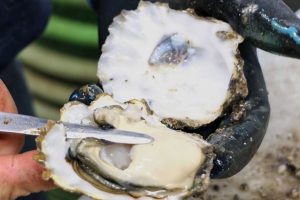 Visitors will find a processing plant, store, and picnic tables overlooking the dock, where barges offload oysters in the late morning and early afternoon. Clausen offers oysters of all sizes and in most ways you might imagine: shucked, in shell, smoked (hot or sweet), and on the half shell. From inside the store you can watch oysters being processed, and then order their delicious chowder or an oyster hoagie and go outside to watch the show.
Return to Highway 101 and drive north 20 minutes to Winchester Bay. Turn left, drive to the marina, and take Ork Rock Road to the end, where you'll find Umpqua Aquaculture's retail store. Unfortunately, the store is currently closed due to a fire, but they have assured us they will be reopening. Please keep an eye on their Facebook page for updates (facebook.com/umpquatriangleoysters). Their oysters are grown nearby, at the mouth of beautiful Umpqua River, and their sweet, mild flavor is due in part to the location. Fresh and salt waters combine at the perfect oyster-growing temperature, and owners Cindy Sardina and Vern Simmons make the most of the location by using a "long line" technique. The oysters are suspended on 15-foot lengths of rope that form nearly two miles of oyster "curtains" that keep them off the muddy bottom.
Almost two hours north, in Newport, turn right onto Highway 20. Follow that road along the north shore of Yaquina Bay until you see Oregon Oyster Farms, and a store where you can buy an incredible number of oyster items. (www.oregonoyster.com)
Xin Liu, called "Lou" by locals, is in charge. He grew up in the Chinese coastal city of Qingdao, where he became interested in marine life and eventually in aquaculture. Eventually, research brought him to Oregon State and the Hatfield Marine Science Center, and thus to becoming general manager of Oregon's oldest oyster farm, founded in 1907.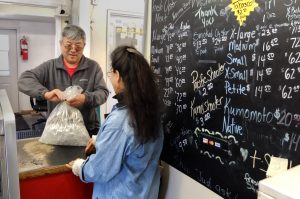 "Flavor depends primarily on the kind of microalgae the oysters feed on and the degree of salinity," Liu explains. For that reason, his oysters are suspended from rafts and always harvested at high tide, for a consistent level of salinity. He considers Yaquina Bay to be the premium site for Kumamotos, and he is also evaluating the commercial possibilities of Olympia oysters—he currently harvests about 50 dozen a week.
Netarts Bay, two hours north, is the cleanest estuary in Oregon, perhaps in the country. It is also the site of an oyster preserve dedicated to the native Olympia oyster, which was almost wiped out by overfishing in the 1800s. The Nature Conservancy has partnered with the Netarts Bay Oyster Company to grow Olympia oysters at the Whiskey Creek Shellfish Hatchery, and the effort is beginning to show results.
Todd Perman, owner of JAndy Oyster Company (named for his son and "CEO," Jacob Andrew), grows his oysters in Netarts Bay, but to taste them you'll have to drive seven miles to Tillamook, where he operates an oyster bar at 703 Ivy Avenue. His oysters are beach-grown, the traditional way, in which the cultch is scattered on the bottom and picked by hand when mature. "That's how oysters are the healthiest, how they were before man interfered." He offers an oyster to a customer. "We have to do everything by hand. They're shucked and packed back into native water. None of the big companies can do this, but it's the closest you can get to picking an oyster off the beach."
A few miles north of Tillamook, in Bay City, are the most readily available oysters on the coast. Clearly visible and less than 100 yards of the highway you'll see signs for Pacific Oyster. The oysters are sourced from various locations, and even though the operation is owned by giant Pacific Seafoods, the processing is done traditionally, with shuckers using skill and brute force to remove the meat from the shells. You can watch this through the large window at the Fish Peddler, where you can buy very fresh oysters or consume them fried with chips, baked in various ways, or in a Po' Boy. If you've had enough oysters for the day, you'll also find clams, salmon, calamari, halibut, shrimp, cioppino, and one of the best clam chowders on the coast.
By now you will have discovered that every oyster on the Oregon coast is delicious, so get some ice and bring a bucket of oysters home. You won't regret it. ■
Note: Due to COVID-19 restrictions, many of these farms are now offering take-out and curbside delivery. And a few offer shipping. Check their Facebook pages or websites for updates.
Update: Nevør Shellfish Farm is currently closed.
This story appeared in the Fall 2019 issue of Oregon Coast magazine.