Like all restaurants along the Oregon Coast, Coos Bay's Restaurant O had to quickly adapt to take-out and delivery orders in the wake of social-distancing orders, which also resulted in the reduction of employees. Restaurants have been hit hard financially, especially those that are small, family-owned businesses.
But one altruistic donor found a way to support both the restaurant and the community, and in the process sparked a movement that is spreading. The anonymous donor made a significant contribution to Restaurant O in order to provide free meals to the men and women of the police and sheriffs departments in Coos Bay and the fire departments of Coos Bay and North Bend.
Within a short period of time, other individuals also contributed to the "Pay It Forward" movement, so now Restaurant O is working with the Coos Bay School District to provide meals for homeless families and their children as well.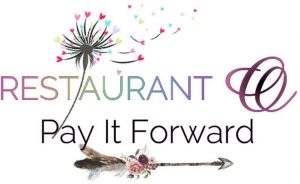 To contribute or patronize Restaurant O, contact them at 541-808-9300 or www.facebook.com/RestaurantO

You can read more about the food and fascinating history of Restaurant O in the story, Destination Dining.