Coastal carvings, local oddities, an "Indian country" mystery, and the story of how Oregon's beaches became a public right—these four recently published books are a must-read for those with an interest in all things Oregon Coast.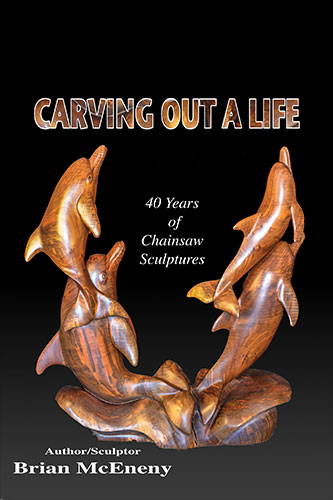 Carving Out A Life Brian McEneny
(Dancing Moon Press; 2018) You can peruse Brian McEneny's book, Carving Out a Life, from either end (it opens both ways), but you might want to start with the part called "Stories and Poems." Here McEneny tells the story—with wit, humility, and honesty—of his transition from a mountain-obsessed professional skier to an Oregon Coast chainsaw sculptor. Along the way, he shares his poetry from the years 1965–1978, as he navigated through Catholic high school, the Vietnam War years, working as a ski instructor and ski patrolman, and—through a series of interesting accidents—ending up in Seal Rock, where he married, became a chainsaw carver, and built a gallery, and where you can still find him creating amazing sculptures. If you start the book from the other end, you find photos from his 40 years of chainsaw sculpting, demonstrating his mastery at turning western red cedar, redwood, big leaf maple, and black walnut into pieces that flow like the sea visible across Highway 101 from his gallery.
Available at McEneny's gallery in Seal Rock. (woodcarvinggallery.com)— Rosemary Camozzi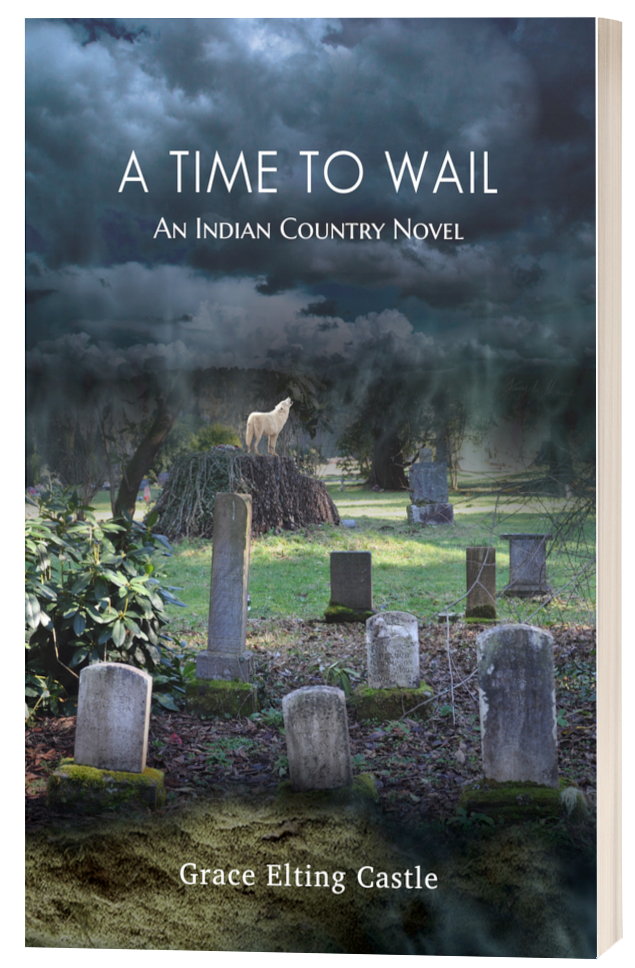 A Time to Wail, An Indian Country Novel Grace Elting Castle (Chittum Tree Publishing, 2018) Retired professional investigator Grace Elting Castle melded the early history and culture of the Confederated Tribes of Siletz Indians with a murder mystery in her debut novel, A Time to Wail, An Indian Country Novel. Castle's main character Ellie Carlisle returns to her childhood home—the Siletz River valley inland from Newport—to bury her son. But while investigating a local grave robbery, Ellie's world begins to crash down on her as she faces death threats, racism, revelation of buried secrets, and romance at the wrong time.
"I grew up on Siletz Reservation lands," says Castle. While in high school, Castle questioned why families were brought to the reservation and why the government later "terminated" tribal status. She decided to write a story about it. In the meantime, Castle became a member of the initial committee for restoration of Siletz tribal rights, helped the tribe regain their largest burial ground and surrounding acreage, and led a successful effort to strengthen Oregon's law against the robbing of Native American gravesites. All of those life experiences led to the story that eventually became A Time to Wail.
Available at online bookstores and from the author. (graceeltingcastle.com/books) —Emily Kolkemo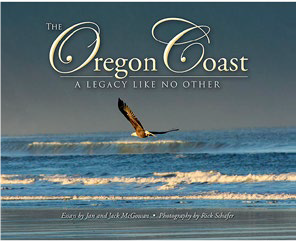 The Oregon Coast: A Legacy Like no Other Jan and Jack McGowan (Protégé Publishing; 2017) Visionaries Oswald West, Samuel H. Boardman, and Tom McCall changed the course of history through their commitment to preserving the rights of public access for all who visit the Oregon Coast. In The Oregon Coast: A Legacy Like no Other, Jan and Jack McGowan share the story of how public access to Oregon's beaches was preserved, from Governor Oswald West's declaration in 1913 of the wet sand beaches as a "public highway" to the Oregon Beach Bill, the state's landmark legislation passed and signed by Governor McCall on July 6, 1967. The book is filled with historic photographs and stunning images taken or gathered by renowned photographer Rick Schafer, with the assistance of the Oregon Historical Society and the use of archives of state photographer laureate Ray Atkeson. Funds raised through sales of the book benefit the Oregon State Parks Foundation.
Available at independent booksellers, such as Beach Books in Seaside, and online. (protegepublishing.com) —Rosemary Camozzi
The Oregon Coast Guide to the Unexpected Judy Fleagle (Maple Creek Press, 2018) In the latest book by Florence author and former Oregon Coast magazine editor Judy Fleagle, readers will discover more than two dozen odd, unusual, and quirky locales along the coast. These run the gamut from tourist hotspots like the Astoria Column to others barely known. Some are manmade, and others showcase nature in action. "The most interesting of the 26 stories was the Abraham Lincoln statue in Lincoln City," says Fleagle. "There is a fascinating history between Abraham Lincoln and Oregon dating back to 1849, which was why this statue was given by its sculptor—Anna Hyatt Huntington—to Oregon." Bizarre plants, interesting acoustics, unbelievable history, and a whole lot more are packed into this book.
The book is available online, from the author (crossingsauthor.wordpress.com/books), and at many coastal bookstores. —Emily Kolkemo
This is an excerpt from a story that appeared in the Summer 2019 issue of Oregon Coast magazine.