Offering everything from inventive seasonal dishes to breathtaking ocean views, these three restaurants—Restaurant O in Coos Bay, Pelican Brewing Company in Pacific City, and Big Wave Café in Manzanita—will draw you back again and again.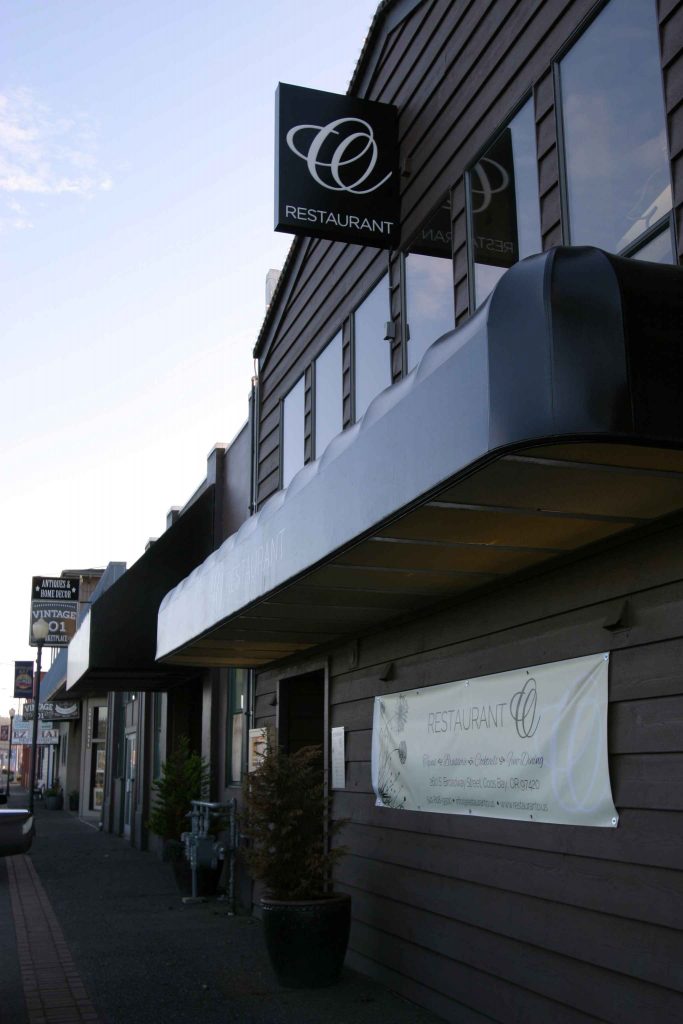 Restaurant O
541-808-9300;
www.restauranto.us  facebook.com/RestaurantO
Restaurant O opened a year ago in downtown Coos Bay, but already it has many stories to tell. The first is the story of how a world-class chef, Eoghain O'Neill, came to the Oregon Coast. Masterchef O'Neill was running his restaurant in Alghero, Italy (which was rated in the Michelin Guide for two consecutive years), when he became engaged to Dr. (Rica) Kariktan Cruz, who works in pediatrics at the North Bend Medical Center. Besides being partners in life, they decided to become business partners as well. O'Neill sold his restaurant, moved to the Coos Bay area, and soon he and Rica refurbished the bayfront site (some may remember it as Benetti's) to suit the modern Italian-, French-, and Asian-influenced cuisine they love. Thus was born Restaurant O, which promises, and delivers, a worldly food journey.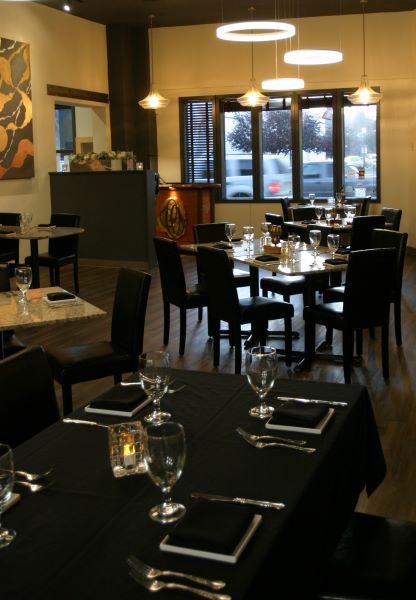 The next story is of O'Neill's impressive global resume and his continual passion for fine food. Born in Ireland, he grew up in Trinidad and England. After culinary school, he landed at Michelin star restaurant Le Manoir de Barville in Normandy, France. He went on to perfect his meticulous style at 3-star Michelin restaurants run by numerous culinary icons, including celebrity chef Gordon Ramsay. He has worked in Paris, London, Munich, and the Caribbean, and earned his moniker of "masterchef" at the World Gourmet Summit in Singapore a little over 10 years ago. (masterchefoneill.com)
The third story is how O'Neill is creating his own culinary scene right here on the Oregon Coast. Restaurant O is three restaurants in one, with the cosmopolitan tapas bar, the adjacent bistro (brasserie), and an upstairs bay-view dining room where you can enjoy a casual dinner or linger for hours over six- and nine-course tasting meals.
No matter where one chooses to dine, you can expect Italian dishes made from homemade pastas infused with saffron, vegan items with Caribbean themes, local seafood served with European flair, and French-style classics like mousse and foie gras.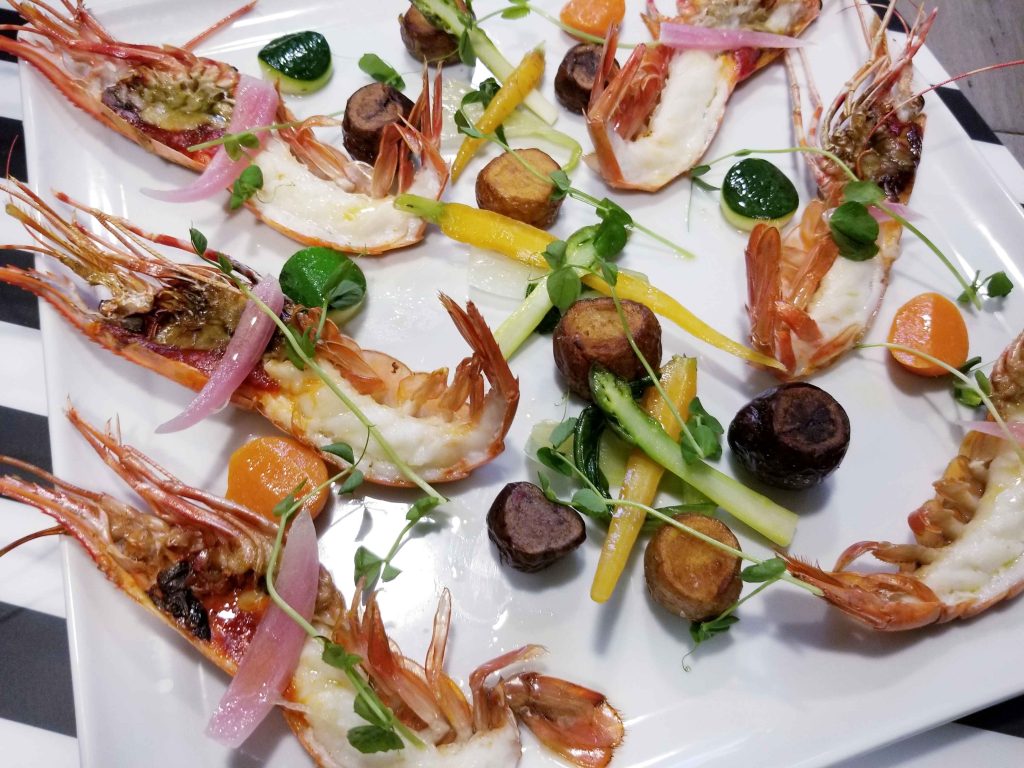 But the bounty of the Oregon Coast is what now inspires O'Neill, who bases his cuisine around farm-to-table products like fish, beef, oysters, vegetables, micro-herbs, and wild mushrooms. "My culinary philosophy is essence and beauty," he says. "I take locally sourced products and make them shine in taste and presentation." He cites spot prawns as an example. "They are rare and the season is so short—there are only a few fishermen who can catch them throughout the entire US—and we are lucky to have one right in Charleston," he says. "Oregon black truffles are a hidden gem also, bursting with flavors that can rival Périgord truffles from France." 
And indeed, the food is familiar, but elevated. The apple-wood smoked chateaubriand with pea and mint puree and side of croquette is a comforting pairing of slightly smoky meat with mashed potato encased in a crunchy orb. One of the most popular dishes, tagliatelle carbonara, features wild boar pancetta and ribbons of pasta instead of spaghetti.
Flavors are subtle, yet evocative. The tuna sashimi with jalapeños and tobiko (flying fish roe) was mild and delicate, but when the fluorescent green roe popped in my mouth it was thrilling, like a fish bursting out of the ocean. Earthy and hardy porcini mushroom cappuccino soup reminded me of a walk in our own coastal forest on a warm, damp day.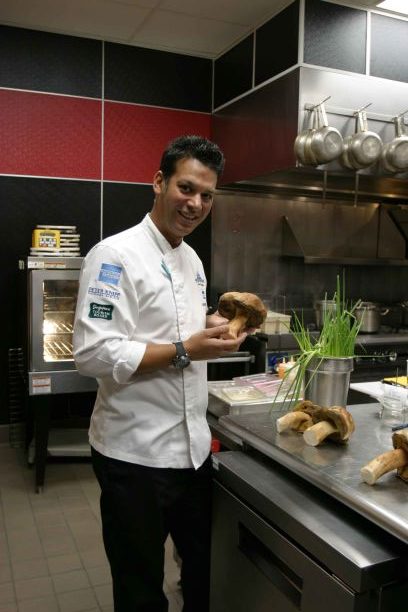 That leads me to the next story: I admit, I felt a bit nervous about meeting O'Neill. After all, he has rubbed elbows with the world's best chefs and prepared food for the rich and famous, but all of that is whisked away by his friendly, down-to-earth demeanor and enthusiasm about sharing fine food. He makes a point of chatting with patrons at their tables, and his kitchen is open so you can watch the culinary masterpieces take shape. He also offers classes, geared for both adults and children, twice a month, to those who dream of cooking like a pro. He may be the most humble and approachable chef I have ever met, which is why South Coast residents already call him their "Favorite Chef."
You can be casual here, bring your kids, and relax. And because O'Neill and Cruz have created a variety of experiences, prices fit almost any budget. Two tapas, a cocktail, and tip set me back a mere $20. Items from the bistro menu are comparable to what other coast restaurants charge for dinner ($10 to $25), and if you want to further indulge in a six- or nine-course tasting menu, it is less than what you would find in Europe or even Portland, Oregon.
As promised, O'Neill, Cruz, and the wonderful staff took me on a worthy culinary vacation. But there is a story for everyone who comes to Restaurant O, and it's sure to be a flavorful journey that will not soon be forgotten. —Emily Kolkemo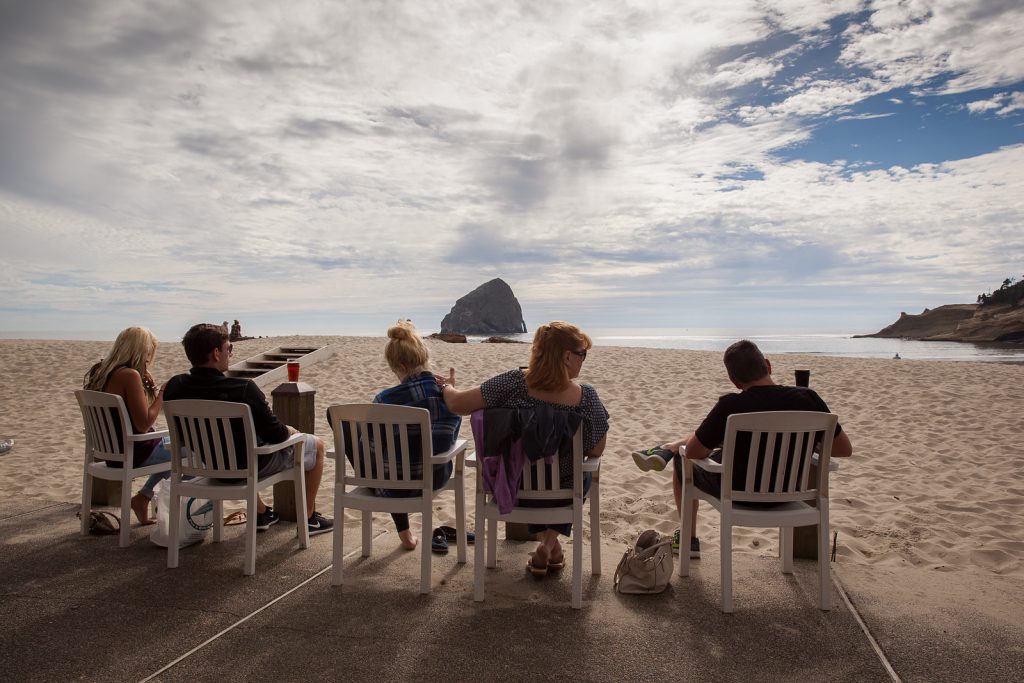 Pelican Brewing Company
503-965-7007; pelicanbrewing.com
Pelican Brewing Company has won countless awards for its beers over the past two decades. Truly, don't bother trying to add them up—by the time you're done, they'll have won another.
But for me—a far cry from a beer aficionado—the draw at their Pacific City restaurant is its right-on-the-sand, window-on-the-ocean location. That setting claims to be "the only beachfront brewpub in the Pacific Northwest," according to Pelican Brewing's website. And I have no reason to doubt them. On a warm summer day, hanging out on their patio, you could be sitting on the beach in Fiji. No jet lag required.
On a recent trip, my husband and I sampled Pelican's award-winning clam chowder and shared a Taster Tray of award-winning beers. The chowder was excellent—creamy, chunky with potatoes and clams, exactly as clam chowder should taste. Had we been hungrier, we would have opted for Pelican's signature Dungeness Crab Mac & Cheese, their Pacific NW Cioppino, or their Smoked Tri-Tip (served with "Tillamook cheddar smashed potatoes" which I was dying to try).  And here's a nice touch: ALL of their menu items come with a beer pairing recommendation.
But, truthfully, they could serve PB&Js and milk and I'd still want to dine there. The Pelican experience of a slow meal served right on the beach, with panoramic Pacific vistas, is that enchanting.
If you're lucky—and smart—you can time your visit for sunset. It's a nearly spiritual event, even if you're not imbibing. —Marie Sherlock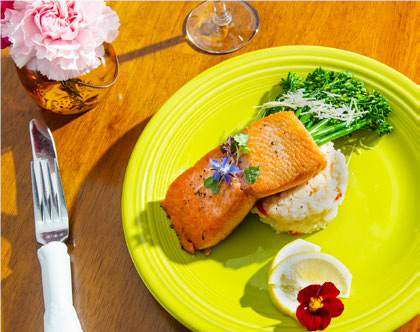 Big Wave Café
503-368-9283; oregonsbigwavecafe.com
The Big Wave Café in Manzanita not only sates your hunger, but delivers a dining experience as fulfilling as the meal itself.
Co-owner Brian Williams is an Oregon Coast native who still finds time for his other passion—salmon fishing. He began cooking when he was five years old, getting lessons from his grandmother, and by the time he was 10 he knew he wanted to be a chef. He brings more than 40 years of culinary experience to the Big Wave menu.
Both he and his wife Cathy are graduates of Le Cordon Bleu (Brian has worked for the school and still holds a position with the Portland school), and they meld French techniques with Oregon Coast recipes that have stood the test of time. Both wear many hats in this family eatery. Brian focuses on food preparation, while Carol is the pastry chef and son Sam manages the wine and beer menu. But you will see all three leading by example—busing tables, washing dishes, and sweeping the floor.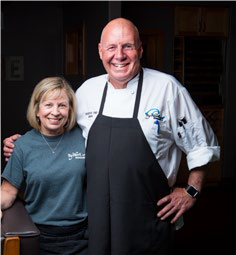 Brian defines the focus of their menu as simple food, well prepared. "We use the best ingredients available, sourced locally whenever possible," he says. He has cultivated relationships with local farmers and fisherman, allowing Big Wave to offer food fresh from the garden or the boat.
Big Wave is also a member of the Monterey Bay Aquarium's Seafood Watch, which means the Café has made a commitment to use only environmentally responsible seafood from responsible fisheries and aquaculture operations. "We pay local prices and don't haggle. Those costs are reflected in our prices, but that keeps the money in the community and gives us fresh product, an important element in how we make and serve our food," he says.
The menu offers all-day fare as opposed to separate lunch and dinner menus. The chef's special, offered daily, includes a variety of options, usually seafood-based. For example, one tasty special was a Garibaldi rockfish taco.
So, let's get to the food. On this day, I ordered the salmon. It came with a pimento and risotto cake and broccolini florets. The Garibaldi-sourced salmon was something special—flaky and delightful, with the full Pacific coast salmon flavor. I paired it with a Bethel Heights pinot noir, from the Eola–Amity Hills region in the Willamette Valley. Sam has developed a hearty selection of Willamette Valley wines, but if you want a locally brewed beer, he keeps 37 regional craft beers on hand. Of course if you so desire, you can also get a Bud.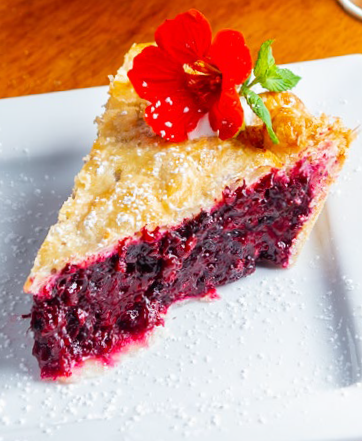 Dessert's a tough choice at the Big Wave with several of my favorites on the menu—carrot cake and apple crisp being two I normally can't turn down. But on this day, my eye turned to Carol's marionberry pie, and I wasn't disappointed. This pie is the closest you'll get to Heaven without making the trip. She starts with fresh fruit—in season—straight from the farmer's market. She is not one to overdo the sugar, allowing you to actually taste the fruit. There's just the slightest hint of cinnamon that heightens the flavor of the berries. The crust is buttery and thin. It was a near life-changing experience for me.
Carol and Brian met on a blind date when she was a senior in high school and have been together ever since, recently celebrating their 40th wedding anniversary. While courting, they'd take walks on the beach, dreaming of the day they would have a restaurant on the Oregon Coast.
The Big Wave is their dream come true. —Rusty Rae