The Charleston Marine Life Center is full of stories and exhibits that dive into the world of marine life found on the Oregon Coast.
STORY BY EMILY KOLKEMO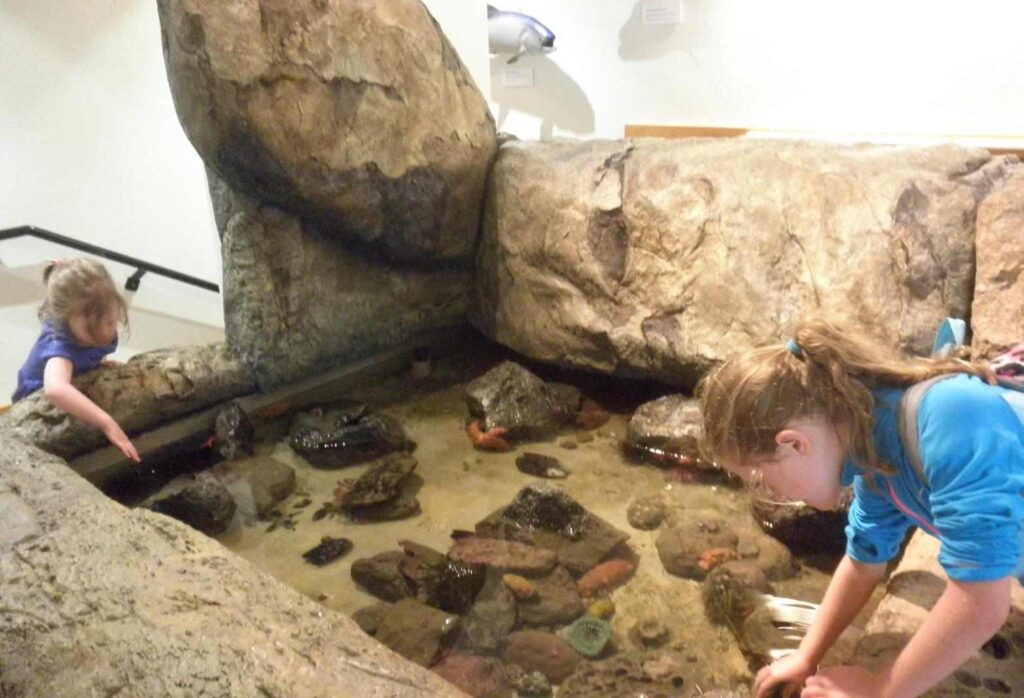 MY FAMILY IS family is visiting the Charleston Marine Life Center. My two young daughters spend a lot of time at the touch pool, where they are surprised by the feel of a purple urchin and sea cucumber. I watch as they are fascinated with tiny creatures under microscopes. They hover around the tank where the red octopus is playing with a ball, and stand in awe of the very large and well-preserved Humboldt squid specimen.
As we visited the new Center, two thoughts came to mind: marine life (obviously), and stories that reminded me of the writer John Steinbeck, who was a master of putting those two subjects together. In his novel, Cannery Row, Steinbeck wrote: "When you collect marine animals there are certain flat worms so delicate that they are almost impossible to catch whole, for they will break and tatter under the touch. You must let them ooze and crawl of their own will onto a knife blade and then lift them gently into your bottle of sea water. And perhaps that might be the way to write this book—to open the page and to let the stories crawl in by themselves."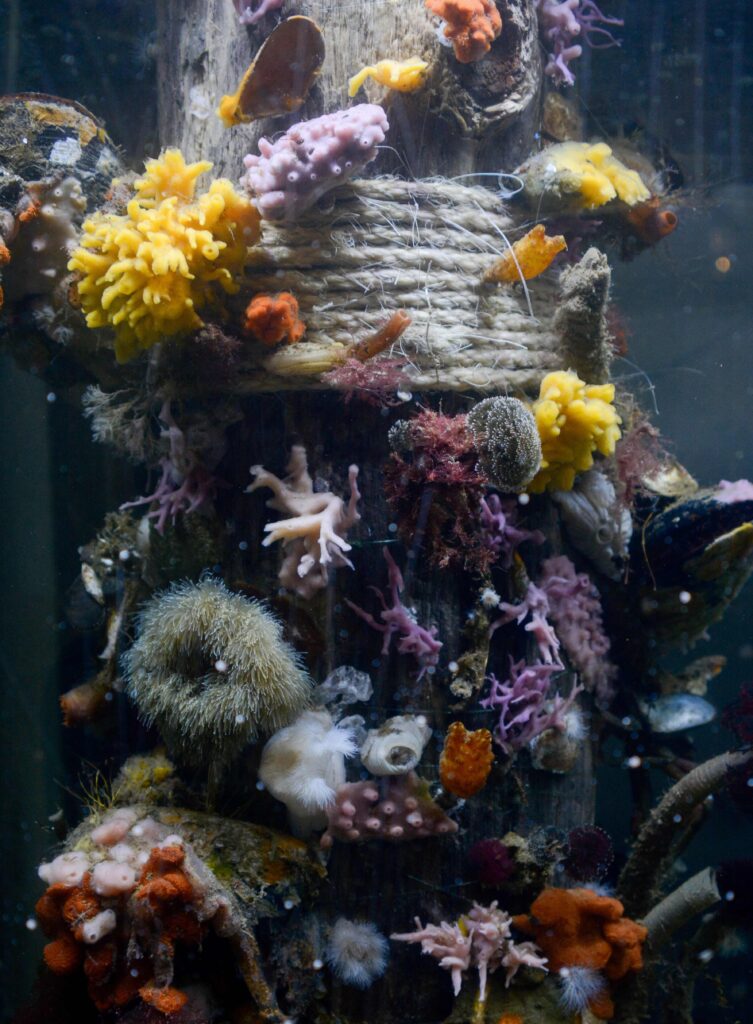 The Charleston Marine Life Center, through aquaria, exhibits, and interpretation, is the place where stories unfold before a visitor's eyes of the marine realm, the organisms that live in it, and those who study it.
Story 1: Marine Life in Oregon
"The focus of the Center is on the rich diversity of marine life off the Oregon Coast," says director Trish Mace. "We support that with opportunities to watch animals in natural settings, explore a large collection of specimens, and delve into stories of research of Oregon Institute of Marine Biology (OIMB) students and faculty." The OIMB and the Center are a part of the University of Oregon.
The Center's exhibit galleries focus on the nearshore coastal ecosystem, the deep ocean, fisheries, mollusks, larvae, marine mammals, and ongoing marine research.
Story 2: Mammals & More on Display
The first thing visitors notice when they arrive are the orca and gray whale skeletons hanging high above the Center's entryway. The marine mammal gallery, located on the second floor, contains a variety of skeletons—some enormous, and some small. There's a blue whale jaw and sperm whale skull, along with complete dolphin, sea lion, seal, and sea otter skeletons. The display is not purposely macabre—there's a lot to be learned about marine mammals from their bones. One dolphin species' vertebrae are tall, while another species' is short. Why the difference in bone height? Hint: It has to do with speed. Why does the sperm whale have such a large skull? Hint: It's not just space for the brain, which is protected by bones at the back of the head, but instead has to do with "sound." At an electronic touch screen display, visitors can select from among several whale species to listen to the different sounds they make—and then record their own whale imitations to see how well they acoustically match up.
In the nearshore ecosystem gallery, the tanks contain live fish, sponges, sea squirts, anemones, sand dollars, an octopus, skeleton shrimp, and more. Many are examples of marine life that can be found on or near the docks in the Charleston Marina.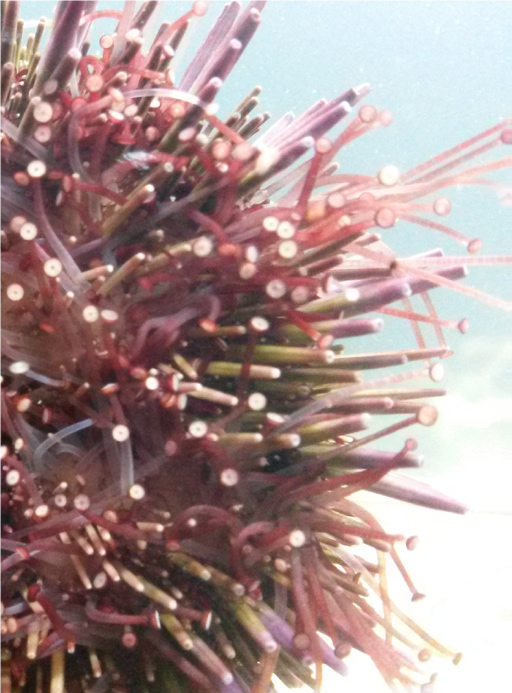 "Ninety-nine percent of animals in the ocean reproduce by larval forms," says OIMB director Craig Young, who spearheaded the creation and completion of the Marine Life Center. "OIMB is the leader in this type of research." One corner of the Center is devoted to marine larvae, with magnified, high-resolution video of various larval forms (taken by OIMB professor George von Dassow) projected onto the wall. Like the caterpillar-to-butterfly transformation, the strange, alien-looking larvae sometimes bear little resemblance to their eventual adult forms.

Story 3: Hands-on & Up Close
But the Marine Life Center is more than just a place to learn the theories of marine science. It is a place to experience it first-hand, up close. Upstairs, visitors can look through microscopes, check out shark jaws from several different species (notice all those rows of teeth!), explore the extensive shell collection, or peruse research posters by OIMB students.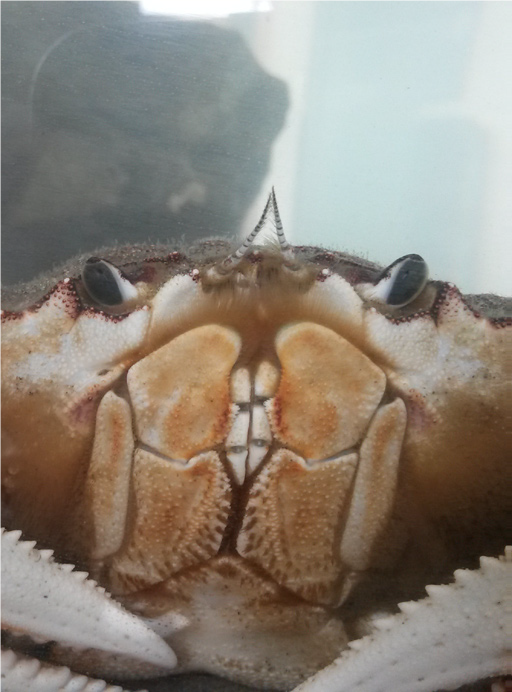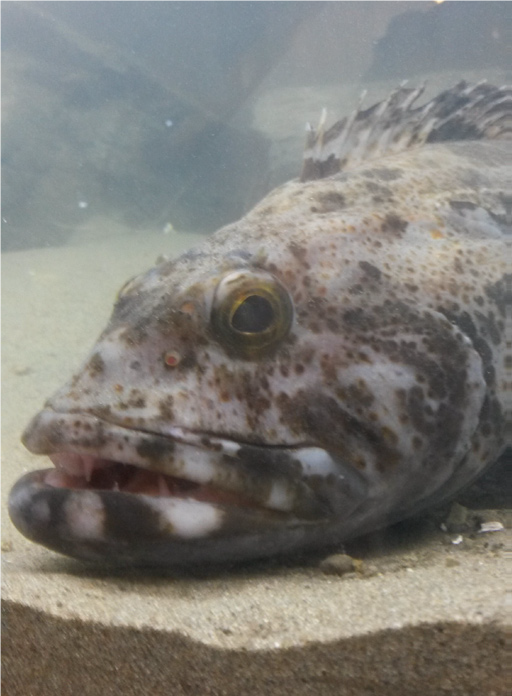 From the covered, open-air deck of the fisheries gallery, visitors can watch commercial fishing vessels offloading their catch while learning about current fisheries management techniques as well as traditional uses of marine resources by local tribes.
Interested in the story of deep sea marine life? There is a gallery devoted to that, along with a view of the University's underwater remotely-operated vehicle (ROV).
"The ROV is not just an exhibit—you're actually looking into the ROV's 'storage closet.' This ROV is used for research by OIMB faculty and students," says Mace.
Story 4: Marine Life Center is Born
Another story to tell is the how the Charleston Marine Life Center came to be. It was a herculean task, considering that it received little public funding. Planning started nine years before it eventually opened, and the nearly 1 million dollars raised to build it came primarily from private foundations, businesses, tribes, and individuals. Many local citizens, including fishermen, private collectors, and contractors contributed donations of specimens and services. Over the years, Craig Young, aided by staff and students at OIMB, kept the Marine Life Center on track. It officially opened to the public in May 2016. Today it is staffed by nearly 50 volunteers who assist Mace in the daily operations. It is a place supported, loved, and nurtured by both OIMB staff and the surrounding community.
There are many stories at the Charleston Marine Life Center. For me, it is the story of how many, many people came together and created something wonderful for this small fishing town. For my daughters, it is the story of the creatures they have seen here, many for the first time in their lives.
What will your story be? ■
When You Go
The Charleston Marine Life Center is located at 63466 Boat Basin Road in Charleston. It is open Wednesday through Saturday from 11 a.m. to 5 p.m. Admission is $5 for adults, $4 for seniors, and free for students and children. (541-346-7280)
This story appeared in the September/October 2016 issue of Oregon Coast magazine. Photos by Emily Kolkemo, except cover photo of piling covered in marine life courtesy Charleston Marine Life Center.