A bright beacon, the Yaquina Lighthouse, has been illuminating the Oregon coast for 150 years. First lit on August 20, 1873, Yaquina Light has the distinction of being the tallest lighthouse on the Oregon Coast at 93 feet. Last August, the Bureau of Land Management (BLM), which manages the lighthouse, hosted a celebration to commemorate the 150th birthday of the lighthouse.
"When I think of the history of Yaquina Head, I think of the people throughout the years who fought to protect it," said Barry Bushue, BLM Oregon/Washington State Director. His speech addressed attendees, including public visitors, current and former Yaquina Head staff and volunteers, members of Friends of Yaquina Lighthouses, and others at the commemorative event. "Today, I see their legacy in all of you—in the rangers who work here, in our friends at Friends of Yaquina Lights, and in everyone helping to care for this place."
According to the BLM, the Yaquina Head Outstanding Natural Area, where the lighthouse is located, hosted about half a million visits last year. On average, BLM rangers at the site lead 15,000 visitors on walks, talks, and lighthouse tours each year. Many of these tours focus on educating future generations about coastal ecosystems, habitat conservation, and maritime history.
"Together, we share and celebrate the history and stories of the keepers and their families, the service and duty of our rangers and volunteers, and the wildlife and scenery of the landscape that make Yaquina Head outstanding," said Bushue. "It's amazing how a historic lighthouse helps visitors of the 21st century reflect on the past and explore the possibilities of the future."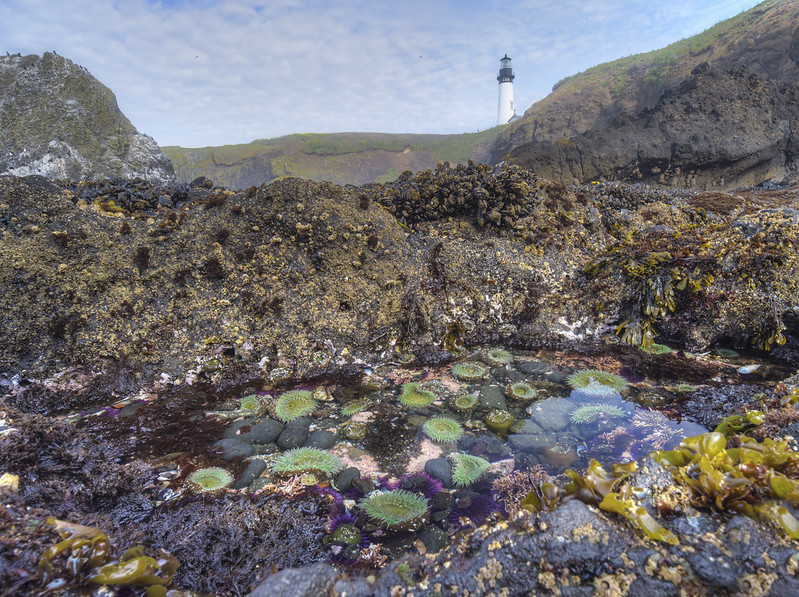 Visitors are welcome to see and celebrate the long-lived lighthouse, or enjoy many other features at the Yaquina Head Outstanding Natural Area, located at the north end of Newport, off Hwy 101 on Lighthouse Drive. The Interpretive Center, including exhibits and the store, are open daily from 10 a.m. to 4 p.m. Trails, beaches and restrooms at the Natural Area are open daily from 8 a.m. to 5 p.m.
Press release courtesy BLM. Lighthouse at sunset photo courtesy Jeanne Panfely, BLM/lighthouse and tidepool photo courtesy Bob Wick, BLM