The coast offers more great outdoor places than we could ever list, but here is a tour of some of our favorite Oregon Coast parks and nature reserves.
Editor's Note: This story appeared in the Spring 2019 issue of Oregon Coast magazine. Be sure to check beforehand for closures or reduced services.

STORY BY CHERYL D. WANNER
With so many amazing parks along our Oregon Coast, how do you choose? Sure, the big parks pack a lot of bang, but little tucked-away places can be equally spectacular with fewer crowds and no day-use fees.
So, here's a look at some of the best county, state, and federal parks our coastline has to offer, listed from north to south. With so many parks and waysides to choose from (and these are but a few of the options), you'll be busy for years exploring the entire 364 miles of beaches, dunes, lakes, forests, and estuaries—the wonders of our Oregon Coast. ➞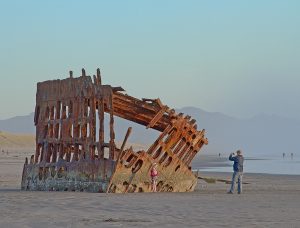 Fort Stevens State Park
Oregon's northernmost state park, located on Clatsop Spit near Warrenton, is the largest on the coast and, at more than 4,000 acres, the fourth largest in the state. Originally a military installation built to defend the mouth of the Columbia River during the Civil War, the fort was in service for 84 years. Its most iconic features include the 1906 wreck of the Peter Iredale, accessible at low tide, and the earthworks and concrete gun batteries that once housed US soldiers. The military museum is open year around, and in the summer, you can tour the underground Battery Mishler (a WWII command center) or see the fortification grounds from the vantage point of a period military transport truck. There's lots of beautiful nature too.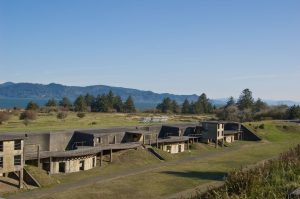 Fort Stevens offers nine miles of bike trails, six miles of hiking trails, and more than 500 campsites (including yurts and a hiker/biker camp). You can put your boat in or take a swim at one of two beaches on Coffenbury Lake, and there are two additional lakes for fishing and canoeing. Fort Stevens requires a day use entry fee of $5 or a valid Oregon State Parks Pass. ■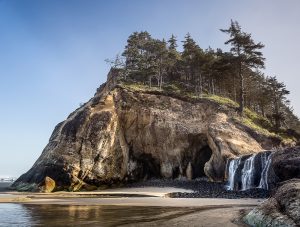 Hug Point State Recreation Site
Named for the old stagecoach road chiseled into its flanks, Hug Point lies five miles south of Cannon Beach. This is an easily accessible spot at low or in between tides, but is closed off by incoming waves and breaking surf at high tide. While on the beach at low tide, look for the wheel ruts carved by the stagecoaches that hugged the cliffs on this route when coastal travel was by beach only. And check for sea critters in the excellent tide pools.
Just to the south, seasonal Hug Point Falls drops 15 feet into a pool on the sand. This romantic setting has become a popular wedding venue.
Caves within the sandstone bluffs make great picnic shelters, and you can fish from the old roadway when the tide is in far enough to cover the beach. When it's out, you can walk this entire stretch of coastline from Arch Cape to Ecola Creek, north of Cannon Beach. Start out promptly after the tide turns and arrange to have a car at your final destination for the trip back. It is essential to be aware of the tides so you don't get stranded. ■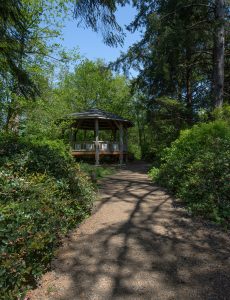 Kilchis Point Reserve
Kilchis Point Reserve, covering 200 acres along Tillamook Bay south of Bay City, was once the site of a permanent Native American village as well as the home of Tillamook County's first pioneer settler, Joe Champion, who arrived in the mid-1800s. The county's first ship, the Morning Star, was built on location, and the Whitney Lumber Company headquartered here from 1919 to 1927.
Kilchis Point Reserve has two miles of ADA accessible paved and graveled trails, a bridge over Doty Creek, and interpretive signs on native culture, early settlers, flora, and fauna. In addition to two loop trails, a third spur goes out to Tillamook Flat and the Caitlin Heusser Bird Watching Station, a prime spot for viewing waterfowl, including blue herons and great egrets. Those unable to walk to the bird watching station may call (at least a week in advance) to request a ride on the "Mike," a modified golf cart.
The Reserve is owned, maintained, and protected by the Tillamook County Pioneer Museum. The trailhead and an information kiosk are located at the corner of Warren and Spruce Streets in Bay City. There is no charge for entry. ■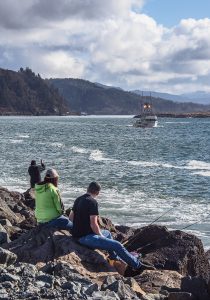 Tillamook County Parks
Four outstanding parks lie in the vicinity of Tillamook Bay. Barview County Park, just north of Garibaldi at the mouth of the bay, offers numerous campsites as well as surfing, beachcombing, and easy access to fishing on the north Barview jetty.
Trask River County Park, 12 miles east of Tillamook at the confluence of the South and main Trask rivers, provides a secluded camping experience in a beautiful evergreen forest. With a play center and an open meadow, this is a great campground for families.
Bayocean Peninsula, former site of the town of Bayocean, is a world apart with its incredible sea and bay vistas and unparalleled solitude. Signposts among the grassy dunes mark key locations of the resort community that was washed away decades ago by an eroding shoreline.
Whalen Island, just north of Pacific City, features camping in the heart of Sand Lake and amazing opportunities for hiking, kayaking, and observing wildlife. An oasis of tidal flats, dunes, grasslands, and wetlands, Whalen Island (actually a peninsula) is easily accessed by a bridge off Sandlake Road. Additional hiking and views of surrounding sedgelands are available at nearby Sitka Sedge State Natural Area. ■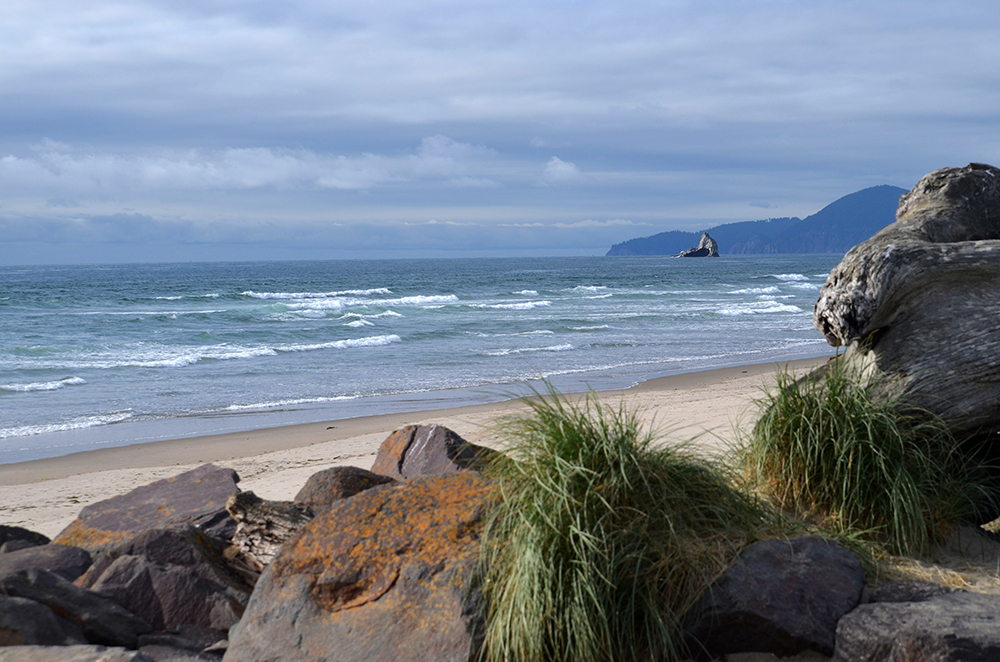 Cape Lookout State Park
Cape Lookout State Park, just south of Netarts Bay, is a stunning combination of old growth woodland and three miles of beach running the length of Netarts Spit. The middle headland on the Three Capes Scenic Route, Cape Lookout dominates the view to the south, penetrating two miles into the sea.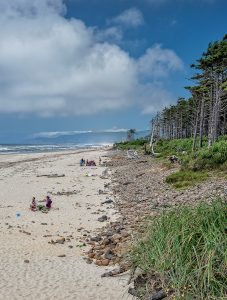 Eight miles of trails traverse the park, including one to the end of the cape. This hike affords incredible views and excellent opportunities for whale watching, but care should be taken along the sheer cliffs near its tip. A plaque at the half-mile point commemorates the site of a B-17 bomber crash in 1943.
For a less invigorating walk, follow the trail over Jackson Creek, which winds through the park south of the campground. The beach at Cape Lookout is superb for finding intact sand dollars and reportedly good hunting grounds for glass floats. And if you look up, you may see hang gliders and paragliders above you. Camping options include tent/RV sites, yurts, and cabins. A day use fee or State Parks Pass is required. ■
Devils Lake State Recreation Area
The only Oregon Coast campground inside city limits sits on along the western edge of Devils Lake in Lincoln City. The lake itself—three miles long, a third of a mile wide, and no more than 22 feet deep—is ideal for boating, fishing, jet skiing, and swimming. The campground (including yurts and a hiker/biker camp) is within walking distance of the beach at D River Wayside. While there are no lake views from the campsites, a paved trail leads to the shoreline and accesses a fishing dock and boat moorings.
The nearest boat launch is three miles away, at either Regatta Park or at East Devils Lake Recreational Area. Nearby amenities include Sandcastle Playground at Regatta Park (along with a protected swimming area and fishing dock), and more than seven miles of beach stretching from Road's End Point to Siletz Bay. ■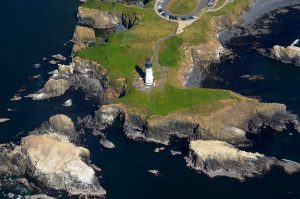 Yaquina Head Outstanding Natural Area
Yaquina Head Outstanding Natural Area, a federal park under the Bureau of Land Management, truly is outstanding. Best known for its iconic lighthouse, the tallest on the Oregon Coast, this headland north of Newport offers a variety of fun and educational experiences.
The Interpretive Center houses exhibits on marine life, local history, and the lighthouse itself. Take a lighthouse tour for a look at a keeper's life and the best view from the headland. Visit Quarry Cove and walk its secluded beach.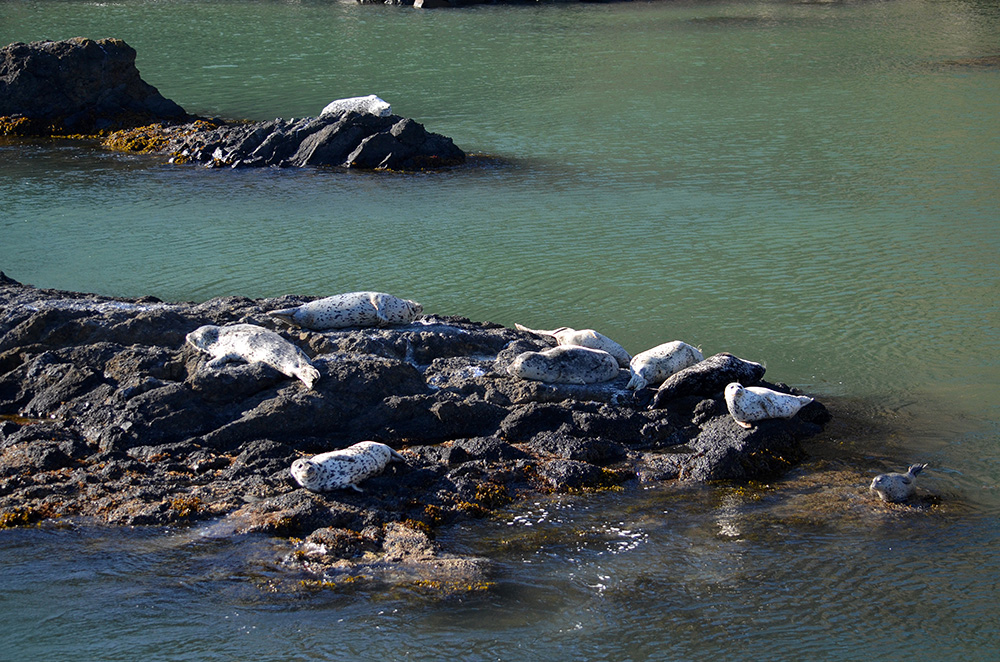 If you're lucky, sea lions will be sunning themselves on the rocks. Take the stairs down to Cobble Beach, keeping an eye out for seals, sea lions, or whales, and enjoy the unique sound of surf on cobbled stones. Hike up Communications and Salal Hills for sweeping vistas north and south of the headland.
There is a day use fee of $7. Check the Bureau of Land Management website for more information. ■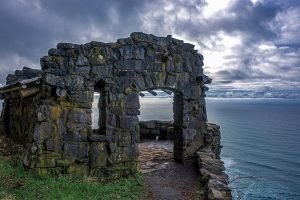 Cape Perpetua Scenic Area
Cape Perpetua, just south of Yachats, is the highest point (at 800 feet) accessible by car on the Oregon Coast. A steep drive up forested slopes to the Visitor's Center will reward you with epic views north, south, and out to sea. The most spectacular of these is from the Cape Perpetua Shelter, built in the 1930s by the Civilian Conservation Corps and used as an observation post in World War II.
Within the Cape Perpetua Scenic Area are 26 miles of trails. Camping is available along nearby Cape Creek. Dramatic shoreline sites such as the Devils Churn, Cook's Chasm, the Spouting Horn, and Thor's Well are excellent for watching big surf in action. All four lie within close proximity to the headland and are connected by a paved trail. As always, use caution on the rocks and keep well back of exploding surf. ■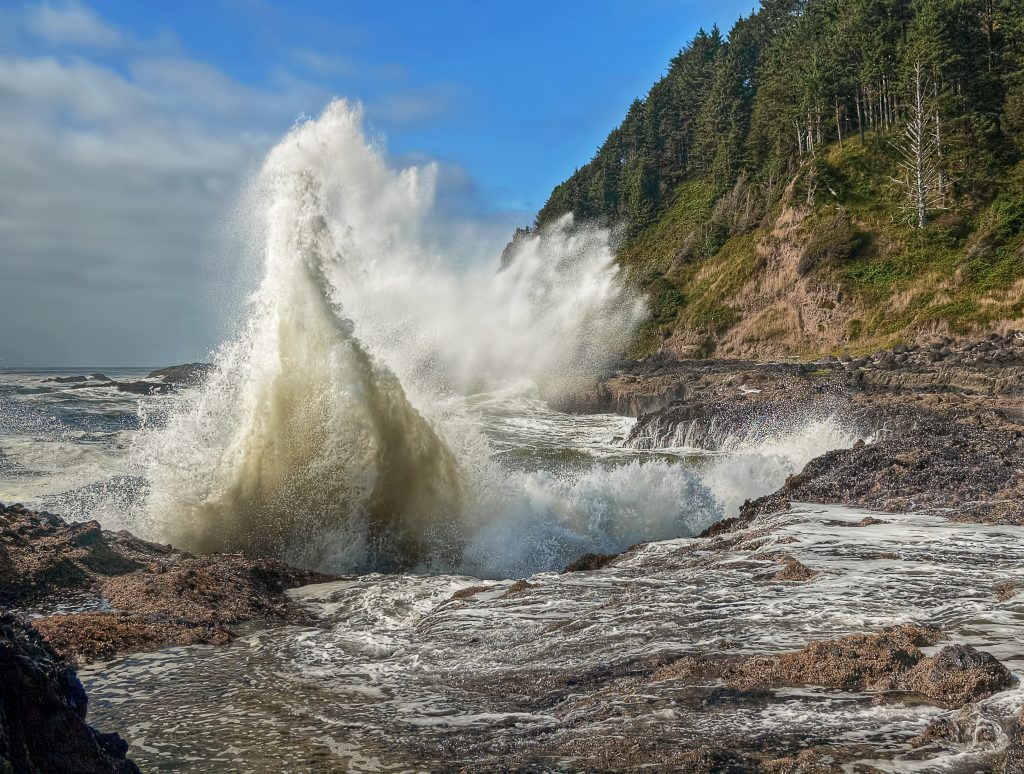 Jessie M. Honeyman Memorial State Park
Jesse M. Honeyman Memorial State Park, in the heart of Oregon's dune country on the central coast, offers a truly unique camping and recreational experience. With two freshwater lakes and opportunities for sandboarding, swimming, hiking, and fishing, Oregon's second-largest state campground guarantees you'll never lack for something to do.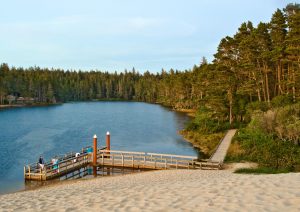 Cleawox Lake is popular both with swimmers and with dune enthusiasts who charge down the sandy slopes straight into the water. Woahink Lake has a boat ramp and canoes for rent. If you're a hiker, head out on one of several trails or combine them into a multi-destination venture. Honeyman has no paths to the beach, and slogging 2 miles through the dunes to reach it is not advisable. Beach access is available near Florence (3.4 miles away). ATVs can get into the dunes from South Jetty Road. The campground contains more than 350 sites (including yurts) and offers group camping and hiker/biker sites. Day-use fee or State Parks Pass applies. ■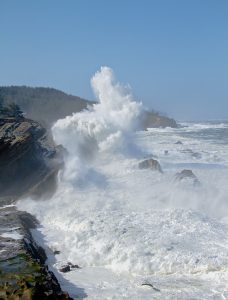 Shore Acres State Park
Tucked around the corner from Coos Bay, southwest of Charleston, are three hidden gems—Sunset Beach, Shore Acres, and Cape Arago. The tilted sandstone cliffs of Shore Acres State Park make it the place to be for explosive wave-on-rock action, especially in winter.
The park includes multiple gardens that were part of the former estate grounds of pioneer timber baron Louis Simpson. An observation building stands on the site of Simpson's original mansion (1906-1921) and its never-completed replacement, begun in 1927 and halted by the stock market crash of 1929. From Thanksgiving to New Year's Eve, the gardens are festooned with decorations and thousands of lights. Secluded Simpson Beach is accessible by a short trail, and a 4.6-mile loop will take you out to Cape Arago.
Shore Acres charges a parking fee of $5, and dogs are not allowed inside the park. Be sure to check out nearby Sunset Bay and Cape Arago State Parks, both of them breathtaking. Camping is available at Sunset Bay. ■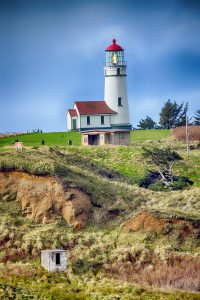 Cape Blanco State Park
Cape Blanco juts, flat and angular, from the coastline just north of Port Orford. Named by Spanish seafarer Martin de Aguilar, this is the westernmost point in Oregon and perhaps the windiest. Once the site of an extensive ranch owned by Irish immigrant Patrick Hughes and his wife Jane, it is now an 1880-acre state park.
Cape Blanco's highly scenic lighthouse, operational since 1870, is the oldest and most southerly in Oregon. The park also is the home of the historic Hughes House, built in 1898.
Park amenities include a small campground and a horse camp (with twelve new pipe corrals) along with miles of hiking and equestrian trails. While individual campsites are on a first-come basis, reservations can be made for the cabins, horse camp, and group camp. The extensive trail system involves two connectable loops, beach access, and spectacular views, including that of triangular Needle Rock rising from the shoreline of South Beach. ■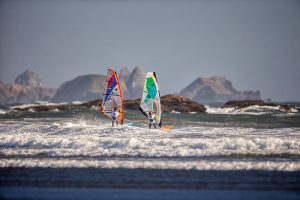 Pistol River State Scenic Viewpoint

The Pistol River is said to have received its name during the Rogue River Indian War when a soldier dropped his handgun into the stream. Today's Pistol River State Scenic Viewpoint, 11 miles south of Gold Beach, is a wonderland of dunes, pothole ponds, pristine shoreline, and giant sea stacks cluttering the water's edge.
The dunes actually grow in size during spring and summer. The many ponds, left behind by the changing course of the river, are excellent for birding. And ocean windsurfing conditions are so good the Pistol River Wave Bash (international windsurfing tour) has been held here for years. For horse enthusiasts, take your mount onto the dune trails or book a guided tour from nearby Hawk's Rest Ranch.
Meyers Creek Beach, a couple miles north of the river mouth, is the visual jewel of the area with sea stacks so close you can walk among them, exploring tide pools. ■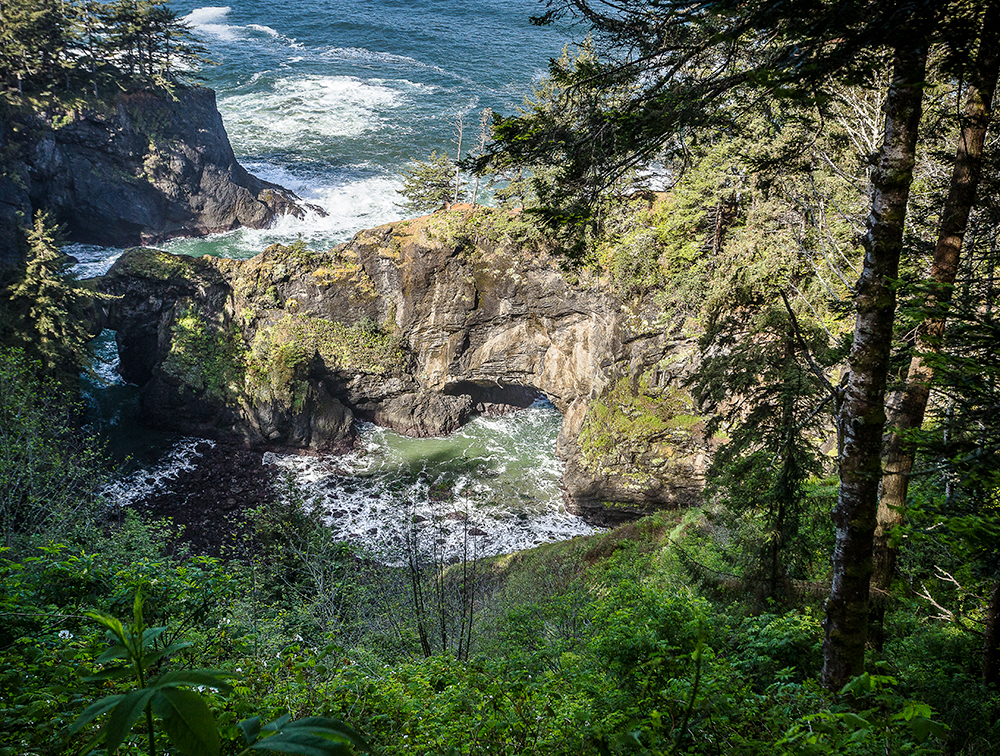 Samuel H. Boardman State Scenic Corridor
Named for Oregon's first state park superintendent, Samuel H. Boardman State Scenic Corridor combines 12 miles of spectacular overlooks, forests, beaches, trails, and offshore rocks into one rugged and breathtaking journey.
Lying just north of Brookings, the scenic corridor contains 27 miles of the Oregon Coast Trail and 12 parking stops along Highway 101 for some of the best views the southern coast has to offer. From north to south, park highlights include Arch Rock, Spruce Island, Thunder Rock Cove, Natural Bridges, North Island, Thomas Creek Bridge, Indian Sands, Whaleshead Viewpoint, House Rock Viewpoint, Cape Ferrelo (Oregon's most southerly headland) Viewpoint, and Lone Ranch Picnic Area.
While some of these attractions are visible from paved lots, others require a short to moderate hike. The park lies within the Pacific Flyway (bird migration route), and the various overlooks are ideal for spotting gray whales traveling north or south. No entrance fees or park passes are required. ■
This story appeared in the Spring 2019 issue of Oregon Coast magazine.