Waldport Chamber of Commerce has returned the Welcome Center to its original home, the Alsea Bay Bridge Interpretive Center & Waldport Museum, located at at the south end of the Alsea Bay Bridge at 320 Highway 101. Besides providing visitor information, the Center houses interpretive displays about the bridges that cross Highway 101, as well as artifacts, stories, and photos that depict the rich history of the Waldport region. The Center & Museum is open Thursday through Monday, 11 a.m. to 4 p.m. during the summer.
"The city is enthusiastic that the chamber is committing to the Interpretive Center full time and welcomes the continued successful partnership which has brought record attendance to the museum, vibrant usage of the Interpretive Center, and the robust interest in Waldport," said City Manager Dann Cutter.
The former location on the corner of Hwy 101 and Hwy 34 will now house the Itinerant Artists Co-op. The Co-op moved from Lincoln City to Waldport and celebrated its grand opening earlier in June. Itinerant Artists will feature local artists works and showcases the many talented artists, painters, photographers, and craftspeople for residents and visitors to enjoy.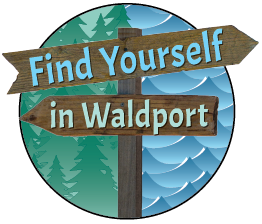 The Waldport Chamber of Commerce will continue to be the one-stop source for area information, supporting local businesses, community organizations, and partners throughout Lincoln County. Popular Waldport-branded items like apparel, accessories, postcards, toys and more will now be available at The Interpretive Center & Museum.
Press release and photos provided by the Waldport Chamber of Commerce