PORT OF BROOKINGS-HARBOR
LAST FALL, A new commemorative site on the South Coast was completed and revealed to the public. After more than 10 years of fundraising, planning, and construction, the Chetco Indian Memorial depicts the culture and stories of the Chetco Indian people and creates a more inclusive telling of Brookings area history.
"Native people have lived on the Oregon coast for thousands of years," said project vice president and Chetco/Tututni descendant Milo Mann at an unveiling ceremony in October 2020. "We hope that the Chetco Indian Memorial will help create a culture of appreciation for their history and their presence in our local communities."
Located at the end of the Port of Brookings Harbor boardwalk, the Memorial sits atop the site of an ancestral village that was located near the mouth of the Chetco River.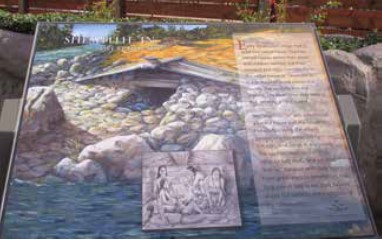 "The Chetco Indian Memorial is the only interpretive site that represents an Oregon coastal tribe and their history on the very site of their ancestral village," said Mann. The Chetco people were forcibly removed and marched 200 miles to the Siletz reservation near Newport in 1856. A few returned, such as Lucy Dick, whose life and legacy is depicted in a bronze sculpture and interpretive panel at the Memorial site. Visitors will also find a plank house, examples of vegetation that were important to the Chetco people, and several interpretive panels that describe Chetco life and culture.
To get to the Memorial, take the exit for Lower Harbor Road off Highway 101. Drive down the hill to the port and waterfront and park south of the shops and restaurants, near the boardwalk. www.facebook.com/chetcoindianmemorial
This story appeared in the Happenings section of the Summer 2021 issue of Oregon Coast magazine.