STORY AND PHOTOS BY MICHAEL KEW
Head down to the Chetco River, or to a more remote trail southeast of Brookings, to enjoy a hike in Oregon's only naturally occurring coastal redwoods.
Ten years ago, National Geographic magazine published "The Tallest Trees," a tale of the Redwood Transect, a yearlong, 1,800-mile, south-to-north slog through what was left of California's historic coast redwoods (Sequoia sempervirens). The hikers—ecologists Michael Fay and Lindsey Holm—found the southernmost native grove near Villa Creek in Big Sur.
One rainy winter night at home, while reading this story, I was struck by one line near the end: "On the last day of their transect, as they hunted for the northernmost redwood near Oregon's Chetco River…." Wait, I thought, I'm sitting right here, on the Chetco's north bank! And I knew that redwoods were southwest Oregon's rarest native conifer.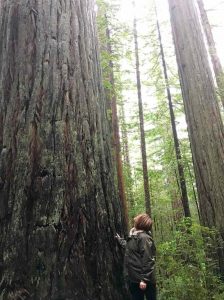 In a narrow coastal band from Curry County down to California's Monterey County, the world's tallest living organisms once coated more than two million acres. When gold was struck in 1849, hundreds of thousands of people flocked west, quadrupling California's population throughout the 1850s. Mining took off, sawmills were built, and the Golden State's ancient redwoods were milled for their high-quality, rot-resistant wood. Today, 95 percent of those monumental trees, which could grow nearly 400 feet high and live for more than 2,500 years, are gone. The remaining five percent comprise the magnificent parks of central and northern California.
Here in Oregon, having miraculously avoided the saw, our surviving handful of endemic groves lie scattered in the watersheds of the Chetco and Winchuck rivers. In the southwest corner of the Rogue River-Siskiyou National Forest, two small groves are easily accessible, with good road signage, groomed trails, toilets, picnic tables, and self-guided interpretive brochures. Other naturally occurring redwoods, however, do exist a bit farther north.
That night, after reading the National Geographic story and growing ever more curious about the location of our absolute northernmost natural redwood(s), I studied my big U.S. Forest Service map. Up the Chetco, on a mountain above the Nook Bar riverfront recreation site, I squinted at an obscure triangle of land: the 21-acre Snaketooth Redwood Botanical Area. Below it was the Redwood Bar recreation site and Little Redwood Campground, both on the Chetco's south bank. Voila! Just a few miles upriver from my house, the world's most northerly, natural, undisturbed redwoods were right there, above the Chetco, at the top of the Little Redwood Creek drainage. Oregon's most accessible redwood forest, however, was 4 miles to the southwest.
Tucked in a 50-acre grove, the Redwood Nature Trail is a popular, 1.2-mile-long loop.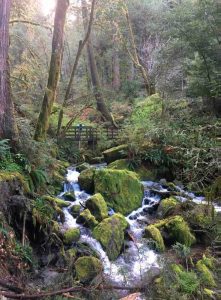 Offering hikers many large myrtle, tanoak, red alder, western hemlock, bigleaf maple, and Douglas fir trees, the trail meanders up and down a slope bisected by Two Salmon Creek and a few other small streams gurgling down to the Chetco.
The rich canopy and the lush understory of salal, ferns, huckleberry, and rhododendron shows us what, pre-1850s, much of the surrounding hills once looked, smelled, and sounded like.
Moderate-to-steep in a few sections, this trail's biggest redwoods—though much smaller than those found in California—are from 300 to 800 years old and live at the top of the loop. Their locations are unique in that the largest coast redwoods normally are found at lower, much flatter levels.
To reach the trailhead, in Brookings, exit Highway 101 at North Bank Chetco River Road and head inland for 8 miles. A half-mile past the entrance to Alfred A. Loeb State Park, where the air speaks of moss and camphor, on the road's left side you'll find a small dirt parking area fronting a lush rectangular old-growth island amid the weedy clearcuts and industrial Douglas fir plantations along Gardner Ridge.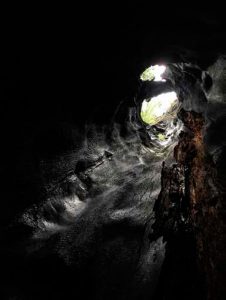 Much of this region was torched by the Chetco Bar Fire, which forced thousands of people to leave Brookings
and adjacent communities. Sparked by lightning in the Kalmiopsis Wilderness, what became Oregon's biggest (191,125 acres) wildfire of 2017 nearly engulfed the Redwood Nature Trail, but, due to strong firefighting efforts, the grove was narrowly bypassed. Not so lucky were the 334-acre Wheeler Creek Research Natural Area (a pristine old-growth redwood grove near the Japanese Bombsite Trail, between the Chetco and the Winchuck) and the Snaketooth Redwood Botanical Area. Most of the fire-affected redwoods, however, with their exceptionally thick, fire-resistant bark, endured just minor damage. (Redwood bark contains no resin and hence burns very slowly.)
Oregon's other easily accessible redwood grove requires a bit more driving—25 minutes from Brookings via the Winchuck River Road turnoff from Hwy 101; the last 4 miles are bumpy, one-lane FS Road 1101, aka Peavine Ridge Road. Eleven miles southeast of Brookings and two air miles from California, the Oregon Redwoods Trail is technically two trails, both of them loops. Its first half-mile (Trail #1106) is wheelchair-accessible and features a large goose pen tree (its basal cavity caused by fire) in a small cluster of mid-sized old-growth redwoods. Beyond and down the hill, sections of Trail #1107 are somewhat steep and, despite having never been logged, most of these redwoods are relatively small amid their verdant understory of ferns, sorrel, huckleberry, and rhododendron. From here eastward a few miles to Bear Ridge, most of it within the Rogue River Siskiyou National Forest, is Oregon's broadest zone of naturally occurring redwoods.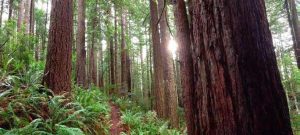 Thirty years ago, the Oregon Redwoods Trail was almost another clearcut. On Peavine Ridge, around the top of the Moser Creek drainage, the Forest Service planned to log 60 acres of public land for three million board feet of timber. Thankfully, the old trees were saved, and this tranquil, mixed-species upland forest, one of Oregon's most unique, can be forever enjoyed by all.
This story was published in the Summer 2019 issue of Oregon Coast magazine.