STORY BY MARIE SHERLOCK
From Tillamook Cheese to Cranberry Sweets, the coast's unique edibles are as big a draw as the scenery.
Last year, in a category called "Cheesy Name Origins," Jeopardy players saw this prompt: "This
yellow cheddar: the Oregon county where it's produced." A contestant quickly buzzed in—while the entire state of Oregon screamed "Tillamook!" at their television screens.
Tillamook Cheese is clearly the most famous food to have originated on the Oregon Coast. But when millions of visitors flock to Oregon beaches each year, they don't just eat that heavenly cheddar. They look for seafood—of course—and cranberries, even jerky. We've rounded up five fantastic foods that coastal visitors return to year after year.
Editor's Note: Some coast storefronts and restaurants may currently be closed (or offering take-out only), but many of their treats are available for purchase online or at your nearest grocery store.
Tillamook Country Smoker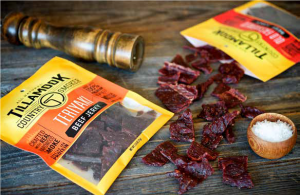 In 1975, three Tillamook area families—the Crossleys, Smiths, and Giengers—joined forces to found Tillamook Country Smoker (TCS) in Bay City. That makes TCS one of the whippersnappers in this group of famous foods, having "only" been cranking out their sublime smoked products for four decades.
Fast forward to 2017. TCS now employs 300 workers who process 30,000 to 80,000 pounds of meat daily, according to Bob Crossley, director of customer marketing and grandson of cofounder Art Crossley.
Not surprisingly, TCS's bestseller is their signature jerky, which comes in a head-spinning number of varieties from Old Fashioned and Teriyaki to Chipotle and Sriracha. TCS also produces a slew of other smoked meat products, such as turkey jerky, meat sticks, and steak cuts.
"All of our recipes came from my grandfather, Art Crossley," Bob Crossley says.
Those tried-and-true formulas have worked: TCS products are sold at more than 20,000
locations across the country.
One thing to remember: the Bay City locations are the only spots where you can buy the company's two-foot-long pepperoni sticks. And they still only cost a buck. Tillamook Country Smoker jerky can also be purchased at their online store. (888-987-4233; tcsjerky.com)
Pacific Seafood: Fish Peddler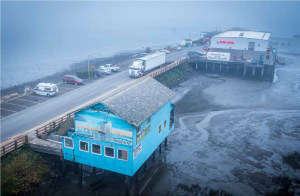 The fish peddler restaurants and markets, in Bay City and Newport, are surely two of the coolest food experiences on the coast. Visiting one of them may be the ultimate know-where-your-food-is-coming-from adventure.
In Newport, patrons can observe fresh shrimp being processed while enjoying shrimp salads. In Bay
City, you can watch as workers shuck oysters "the old-fashioned way—by hand with brute force, leverage and a little finesse," according to the restaurant's website. And then dine on those just-saw-them-processed gems.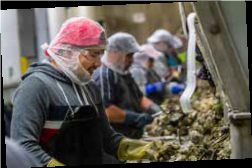 Both Fish Peddlers are part of the Pacific Seafood empire, one of the country's largest seafood companies. The Clackamas-headquartered business was formed in 1941 and now employs more than 3,000 workers at 41 facilities in 11 states. The Bay City and Newport sites are the only retail locations on the Oregon coast.
The agility and tempo of Pacific Seafood's processors are enough to boggle the mind. It's no surprise that the opportunity to watch them in action is a real hit with customers, according to Lacy Ogan, Pacific Seafood's communications manager, who notes that best-sellers at the restaurants are oysters on the half shell, fish and chips, and clam chowder.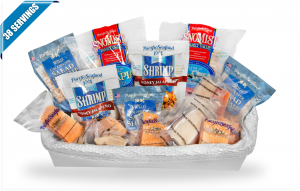 Dig in—food doesn't get much fresher than this. (Bay City 503-377-2323; Newport 541-265-7057)
Order by phone or through Pacific Seafood's website to have seafood delivered directly to your doorstep. (800-275-6022; pacificseafood.com)
Tillamook Cheese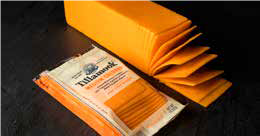 Farmers in fertile Tillamook County started making cheddar cheese in the late 1800s. In 1909, a handful of these small creameries formed a cooperative "to ensure all cheese made in the Tillamook Valley was of the same high quality," according to the co-op's website. They were quite successful in this endeavor (understatement alert!).
From those humble beginnings more than 100 years ago, the Tillamook County Creamery Association (TCCA) has blossomed into a national brand that consistently wins awards for its high-quality products. The TCCA now includes about 90 farmer-members and produces about 125 million pounds of cheese annually.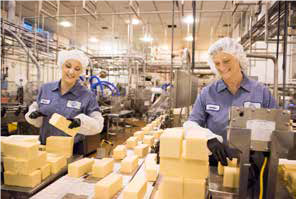 According to Tori Harms, corporate communications manager, that makes Tillamook the number three selling brand of natural cheese in the US. You've gotta wonder if part of the reason for those awards (nearly 700 and counting) is TCCA's structure. "As a farmer-owned co-op," says Harms, "the values of our farmer-owners drive the way we do business, which means quality and doing things right are priority number one, sometimes above profit."
And, of course, there's the fact that Tillamook products simply taste so darned good. Tillamook cheese, ice cream, and other dairy products can be found in grocery stores across the U.S. (503-815-1300; tillamook.com)
Blue Heron French Cheese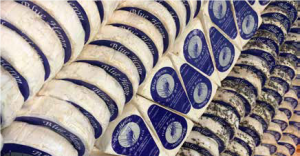 Tillamook Cheese's outstanding cheddar isn't the only famous cheese on the Oregon Coast. Just a mile south of the Tillamook Cheese Factory, the Blue Heron French Cheese Company sells its
delectable brie—and a lot more.
Wait—brie? As in French brie? On the Oregon Coast? Yes, indeed.
Founders Denny and Chris Pastega started making the soft cheese wheels in 1979 right there in the adorable, blue-trimmed, 1930s Dutch Colonial barn off Highway 101. By the early 1990s, demand for the brie had outgrown that space and the cheese-making process was moved offsite. But maybe that's for the better, because that original location now offers one of the best culinary experiences on the coast.
With a petting zoo of sheep, goats, llamas, and a donkey, Blue Heron has something
for everyone, making it a most-definitely-stop-worthy addition to any Oregon Coast visit.
Blue Heron's cheeses and gourmet foods are available for purchase by phone or online.
(503-842-8281; blueheronoregon.com)
Sweet South Coast: Cranberry Sweets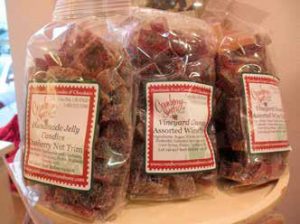 The Cranberry Sweets legacy started more than 50 years ago, when Bandon resident Dorothy Johnson came up with the first cranberry walnut jelly candy. Clifford Shaw was so enamored with the candy that he purchased the recipe in 1974 and then opened a storefront, Cranberry Sweets, to share the fruity treat with the world. Fast forward to today, and you'll find Cranberry Sweets selling the now-famous jelly candy—along with 250 other confections—online and at their two shops: the popular Old Town Bandon location and the one in Coos Bay, where visitors can actually watch factory workers making candy.
Visitors to either store will find the jelly candy (the flavors have expanded beyond cranberry to include marionberry, raspberry, and even wine and beer flavors), along with a myriad of other treats like gourmet chocolates, toffee, fudge, tea cookies, caramels, and more than 30 flavors of "candy" and cheese flavored popcorn—all handmade at the factory in Coos Bay. The candied popcorns have become a huge hit, with flavors like sea salt caramel, s'more caramel corn, caramel apple popcorn, and other nontraditional flavors like marionberry, mint chocolate popcorn, and buffalo blue cheese popcorn, to name a few.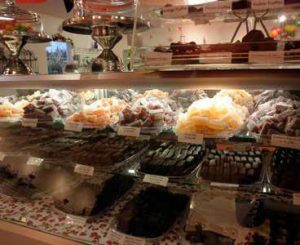 General manager Jackie Schaiff says the company fully embraces the "kid in a candy store" ideology. That means customers are encouraged to browse, try free samples (yes, you heard that right), and generally enjoy themselves.
Next summer, the creative minds at Cranberry Sweets will premiere a new line of candy bars, with the first one featuring a 4th of July-appropriate ingredient that fizzles like a firecracker in your mouth— Pop Rocks! I'm certain that Willy Wonka himself could not have thought of anything better than that.
Treats from Cranberry Sweets can be ordered by phone or online.
(800-527-5748; cranberrysweets.com) —Story & Photos by Emily Kolkemo
Excerpted from "Famous Foods," a story that was published in the Spring 2018 issue of Oregon Coast magazine.