Along with alluring natural beauty, Bandon draws visitors with top-of-the-line restaurants and galleries, world-class golf, and a variety of beaches.
Story and photos (unless otherwise noted) by Gail Oberst Photo Above: Coquille Lighthouse by Robert Potts
I had exactly one long weekend to spend in my old hometown, Bandon. Obviously, one of the first places I visited was my personal holy ground.
It's on Second Street in Old Town. For a moment, I stood in the middle of the street, looking up at the Masonic Temple building where, in the 1950s, my parents met at a church service held upstairs. If not for that meeting, I would not have lived in Bandon, or even been born.
I am shocked from my reverie by an approaching trolley, an old-timey vehicle ferrying tourists and locals around town. Its occupants stare at me, as if I am among the Bandon curiosities. They aren't entirely wrong.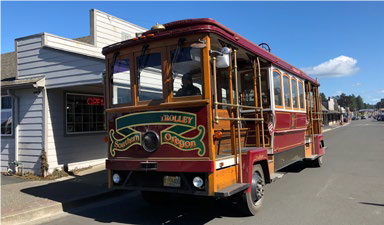 The trolley was just one delightful discovery I made during my recent return to my childhood Bandon, which has evolved from a sleepy, somewhat ramshackle coastal village into a unique town full of services and activities that make it one of Oregon's favorite destinations. Bandon is now an international attraction, thanks to visitors to its world-famous golf resorts. Its restaurants and shops, once quaint and homey, have expanded to serve refined tastes in wine, beer, cuisine, art, and décor.
Safe on Second Street's sidewalk, I peeked into the Minute Café, once my grandfather's favorite breakfast nook and still a local favorite, famous for its biscuits and gravy and other home-style meals. Today, several bakeries and coffee shops have joined Bandon's breakfast club. In them, the aroma of fresh croissants and steamed lattes accompanies diners checking their email on tablets and smartphones.
Change is nothing new to Bandon. This tough little town has survived two devastating fires, watched its logging and fishing industries come and go, and weathered the highs and lows of tourism—not to mention the literal storms native to the Oregon Coast.
As a result, visitors here will quickly discover a depth and variety to Bandon and its residents that will charm them and call them back, again and again.
You and I both will want to stay for weeks, but I only had this long weekend. You too?
To compile a "must see" list for a quick visit, I checked in with two old friends of my family's—Mary Schamehorn, now Bandon's mayor, and Peggy Backstrom, now owner of Bandon Inn. Your first stop can be before you leave for Bandon, at the Bandon Chamber of Commerce and Visitor's Center website (bandon.com), or drop in at their office at the entrance to Old Town. Together, we came up with some suggestions for eating, drinking, sleeping, and enjoying your way through Bandon.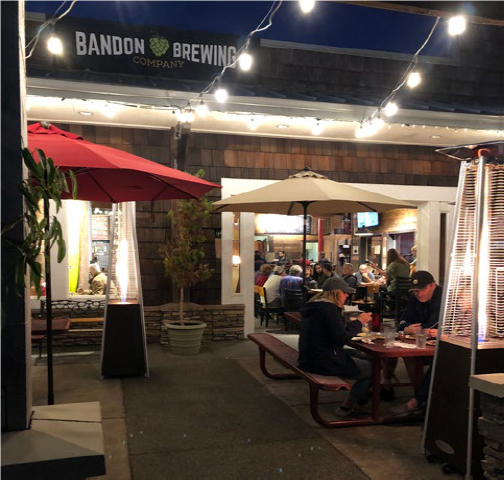 Drink
Part of Bandon's charm is that it is so far from everywhere. As a result, you are likely to arrive in town thirsty, as I did the first night. My first stop was Bandon Brewery in Old Town, where I took a seat with my beer in front of the brewery kettles and tanks. As I relaxed, I listened to live music by two local songbirds, "Clover Joy." In addition to craft beer, this family-friendly brewery has wood-fired pizza, with a dough-throwing chef.
The next day, I stepped into the Continuum Building and visited the Stillwagon Distillery's spirits-tasting room. These craft spirits (about a dozen rums and one vodka) are made in nearby Charleston. The Bandon tasting room is hosted by Susie Valle, who is famous for her pirate antics here and at local festivals.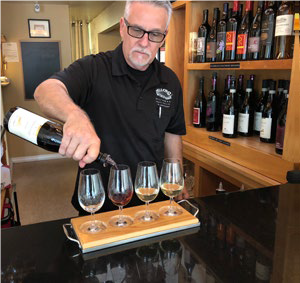 You may want to toast the fact that Bandon was founded by an Irishman, Lord George Bennett, with a Guinness at Foley's Irish Pub in Old Town, or a glass of Oregon wine at the more elegant Lord Bennett's, which provides beautiful ocean views at sunset. The cozy Crowsnest Lounge on top of the Wheelhouse Restaurant is another sunset favorite for cocktail lovers. If wine is your passion, drop in at Alloro Wine Bar for happy hour beginning at 4:30 p.m.
Stay
In my lifelong love affair with Bandon, I have stayed at nearly every hotel and motel in town. Among my favorites are two quaint hotels that have been around for ages: Sunset and Windermere. Both are right on the beach and have maintained their charming original cabins after adding more modern buildings, all with fabulous views and beach access. I've also loved camping and picnicking at Bullards State Park, where yurts were welcome additions at a time in my life when tent camping has become less appealing. Our family has also trailer camped at RV parks on Beach Loop Road and south of Bandon on Highway 101.
New hotels have sprung up over the years that have upgraded visitor expectations. Most notable is the luxurious Bandon Dunes golf resort, just north of Bandon.
Wherever you stay, plan ahead. There's a great variety of lodging options, from luxurious vacation homes at Seaview Townhouse at Coquille Point to two-star highway motels like the Inn at Old Town.
But I chose this time to stay at Bandon Inn, so I hiked the short trail to my room above Old Town. There I discovered fresh cookies being served in the lobby and a shop that included Circles in the Sand gifts. Filled up on sweets and beer, I fell blissfully asleep, the distant sound of the ocean my lullaby.
I had never stayed at Bandon Inn before, so I pleasantly surprised to wake up to panoramic views that included the Coquille Lighthouse, the jetty, and the beaches to the west, Old Town Bandon with its docks and piers directly below, and the wetlands and creamery to the north and east. What a welcoming sight!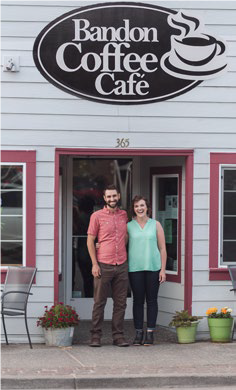 Eat Breakfast
I've already mentioned the locals' favorite Minute Café, but two other cafés are excellent choices for homemade pastries. Try the gigantic cinnamon rolls at Bandon Baking Company, a Bandon institution since the 1970s and owned by Chris and Kim Powell for the last 20 years. Cookies, croissants, bagels, pastries, homemade granola, and other treats are available through lunchtime.
There's no Starbucks in Bandon but you won't miss it. In addition to crafted drinks at the Bandon Coffee Café, you'll find pastry chef Mara Rutherford's baked goods including cookies, turnovers, and at least 10 kinds of bagels.
Real chocolate lovers will want to start their days with sipping chocolate at Coastal Mist, a local chocolatier. While you're sipping, pack up some artisan chocolates to take home for gifts.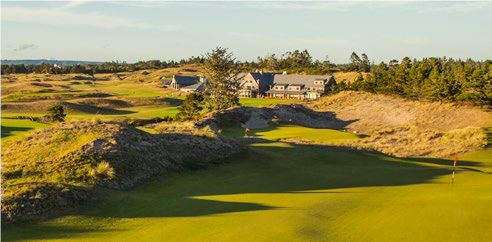 Fun in the Sun
Many come to visit Bandon's world-class golf courses, but since my childhood, the biggest draw has been Bandon's beaches. My favorite beaches are south of town along Beach Loop Drive, glorious and dramatic with their "sea stacks" rock formations. Also tops on my list are driftwood-strewn dunes and beaches that begin at the Coquille Lighthouse in Bullards Beach State Park, just north of Bandon, then stretch for 4 miles to Cut Creek, which flows out of the Bandon Dunes golf resort.
On my first sunny day, I began my beach trek at China Creek, the farthest south of the Beach Loop parks that include Devil's Kitchen, Face Rock, and Coquille Point—all popular for their beautiful views, easy beach access trails, and sheltered nooks. China Creek is especially fun for small children who can play in the creek or low dunes near the ocean. It's also nesting grounds for the snowy plover, so please read the signs.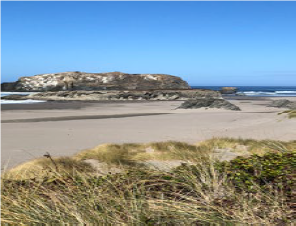 Just up the road is the Devil's Kitchen, which is not all that devilish on a fine day. From a park bench on the hillside above this beach, you can see Haystack, Face, and Table rocks. There are also sheltered picnic tables and small coves that make this a wonderful place for families to spread a blanket and eat a meal.
Face Rock is Bandon's icon. Its park provides majestic views of the face-like promontory said to represent a maiden looking out to sea, waiting for her lover to come home. I guess he's still out there.
Cathy Vanderdown, of Bandon's Chamber of Commerce, likes the access and the view from Coquille Point, aka "Elephant Rock." The steps up and down the cliff provide a great workout, she says. If you'd rather not work so hard to see the panoramic views north and south, walk the interpretive trail, where you'll learn about the seabirds native to the Oregon Islands Refuge, the offshore preserve around the headlands.
On a rainy day, the South Jetty is a popular place to park your car and watch the waves crash over the bar.
Horseback riding on the beach is also a popular activity in Bandon. Bring your own horse and camp at Bullards, or rent one at Bandon Beach Riding Stables on Beach Loop Road.
On the waterfront, rent a crab ring and get a day license (kids can crab without a license) at Bandon Bait and Tackle near the docks, bait it, drop it in the water and cross your fingers. This is an activity that so enthralled my son when he was young, he requested his own crab ring for an adult Christmas gift. I've heard Prowler Charters provides a great fishing adventure, but admittedly, all of my adventures were on family boats.
New in town is the Fun Sway, a sailboat turned refurbished motor yacht piloted by Brian Kraynik (aka Captain K), who offers 2.5-hour historic boat trips up the Coquille River from spring through fall.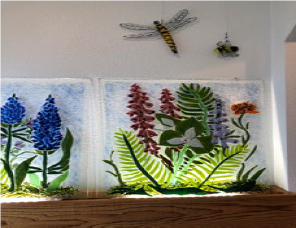 Indoor Fun
Bandon averages 189 sunny days annually, which means that at least half of your stay may be interrupted by rain. Luckily, Bandon has you covered.
Start your indoor fun at the Bandon Historical Society Museum. Take your time perusing displays that picture Bandon's two devastating fires, its long logging and fishing history, its love affair with cranberries and cheese, and its Native American culture. While you're there, grab "The History Detective's Challenge," a booklet full of picture clues to solve as you inspect the displays. Both children and adults enjoy this activity, according to museum director Gayle Nix.
Looking for a lesson in art and social responsibility? Take the family to Washed Ashore, an art gallery and workshop where beach debris is turned into beautiful sculptures depicting the marine life endangered by plastic litter. In the public workshop, you and your family can volunteer to help create art pieces from the garbage while learning about the ocean's sensitive residents.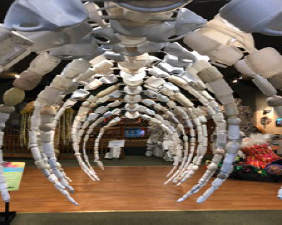 Another stop for artistic families is the Discovery Center at Sage Place, a glass-fusing studio. You can visit the center Thursday through Sunday to see incredible glass sea creatures and other wildlife art, or call and sign up to attend a workshop for adults or children. Artists also sell their beautiful works at the studio.
I visited popular Face Rock Creamery and Cranberry Sweets on my rainy afternoon. Both of these businesses offer extensive free samples. Both also feature educational displays describing the agricultural products (milk and cranberries) that have been a part of this area for decades. At the creamery, you can watch cheese being made or packaged.
You'll want to take home cheese and sweets, but Bandon has more to offer for holiday shoppers. For example, browse the books and gifts at Winter River Book Store, or slip into Bandon Mercantile to find unique items ranging from birdhouses and wind chimes to kitchen supplies and clothes. Any one of at least 30 small shops and galleries in Old Town could eat up hours of shopping on a rainy day—Art by the Sea, Second Street Gallery, Olivia's Cottage, The Toy Room, By-the-Sea Treasures, to name a few. Big Wheel General Store, full of souvenirs and coastal gifts, also offers free samples of fudge if you can't decide which one to buy.
I also had a great time talking to vendors at the Old Town Marketplace building, which features a year-round craft and farm booths, and a fish market, each weekend until mid-December.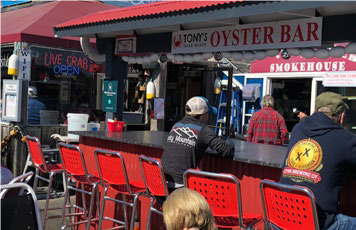 Lunch and Dinner
Fresh, local seafood, anyone? After a long walk on the beach, have a seat at one of three waterfront "crab shacks," each with its own style and each of which also has a fresh seafood counter. Tony's Crab Shack serves up meals that are generally not deep-fried, like seafood cocktails, salads, and pastas. Bandon Fish Market features fish and chips, chowder, and other seafood baskets. Fish tacos and seafood wraps, calamari and burgers await at Bandon Bait and Tackle. All three have very limited indoor seating, so plan for takeout on a rainy day. On a sunny day, enjoy lunch in the open air!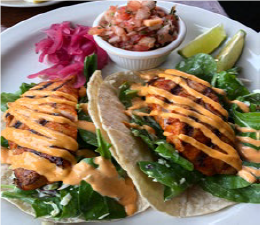 I've mentioned a few excellent restaurants for delicious dinners—Alloro, Wheelhouse, Foley's, and Lord Bennett's—but Edgewaters deserves a special callout for this reason: its owners are very supportive of community events. As a result, the community flocks to this restaurant for dinner, so be sure to make a reservation. I'd been to Edgewater's for dinner in the past so, this time, I visited for lunch. The Langenbergs dished up quality service and delicious food both times.
One other local restaurant and bar worth mentioning is Billy Smoothboars, just south of Bandon on Highway 101. Bandon sports memorabilia, delicious seafood platters and kids meals, desserts galore, and holiday fun make this a popular local hangout.
Leaving Bandon is not easy. When I was 12, my parents informed us kids that we would be moving away from Bandon. I cried bitter tears for a week and begged my grandparents to take me in, a request they did not take seriously. Almost 50 years later, leaving Bandon still isn't easy, although I'm trying to be a little more mature about it. This time, I step out onto my hotel deck, take a deep breath of salt air, hold it in, and breath out a mantra: Save my place, Bandon. I'll be back soon.
When You Go
Bandon Chamber (541-347-9616; bandon.com) Greater Bandon Association (greaterbandon.org) Trolley Bus rides—summer only, Thursday to Sunday, a dozen stops (cityofbandon.org, http://coostransit.org)
This story appeared in the Winter 2018/2019 issue of Oregon Coast magazine.