After a year and a half of construction, Tillamook Creamery's new visitor's center is open!
With an average of 1.3 million visitors each year, Tillamook Creamery is one of the Northwest's biggest attractions, rivaling Seattle's Space Needle, according to association CEO Patrick Criteser.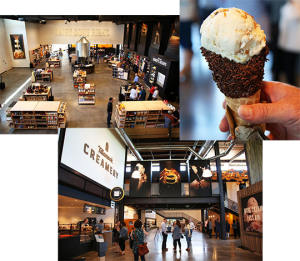 Inside the new 42,800-square foot center, visitors can learn about Tillamook dairy's history, which began when local farmers shipped dairy products on The Morning Star, a two-masted ship built by residents to transport goods to Portland. Since 1966, the ship's image has adorned the packages of Tillamook's cheese and other products.
A staircase at the entryway to the new center leads to a viewing gallery overlooking the cheese production facility (a visitor favorite), and the popular cheese samples tasting room.
Downstairs are roomy food halls and a marketplace. Visitors can order from three stations that feature yoghurts and pastries, ice cream, or a grill with Tillamook-cheesy meal and snack selections that can be eaten in the cafeteria or on the outside patio. In the marketplace, visitors can buy anything from water bottles to Pendleton blankets, as well as ice cream, cheese and other Tillamook products.
The Tillamook County Creamery Association was established in 1909, and its first visitor's center
opened in 1949. As demand for Tillamook's products grew, creamery officials have expanded, remodeled, and rebuilt the visitor center. The center is at 4156 Highway 101 North, Tillamook. The new building is open every day from 8 a.m. to 8 p.m. through Labor Day, and until 6 p.m. during the off-season. (www.tillamook.com; 503-815-1300)
–Story by Gail Oberst, Featured image Carly Diaz, Article images by Jamie Hale ■