Learn to harvest crab, paddle the estuary, search for birds, walk in the woods, or introduce family members to South Slough through programs hosted by the South Slough National Estuarine Research Reserve, located near Charleston.
Adults and children can participate in a variety of outdoor activities guided by the South Slough Reserve. Available programming includes:
Fall Migration Birding at Millicoma Marsh—October 1 at 10 a.m.
The public is invited to enjoy great views of the bay and one of the best birding spots in Coos County. Interpreter and binoculars provided. Attendees are encouraged to dress for the weather. Registered participants will meet in the parking lot directly behind Millicoma Middle School on 4th Ave, Coos Bay. The event is free; however, registration is required.
Tide of the Toddlers—October 8 10-11 a.m.
Bring your little ones, ages 1 to 5, to discover the fascinating environment and animals at the Slough. We will read a story, do a fun craft, and hike a trail (weather permitting). This event is free; however, registration is required. This program has a maximum of twelve participants.
Birds on the Estuary—October 12 10 a.m.-12 noon
Explore the shores of Charleston in search of winged wildlife. Interpreter and binoculars provided. Dress for the weather. Meet at the Charleston Visitors Center at 91141 Cape Arago Hwy, Charleston. 97420. [Max. – 15 participants (FREE but registration is required) Programs may be cancelled due to low enrollment or hazardous weather.​
Fall Mushroom Workshop—October 15 at 10 a.m.
Discover the world of mushrooms with local expert John Schaefer. Learn how to identify at least 15 local mushroom species and techniques for mushroom hunting. This workshop takes place indoors and along trails, so please dress for the weather and wear sturdy hiking shoes. Please bring a basket and knife for collecting. Pre-registration is required. [Max-20 participants] ($20 / person) Register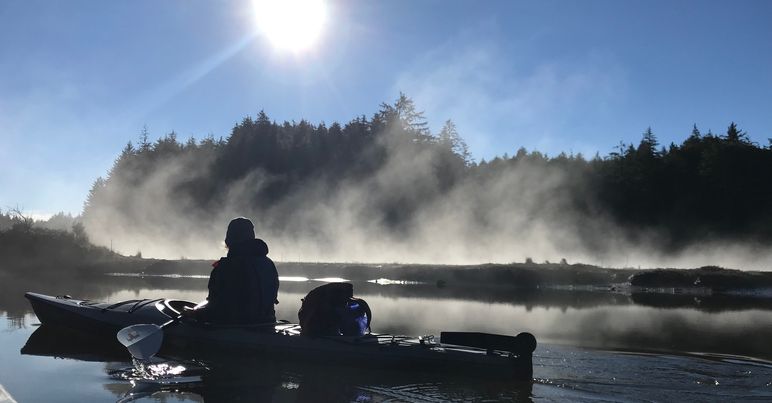 Kayaking the Estuary—October 22 10 a.m.
Experience the rich cultural and natural history of the South Slough on a trail that flows with the tide. During the five-mile paddle, experienced guides will show you areas of the Reserve rarely seen by visitors. Bring your own kayak, canoe and gear or rent one of our sit-on-top kayaks, PFD, and paddle. Feet and legs may get wet and muddy at launch points. Driver and shuttle will be provided. Registration required.
Those interested in learning about future activities can sign up for South Slough Reserve's newsletter or visit www.southsloughestuary.org.
Press release and images provided by the South Slough National Estuarine Research Reserve