Art on display at the Hoffman Center in August will feature an eclectic display of works ranging from Zen-inspired to watercolors to ceramics. Featured artists for the exhibit, available for viewing August 4-28, include ALXSw, George Wilson, and Kopali Serna. An opening reception will take place on August 6 from 3-5 p.m. at the Hoffman Center.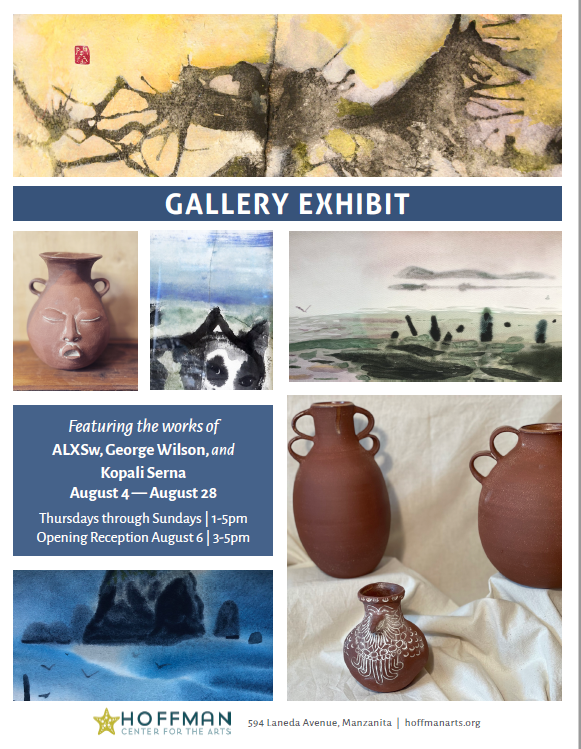 ALXSw discovered Shodo and Zen traditional works while studying martial arts. "I've been deeply impacted by studying the use of empty space in the works of Zen Reishis," says ALXSw, whose works include calligraphy, painting, and photography.
George Wilson's watercolor painting methods involves soaking the paper and applying washes of color. "As the paper dries," he says, "I add detail and structure using sketchbook and memory as source material." The result is a deconstructed and ethereal study of shape and color.
Kopali Serna's ceramic series, entitled Hearthside, explore the story of a hearth that lay frozen for generations but has undergone a time of thawing and regeneration. The viewer may encounter nostalgia, but is invited to think critically of this tendency to perceive indigenous culture as frozen or lost in the past. After all, says Serna, the elements and the daily rituals which connect us to these exist now.
The Hoffman Center is located at 94 Laneda Avenue in Manzanita. The Center's gallery is open Thursdays through Sundays from 1-5 p.m.
Cover art image by ALXSw.