After a very long, 623-day intermission, The Cocktail Hour by A.R. Gurney is set to reopen at Lincoln City's Theatre West the day after Thanksgiving on Friday, November 26.
The cast has had some changes, but the spirit and energy of the cast is high and waiting to perform for you under the bright lights of the Jack Coyne Stage once again. Cathye Wehr, Christina Contreras and Sean Prescott star.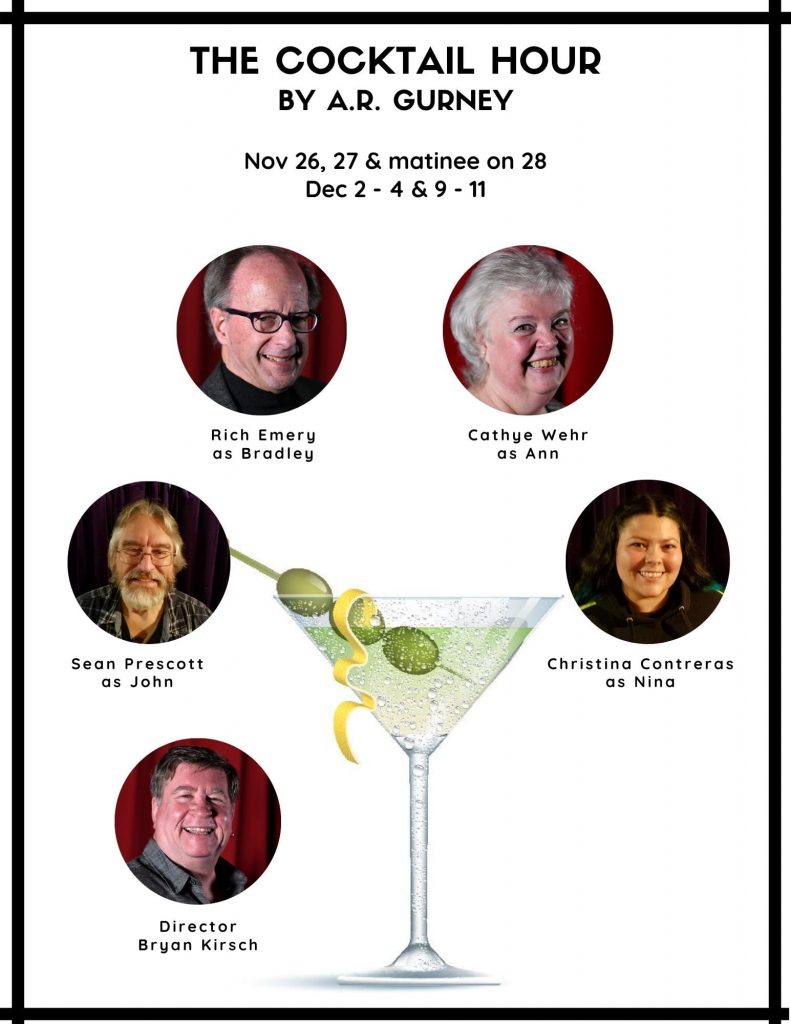 Masks and proof of vaccination will be required, and seating will be limited to 35 for each performance to insure Covid-19 safety protocols is maintained.

The time is the mid '70s, the place a city in upstate New York. John, a playwright, returns to his family's house, bringing with him a new play which he has written about them. He wants to obtain their permission to proceed with production, but his wealthy, very proper parents are cautious from the outset. For them, the theatre is personified by a gracious, comforting era, and they are disturbed by the bluntness of modern plays. There is also John's sister, Nina, to contend with, although her reservations have to do with the fact that John has given her character such a minor role! Their confrontations take place during the ritual of the cocktail hour. As the martinis flow so do the recriminations and revelations. Both funny and poignant, but how are things resolved?
Call 541-994-5663 to reserve tickets.
Show dates and time:
November 26 & 27: 7:30 pm
Matinee Sunday, November 28 at 2 pm
December 2-4: 7:30 pm
December 9-11: 7:30 pm