The Elkton Community Education Center hosts art exhibit through September.
Paintings of coastal scenes, tide pools, and the flora and fauna of Oregon will be on display throughout the summer at the Elkton Community Education Center. Elkton is located along Highway 38 about 35 miles east of Reedsport. The exhibit, "If You Could See the Miracle in a Single Flower…" features two dozen paintings by Joanna Carrabbio. Carrabbio earned a BFA from Wayne State University and taught design, drawing, painting, sculpture and advanced placement studio art for the Los Angeles Unified School District for more than 25 years.
"The natural world is my subject matter," says Carrabbio. "My desire to create paintings from nature is best illustrated by a quotation drawn from a text by Rachel Carson (On a Farther Shore, The Life and Legacy of Rachel Carson by William Souder): '…the concept of nature was itself a tricky construct,' she says, but she liked the simple definition that identified nature as 'the part of the world that man did not make.'" 
"Carson was often mystified by the reaction when she showed people the many forms of life flourishing in a tidal pool.  Were these living entities edible? Could they be made into some kind of useful product? Carson said she could scarcely understand these questions when it was impossible to 'assign a value' to creatures so exquisite that their mere existence should be cause for contentment with the peerless universe."
Carrabbio says she feels the same way about nature.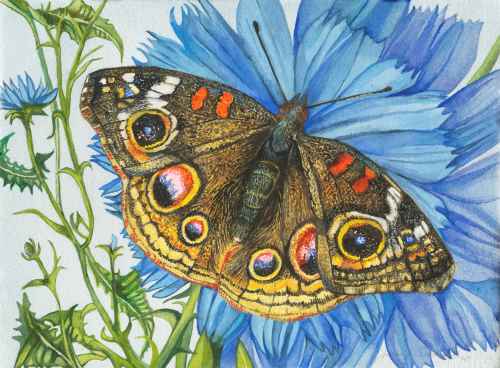 "I love to focus on a detail and build on its design through repetition into the larger composition of form in a simplified abstracted style," says Carrabbio. "In this process, I go back and forth with realism as the source and through translation I try to convey my personal language." Carrabbio is a current member of the National Guild of Natural Science Illustrators and a member of the Watercolor Society of Oregon.
The Elkton Community Center is open Tuesday through Saturday from 10 a.m. to 4 p.m.